Bag-Lady Shopping Bags
Introduction
Sometime in the 1990s I designed and created cloth grocery bags. I made quite a few, and they have all held up (it's 2012). I decided to take the time to share my pattern and method, just in case someone else would like to make them. (The long story of why and how I designed the cloth shopping bags described on these webpages is in my blog entry of March 2012.)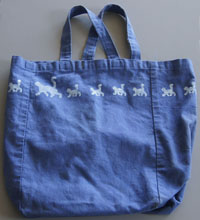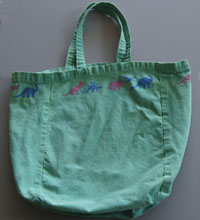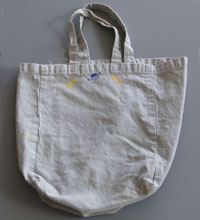 When I went to the hobby/fabric store in 2012 to get fabric so that I could photograph my way through a bag-sewing demonstration to create these webpages, I realized that they now sell "shopping bag material" and patterns to make bags. Whoa, guess I'm too late. Still, I like my method, and believe it's good enough to share. The bags are big and sturdy, and you don't have to buy a pattern. I like the way they are basically plain, but can be decorated any way you like. Mine are stenciled, but the options are endless.
If you too like my bag idea, follow the steps in the left navigation bar (or below). If something isn't clear, let me know, and I'll answer you personally and update directions if necessary.
Send me photos! I'd love to see other people's creations.
Patty
plfeist@gmail.com
Steps to make bag-lady shopping bags: