We enjoyed two nights at the Green Turtle, so we had an afternoon and then a full day to enjoy sitting on the beach and swimming in the ocean. The ocean was pretty rough, and kept sweeping us down the beach. My comment in my handwritten log book about the first afternoon spent on the beach at the ecolodge is "heavenly".
The Green Turtle ecolodge was cute and fun. Our room had solar powered lights that usually worked. No bathroom in the room, but there were composting outhouses and outdoor, open-to-the-sky showers enclosed by a circular stone wall. No hot water, but it was so hot outside that it didn't matter. Taking a shower under the open sky was fun. We had our dirty clothes washed (by hand) and dried on a clothesline. The
Green Turtle web site
has more information and photos.
The lodge was not near a city, so we had all of our meals at the Green Turtle. The owner is British, and the food was excellent. Our first really good meals in Ghana. John had kingfish which was particularly excellent; the menu changed each night, and usually included rice-based entrees and locally grown vegetables and local fish. There were salads and desserts. For breakfast, we had "ground nuts" (peanut butter) and jam and bread and French press coffee. As you can see in the photos, there was a large bar, right next to the beach. Besides drinking Stars, we played a stone game at the bar.
We were quite surprised when the same couple that we met at the New Haven in Accra walked up! They were staying at another ecolodge a short walk down the beach. We talked with them for a long time both evenings.
After dinner, we walked along the beach at night, listening to the waves. The time at the Green Turtle was beaching and relaxing and non-stressful.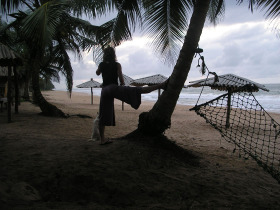 Tammy stretching in the early morning. She went on an early morning run, still in training for the marathon.
More photos when you click on "read more" below.
»
read more