We lunched in Sirince, a beautiful, rustic village a short drive from Ephesus. The bus dropped us off to walk up the narrow, steep, stone-paved streets to the restaurant.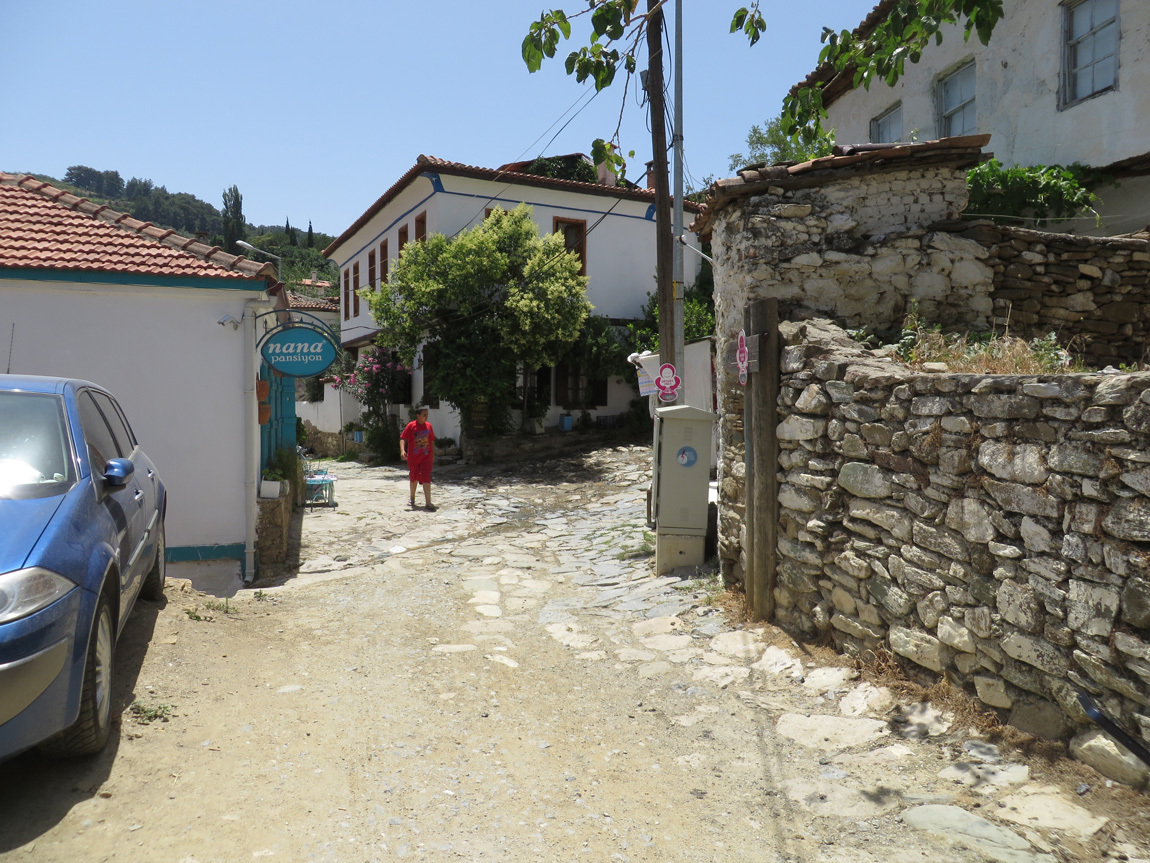 The view looked out over hills and old houses.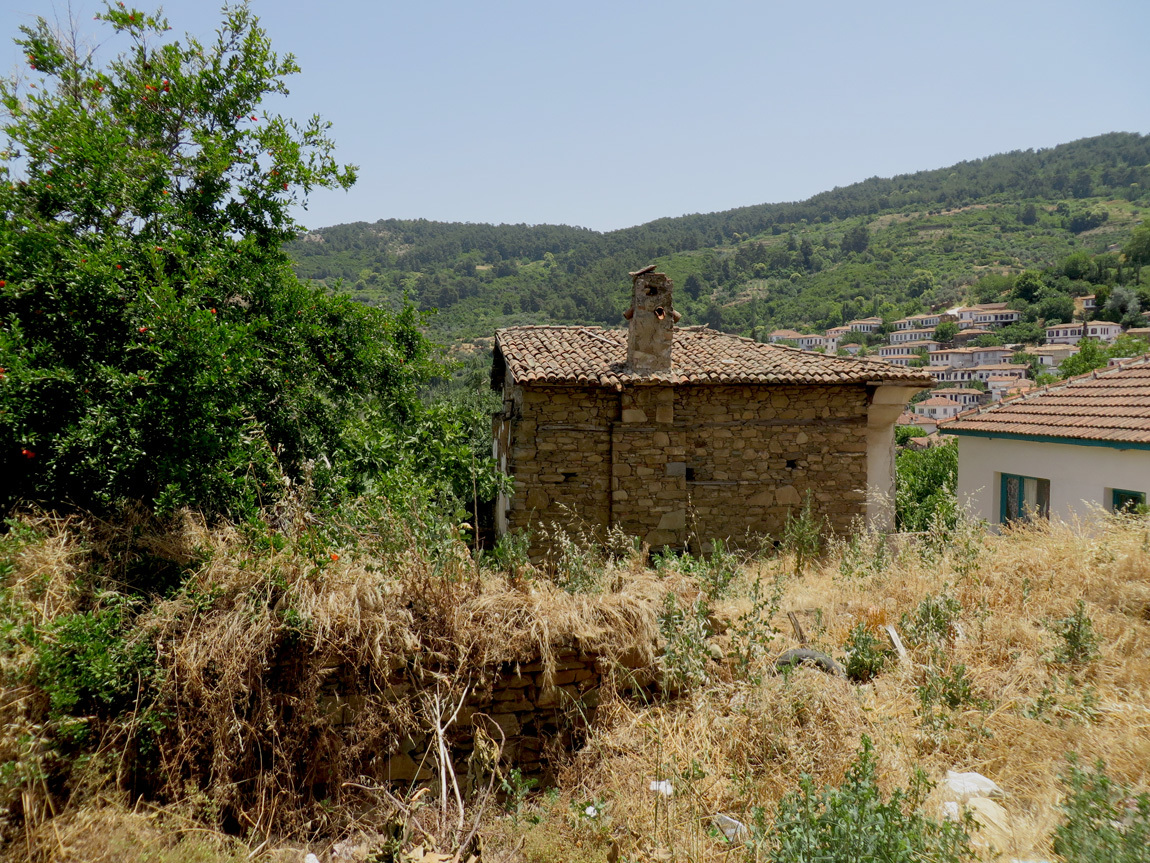 Village street: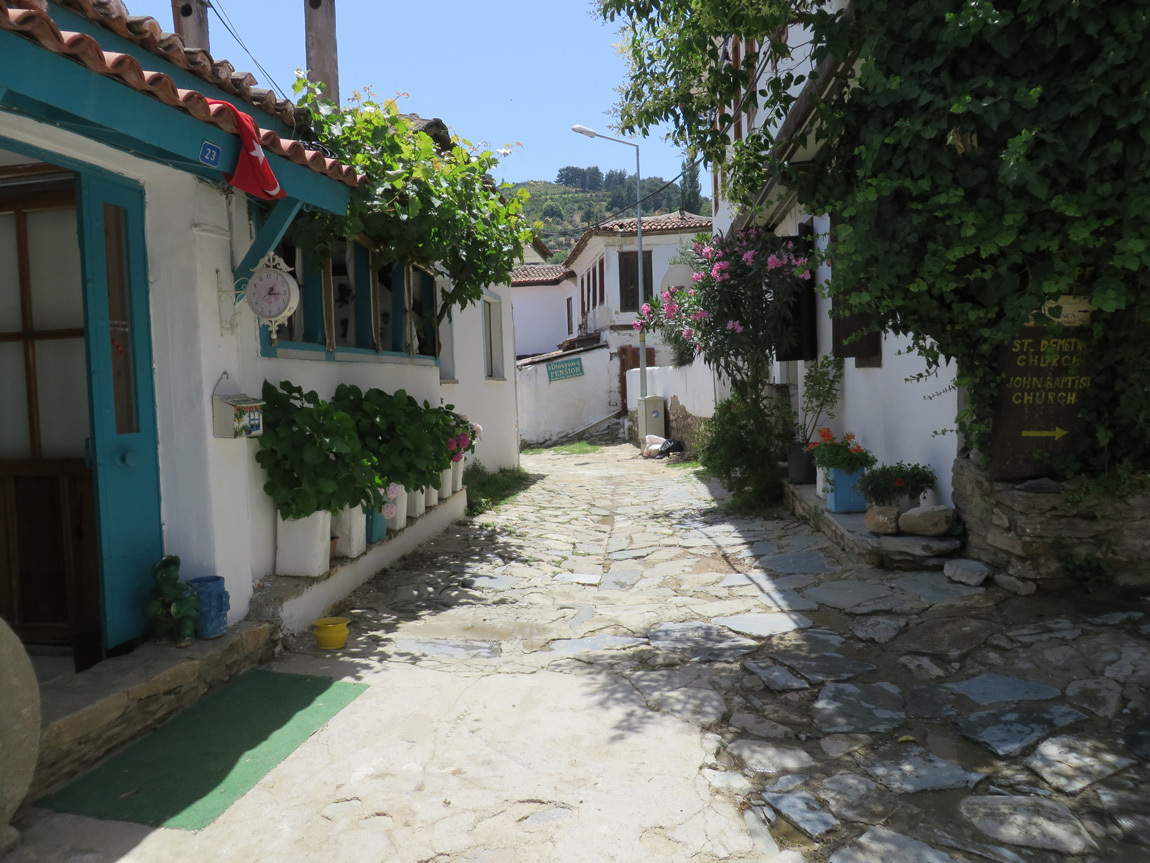 We arrive at the restaurant. This chef is just about to open the wood-fired outdoor oven, and is moving quickly (that's why he is blurry) to avoid the heat: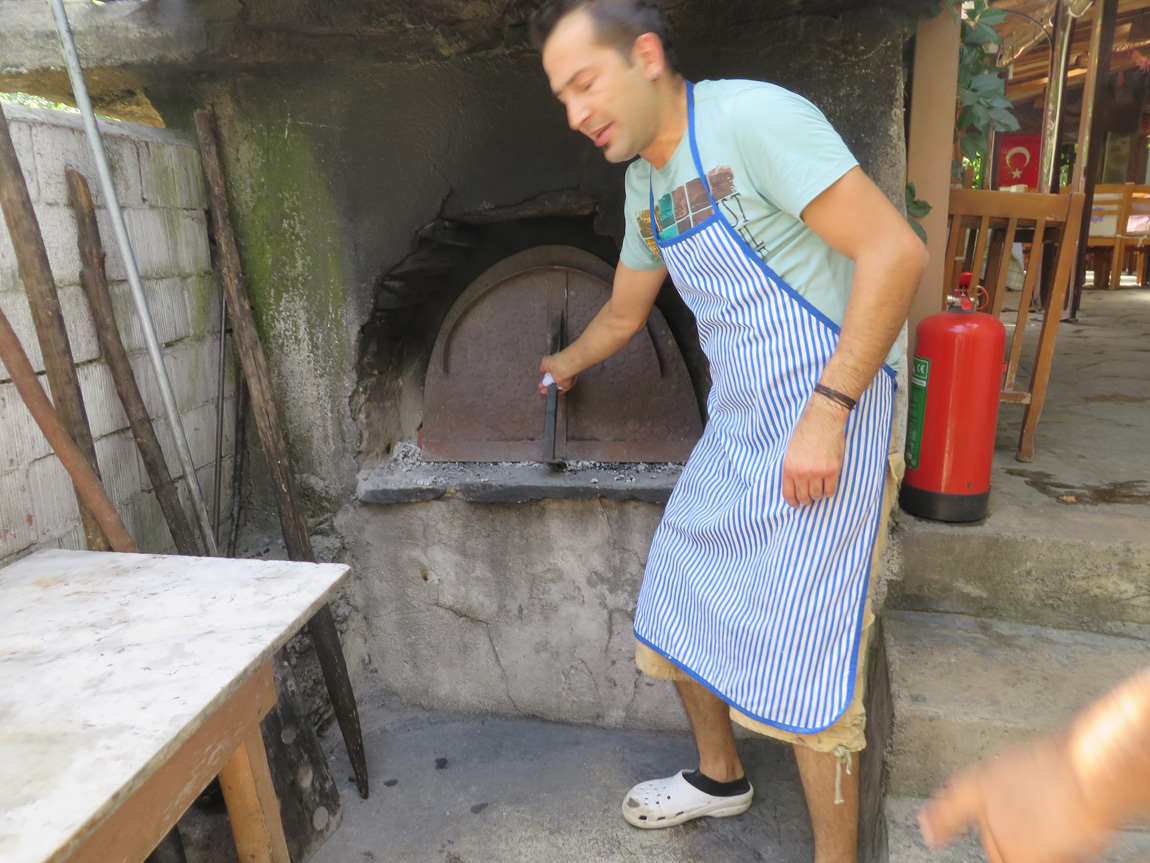 Boy, I'd love an oven like this. Here, he has opened the door, showing the flatbreads baking: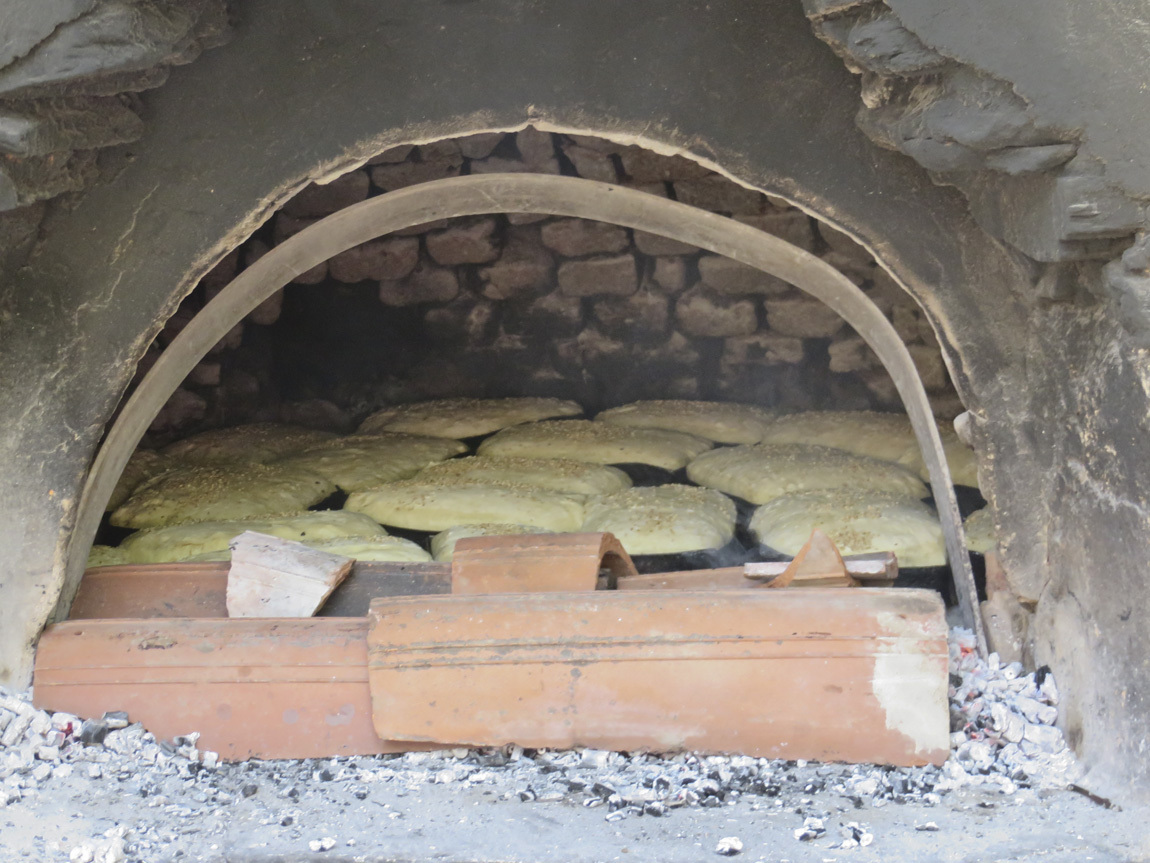 These will be part of our lunch!
Our nice shady tables are already set and our meze is waiting for us. The owners of this vegetarian restaurant grow all of their own produce. Such bright colors!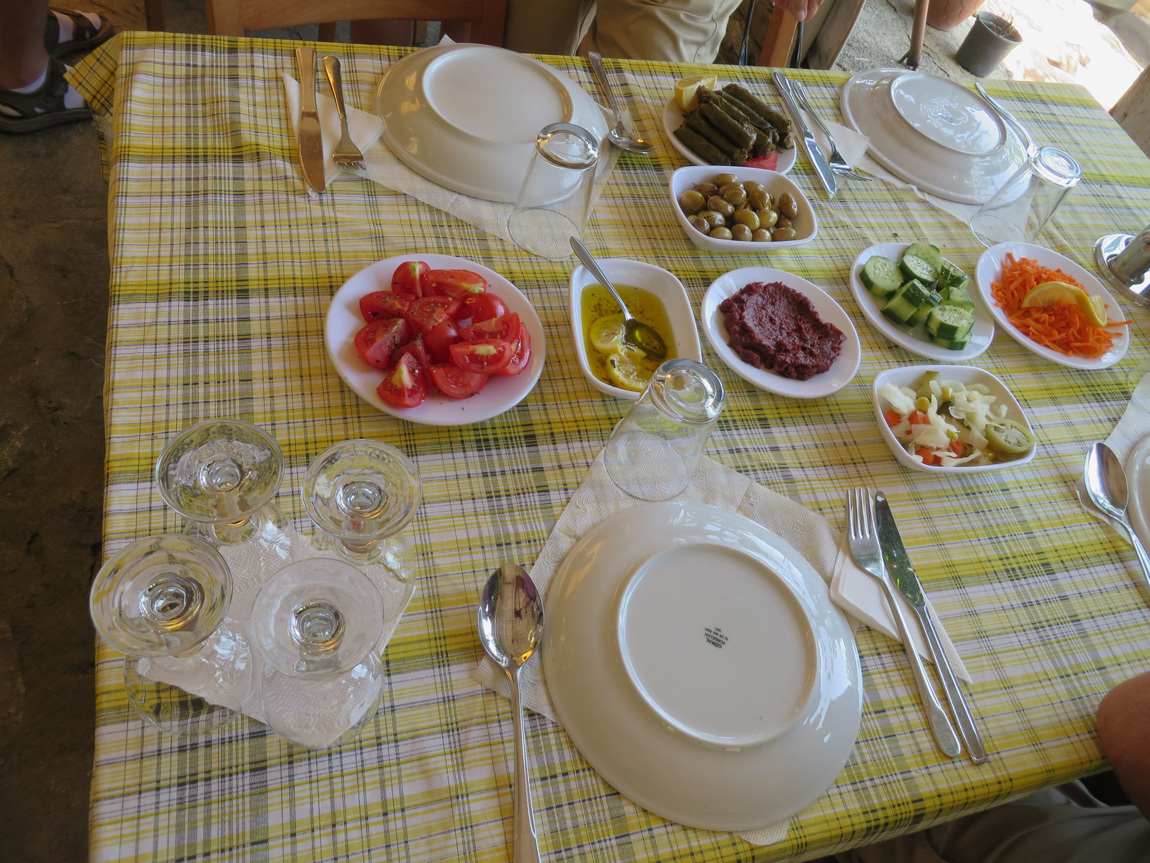 The meze you see on the table include a home-made pickled onion-tomato mixture, tomatoes, cucumbers, lemons in olive oil (fresh olive oil!), olives, stuffed grape leaves, and shredded carrots. Such bright flavors!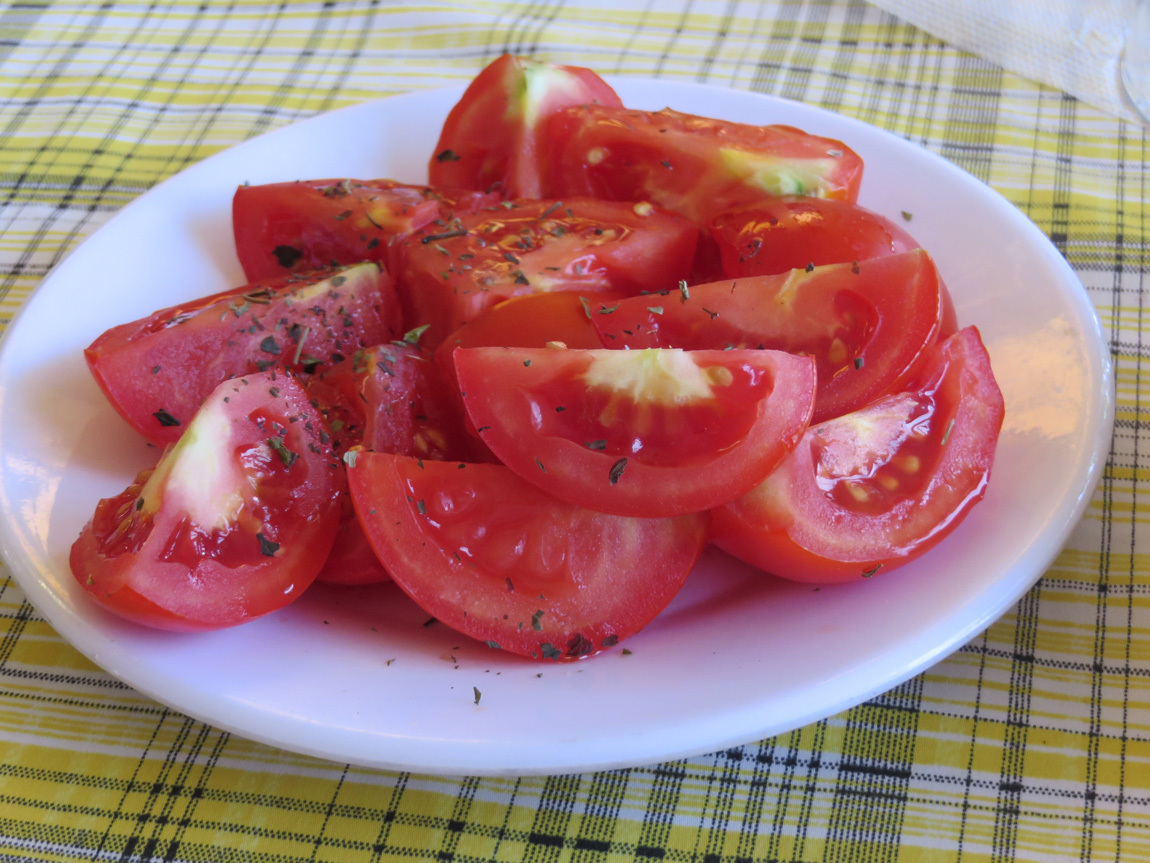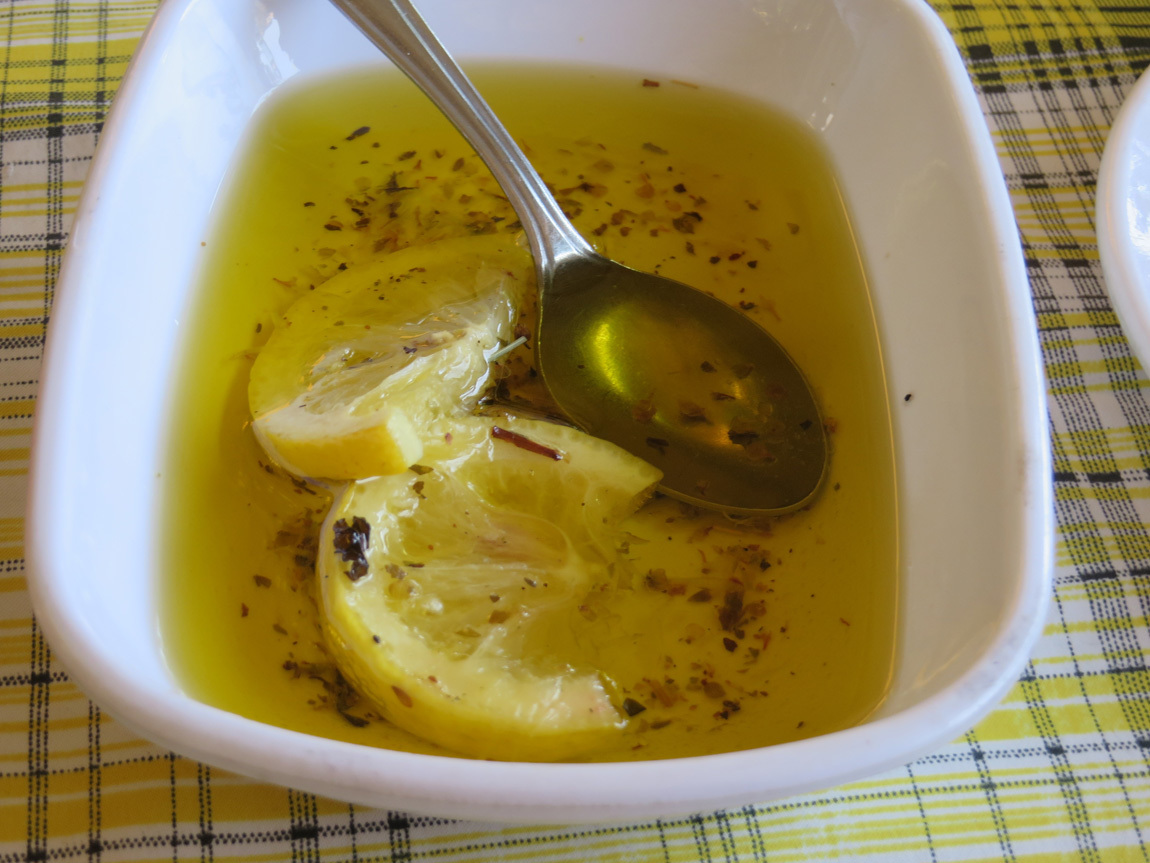 The meal was served with their own wine from local grapes. Unique, good, fresh. The main dish was a pastry called a
borek
. It was a big round circle of a phyllo-type dough filled with spinach and feta cheese, and then folded into quarters and baked. Dessert was watermelon. We feel so healthy! The food was amazing, bringing our Turkish food experience to yet a higher level.
On the way back to the bus, we stopped at a wine shop and had a lively talk with the propietor, and bought a bottle to take with us. Excellent wine.
We drove back through Selcuk and then on to our hotel in Izmir. I snapped some photos from the bus. First, the fort on the hill above Selcuk: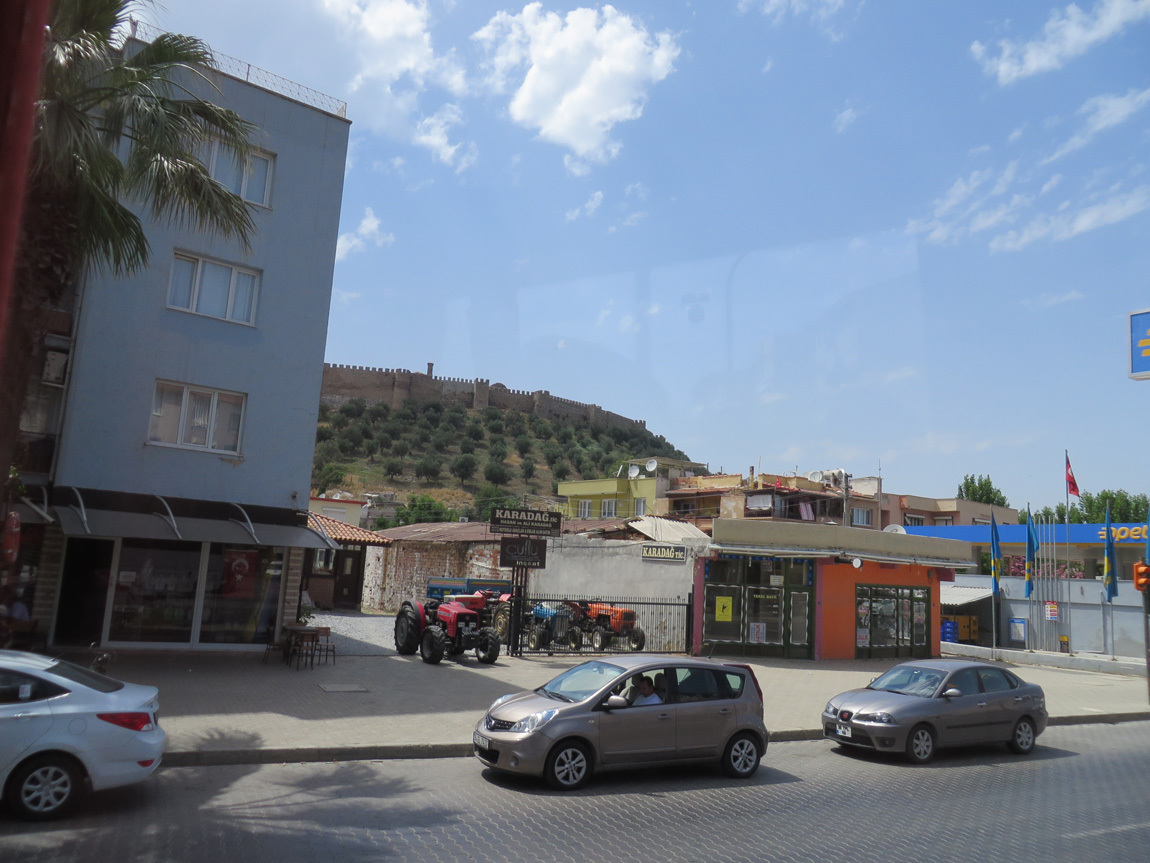 Across this bright green field is a stork's nest on a tower.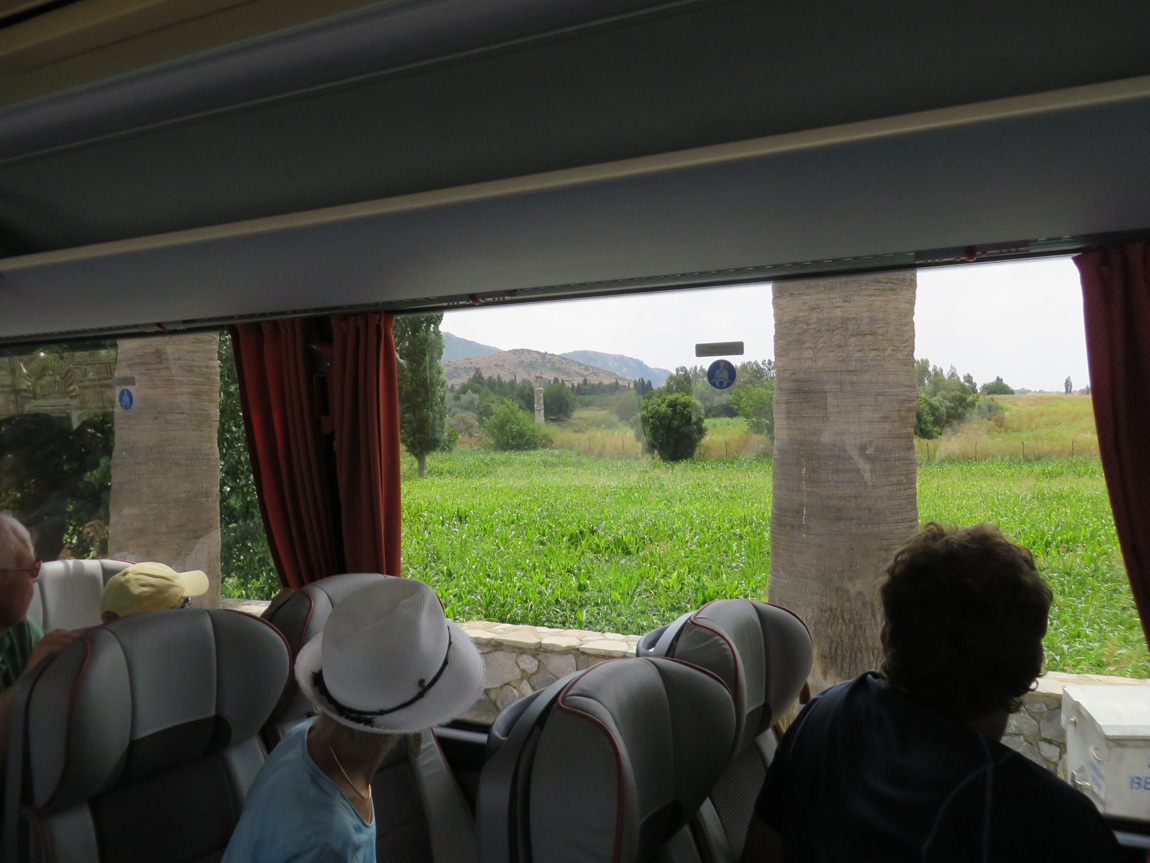 Oddly shaped ruins: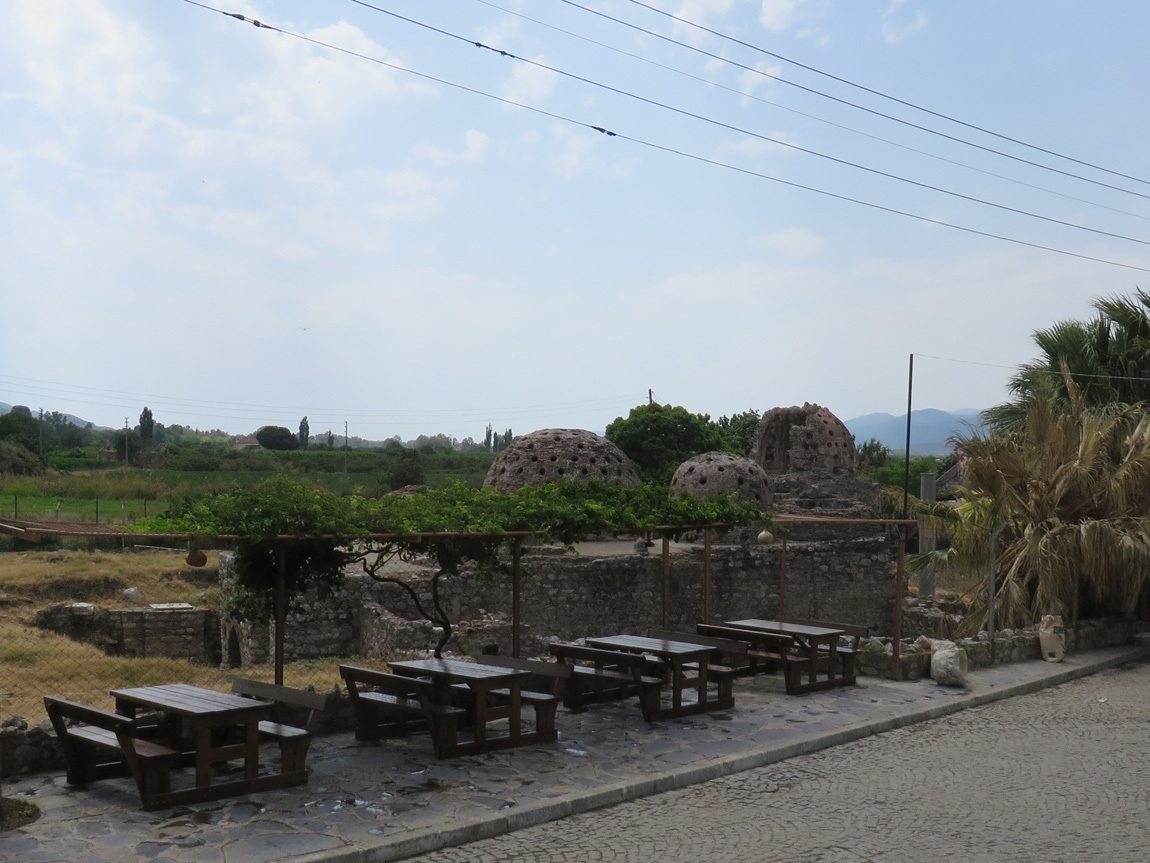 A very old church in Selcuk: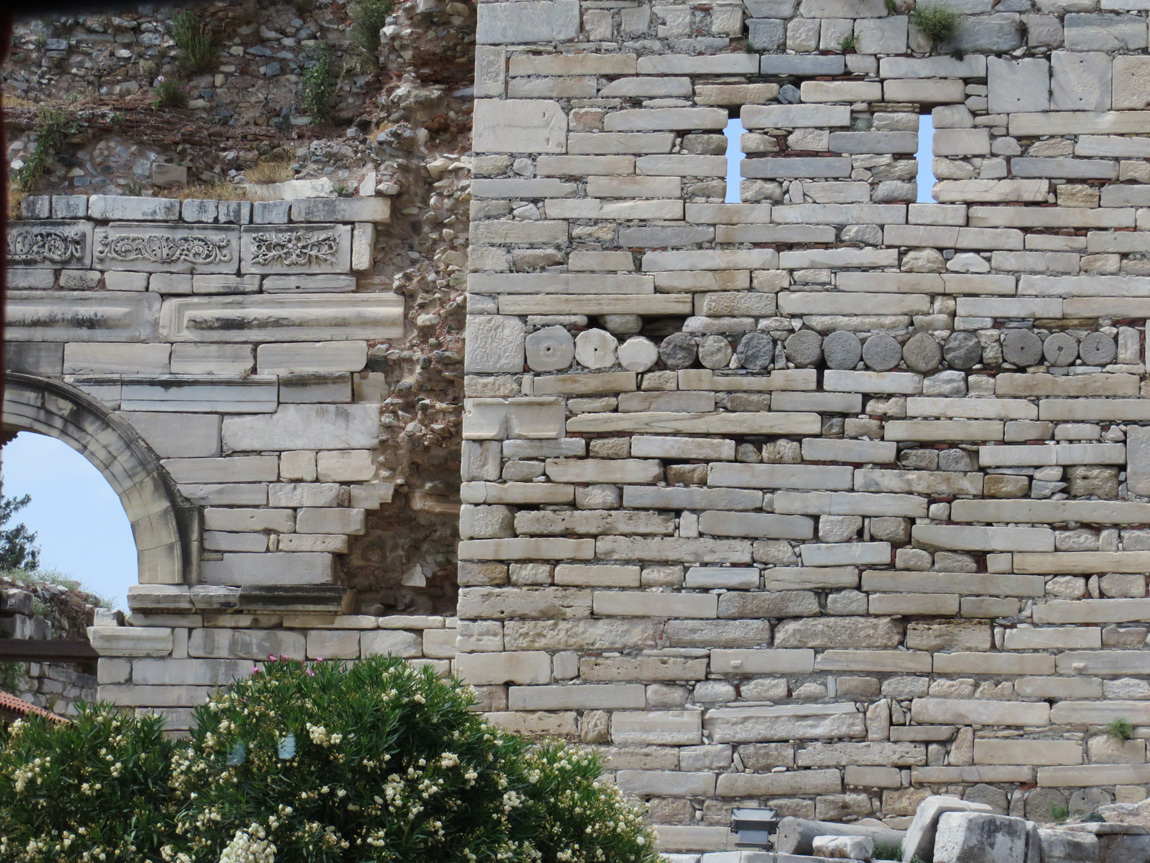 Selcuk is home to more than one nest of storks. The nest in the photo below is right in the center of the town: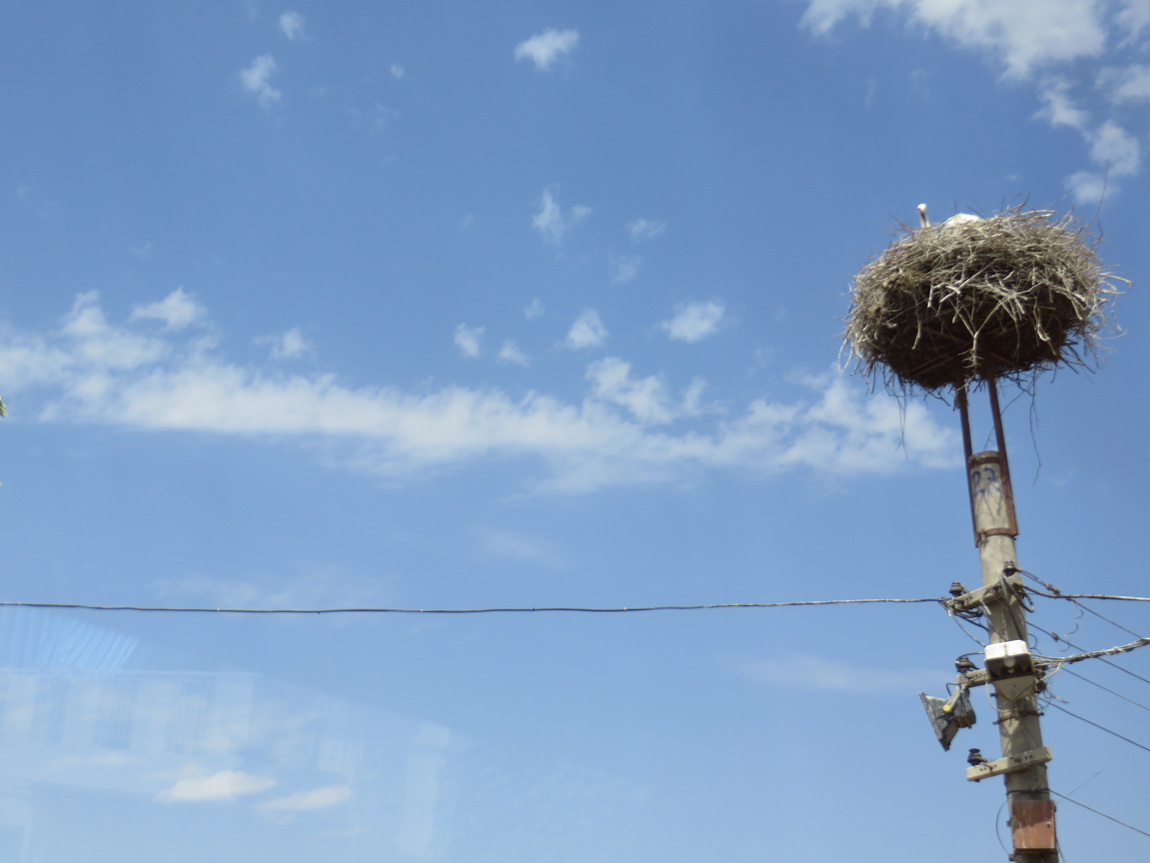 Here is another stork in its nest. I touched up the photo a bit so you can see the open-beaked stork a little better: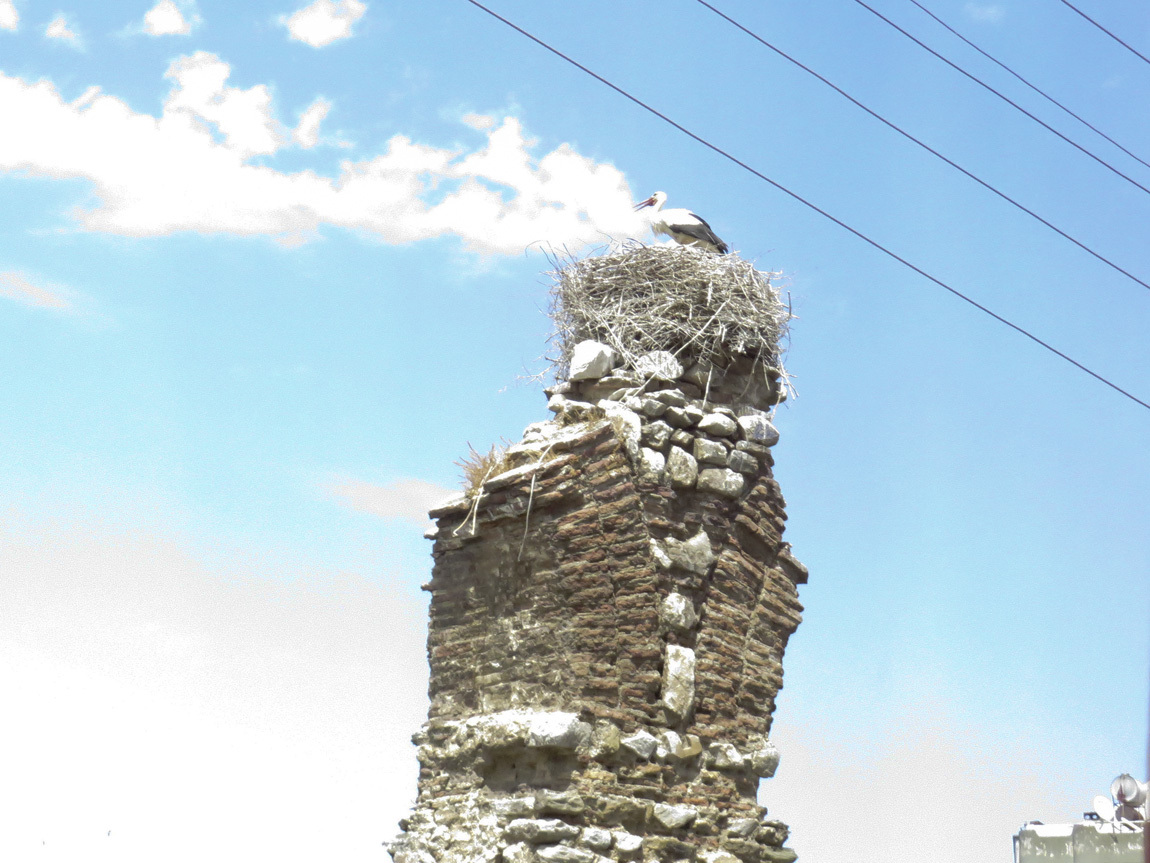 Planted fields: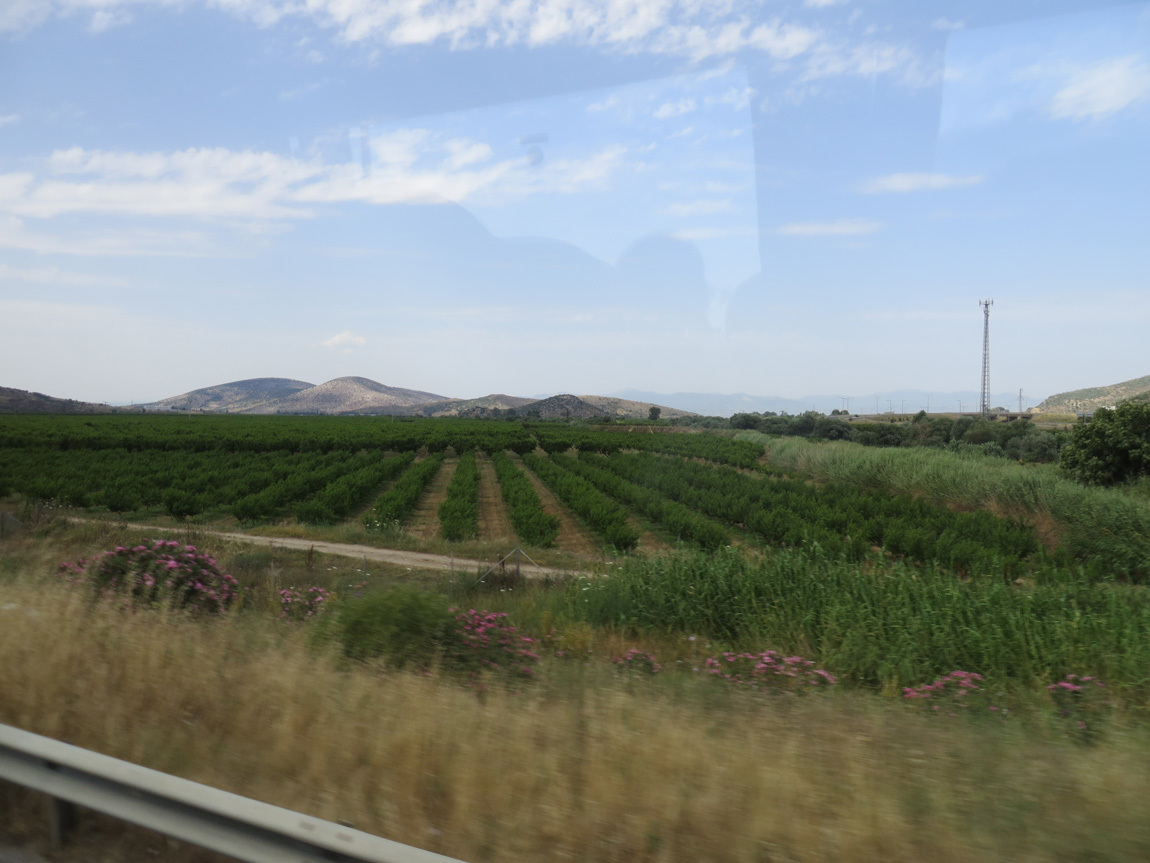 Olive trees: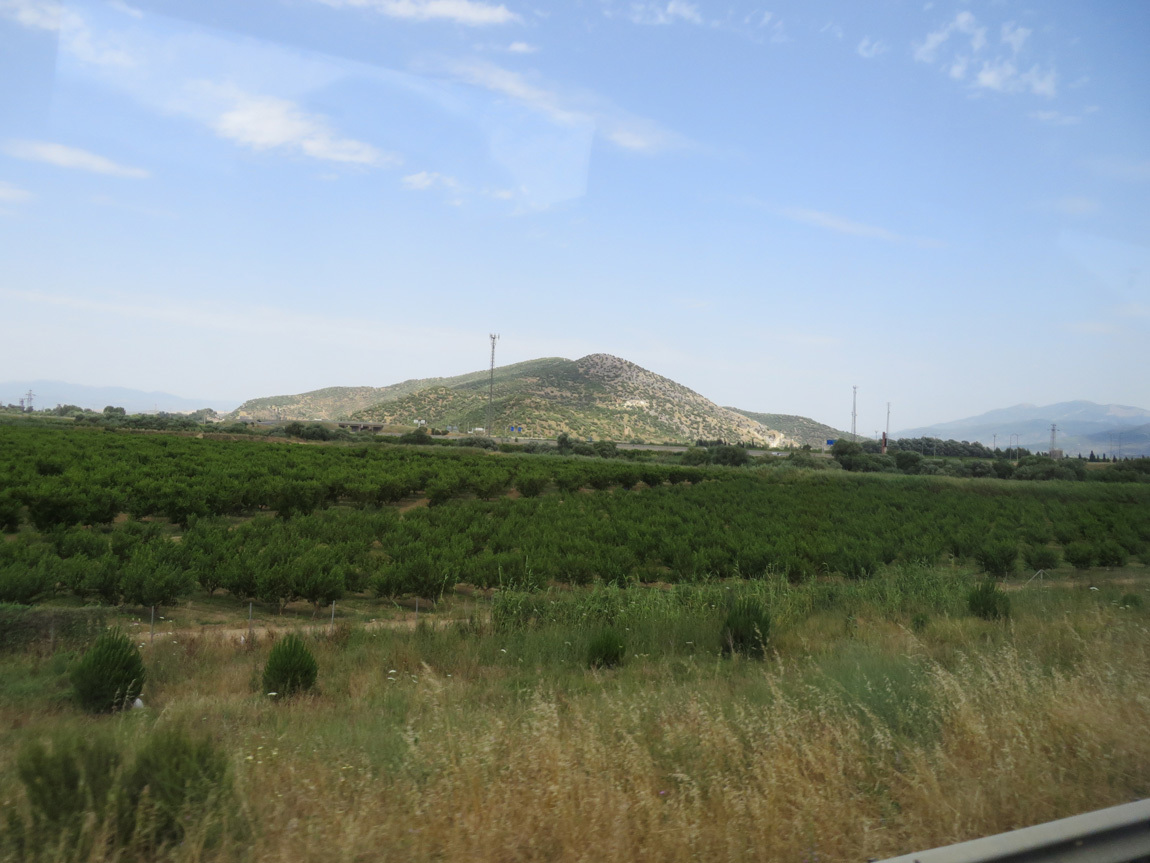 A
taksi
: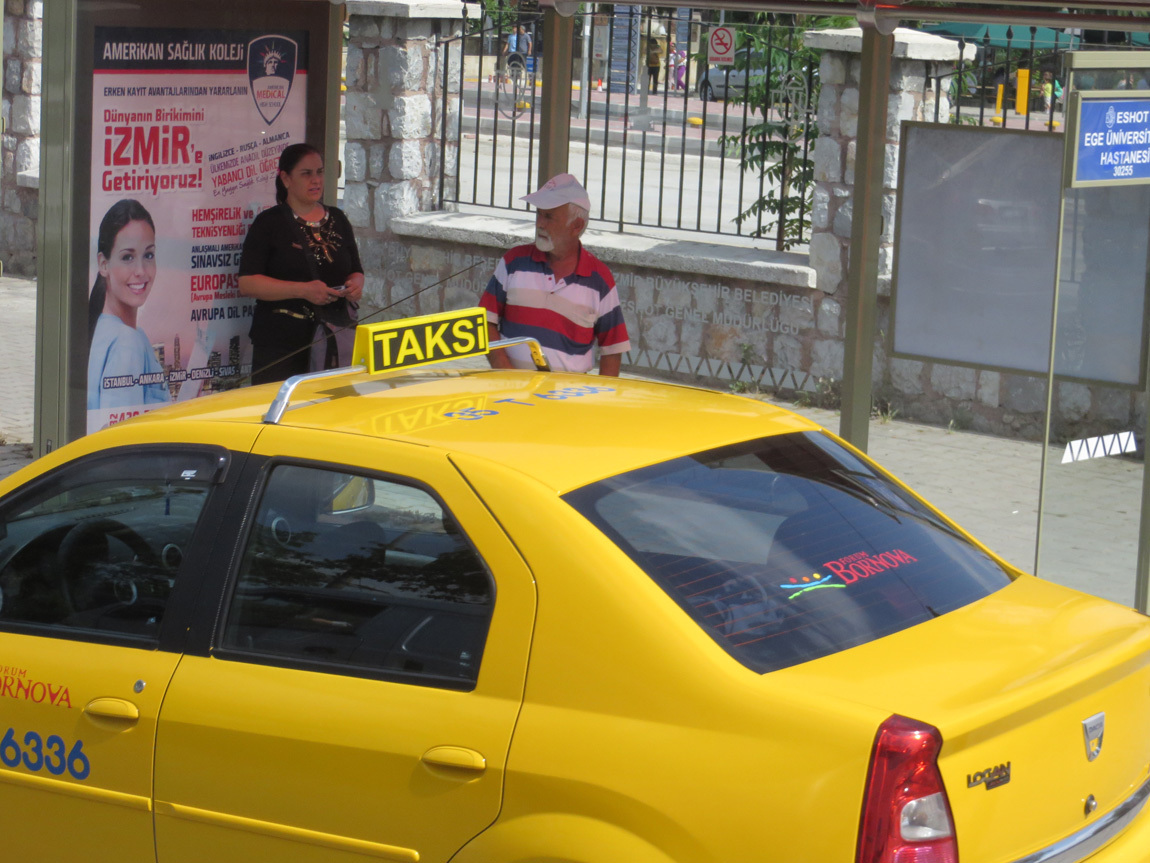 This is our second and last night in the Swissotel Grand Efes. Tomorrow we will travel to Gocek, on the Aegean, and board our
gulet
. What's a gulet? We don't really know exactly, yet! About all we know is that it is a boat we will live on for the next 4 days and nights.
We have the late afternoon and evening free to explore on our own. John wants to find some insect repellant and allergy medication, and we will probably want something to eat (and drink). Before we disbanded for the evening, Ali told us how to find stores and restaurants in the area. John and I rest awhile, and swim, then head out to look around Ismir. First, though, we look down at the street and note a lot of car and pedestrian traffic, including chanting protesters with banners: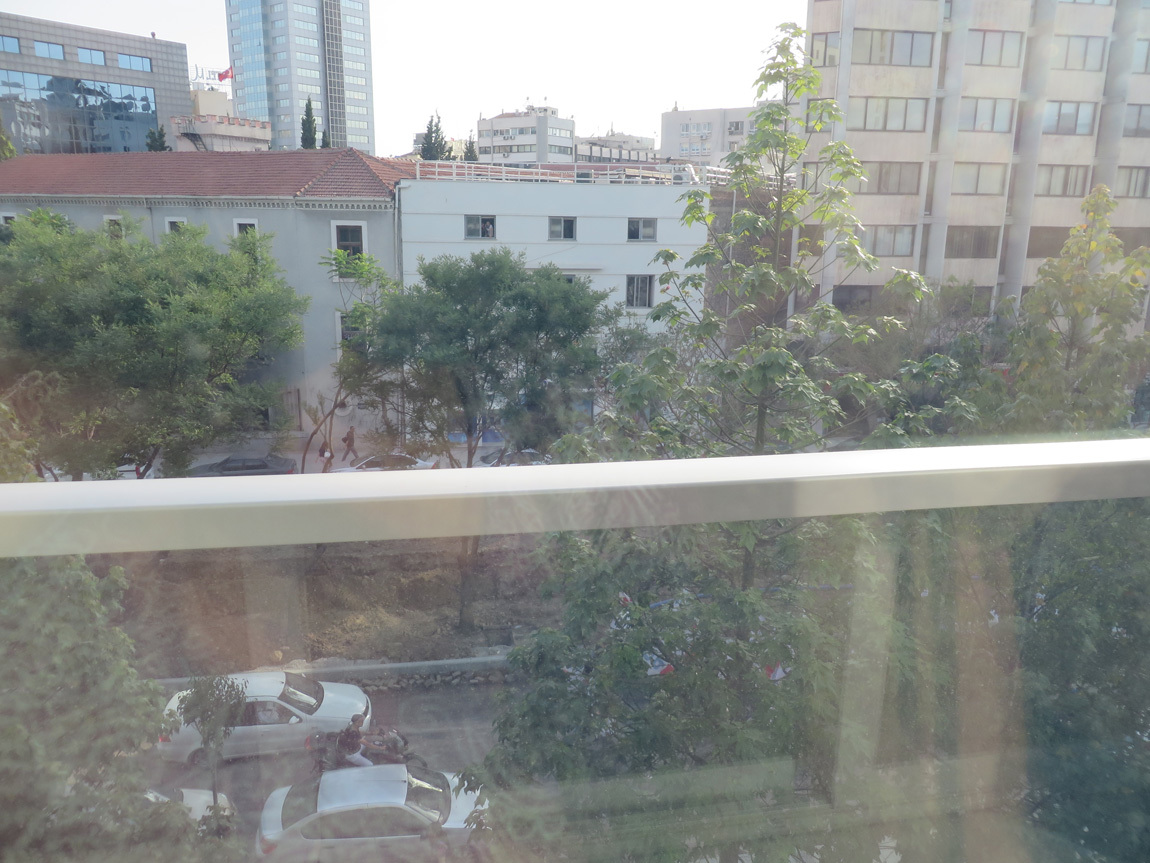 So, the Turkish protests are in this city too. The crowds are not as large in Izmir, and they are not "occupying", just gathering for the evening.
The store we are looking for is across that busy street in the photo above. We quickly find out that pedestrians have to be careful in Ismir, since cars don't always want to stop for you. We found the store pretty easily. Then, we realized something: All the merchandise is labeled in Turkish!
Oh my, this is going to be harder than we thought. The store is kind of like a Walgreens here in the states: medications, flip flops, chips, snacks, sodas, clothing, sunglasses, toys - lots of miscellaneous items. There was also beer, wine, and liquor. We kept wandering from aisle to aisle, laughing at ourselves for forgetting that labels would be in another language. By looking at pictures on the labels and sounding out the Turkish, we were able to find insect repellant. But no sudafed; we found out later that sudafed is not sold over the counter in Turkey.
Our shopping bag in hand, we head for the waterfront.
The police are out in force here in Izmir (unlike in Istanbul, where the police were not visible). We decide to stay out of the crowd of protestors, who are congregating on the route to the row of fancy restaurants. We aren't very hungry, anyway, so we go to find a table at one of the small, local eateries, right on the bay.
Few of the proprietors of these small eateries speak English, but we did manage to get our Efes beers and some nuts. We people-watched for quite a while. Some locals are smoking big water pipes of Turkish tobacco. The protesters make some noise, but it seems pretty tame. Eventually we leave to go back to the little market for more munchies, and head back to our ultra modern hotel room for a quiet remainder of the evening.
I checked online news reports to find out what was happening with our friendly protesters in Taksim Square. On June 11, the protests there stepped up a notch, and the Turkish riot police moved back into
Taksim Square
. We hope the situation doesn't escalate.
Navigation:
first Turkey post
next Turkey post