A few updates of interest:
When we toured the village, we said "this is so interesting, it should be an ecotour!" Well, Tammy has done just that: arranged several ecotours. This brings one more small business into the Tsevie area.
Becky decided not to bring her dog back to the US, but the carrier was used by some other PC volunteer.
Tammy's bunnies had bunnies!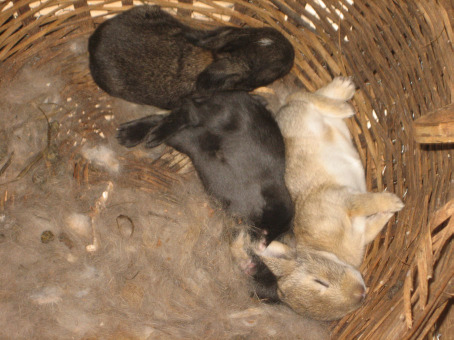 Tammy got a kitty, too. She said "it was stuffed into this cage with all these ducks, and I just had to bring it home."
John and I realize that not only are we richer for the travel experience, we are stronger. We
can
travel to a place that is out of our comfort zone. We also realize how much we missed seeing the wildlife of Africa, like elephants and lions and monkeys. This isn't Tammy's fault, she offered us the option of going to Mole National Park in Ghana and we declined. But when we got home, a flyer offering a certain tour, arranged through the CU Alumni Foundation, came in the mail. We both looked at it at separate times, and then one evening looked at each other and said: "Let's go!!!" So next May we are off to Africa, this time on . . .

Safari!

First post in the African trip series.