One of my favorite things about summer is that I have time to take bike rides from work in Boulder. This spring has been extra special because it's the first time that I've had a chance to take a long ride on Townie. Townie is my Schwinn Le Tour, a bike that was a present from my husband sometime in the early 90s, and re-presented to me last Christmas by my son, who converted it to a town bike. This old touring bike now has a flat bar, Shimano shifter pods, a set of cantilever brake levers, a new Shimano XT rear derailleur (required for compatibility with the new shifters), and BMX-style pedals. A new life.
Townie is light and nimble. Hills seem easier than they did on my Bridgestone mountain bike. I was a little hesitant to take Townie on the South Boulder Creek trail, since this is a dirt trail and the bike has slim tires. But Townie did fine, even though parts of the trail that were covered with running water.
We stopped by the big tree that I sometimes eat my lunch under. It's a great view looking back at the Flatirons. What a life.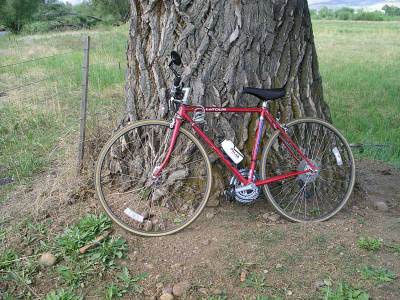 This is the west entry to South Boulder Creek trail. You have to keep the gates closed because sometimes cattle are on the property. And, you have to watch out for prairie dogs, who think they own the place!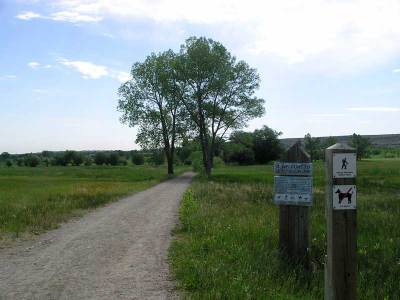 The view west, the Flatirons.