This is odd. My cat likes snakes. Tori (the cat) is three, but has only been going outside for a few weeks. When she is out, I keep checking on her to make sure she is hanging around the house. Once, then twice, I found her near the house, but a foot away from a snake. Each time, Tori was calmly washing herself and the snake was frozen in place. The third time I found her with a snake, I ran for the camera to document this oddity.
My guess is that she picks up the snake and brings it close to the house, or maybe she just chases it. Then the snake plays possum and Tori loses interest.
As soon as I call the kitty away from the snake, the snake slithers away.
Fox (our chihuahua) - the worm-and-toad-roller - loves the way Tori smells when she has been around a snake.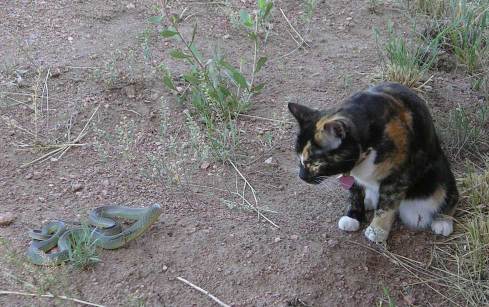 I googled and found that this is a smooth green snake, common in Colorado.