Once in a while I feel that I am going into a fog, the fog that I used to work so hard to get to when in my twenties.
Maybe the hippies will be a generation that does indeed age gracefully, back into the fog.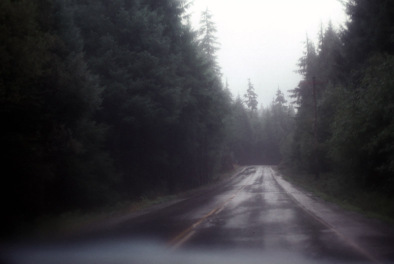 John and I were introduced to "Onward through the fog" by some friends of ours who were from Austin, Texas. I remember the phrase on a comic or a cartoon or a roommate's T-shirt. There were a lot of silly comics floating around back then, like Fat Freddy and his cat. I remember sort of what the cartoon looked like but can't find it today on the internet. There are currently web references to Oat Willies, a pipe shop in Austin.
The photo I did find and put on this blog is from my father's slide collection. It's not real foggy, and I don't know exactly where the picture was taken, but it is a real picture taken by a real member of my family and the road went . . . somewhere into the fog.