This has been a month to remember. For us, the timeline went like this:
--September 11, it started raining
--September 12-13, the rivers around us all flood, we lose power and phone and cannot drive out
--September 18, the river receded some and the road construction crews repaired one road enough that we are allowed to drive out through Lyons one time per day
--September 19, we got power back to our house
--October 6, our phone service is restored and a little later, our DSL
--October 11, once again our power goes out, but luckily only for 3 hours
We stayed in our own house the entire time. But not so most Lyons residents: the sewer and water systems in the town of Lyons proper were destroyed. Gradually, power is being restored, so that by October 11 most neighborhoods do have power, and some have phones. Residents are discouraged from staying in their homes because of the sewer and water situation. The town has port-a-potties everywhere. A few businesses are open, even the stores, at least on a limited basis. The town is building temporary water and sewer systems and they believe that by October 26-November 11, residents will be able to move back home.
Things in town are slowly getting back to normal, but most of the town residents are still displaced, renting temporary apartments in nearby towns. The kids are going to school in Longmont.
On October 11,
Mayama
re-opened. It was wonderful to go to a Nia class and reunite with my friends in Lyons! What a wonderful community we have.
Wherever they are currently living, they remain Lyons people. Lyons Strong.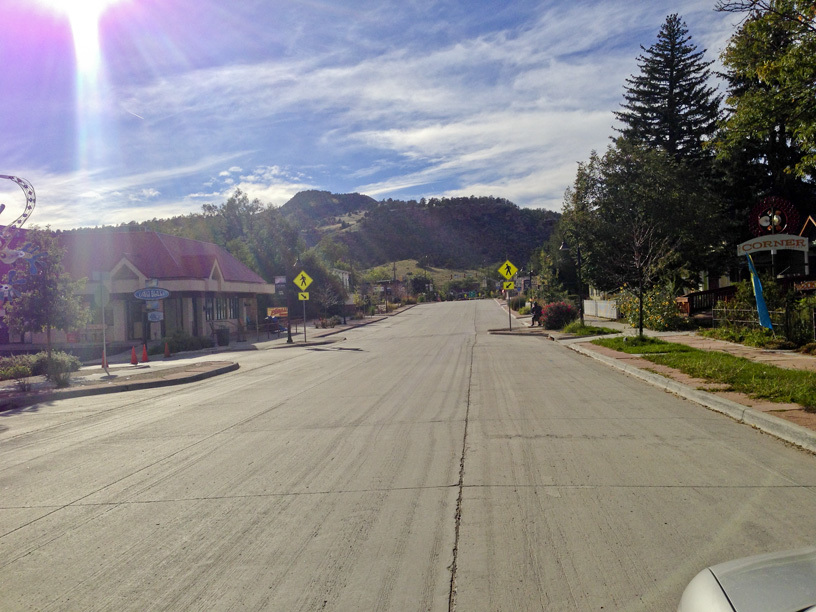 The empty Main Street of Lyons, September 29, 2013.

Next Lyons flood entry

First Lyons flood entry