We stayed at the
New Haven Hotel
that first night in Africa. Enclosed by a wall, it was a white man's oasis, a place to rest before venturing back out into the local culture. And it's where we had our first Star beer. Star beer, the best! It comes in huge bottles and was our drink of choice. "A pork chop in a bottle." This refers to the fact that we felt safer drinking beer than water or even eating food. It's actually a Guinness product, and only brewed and sold in Ghana. That's a pity.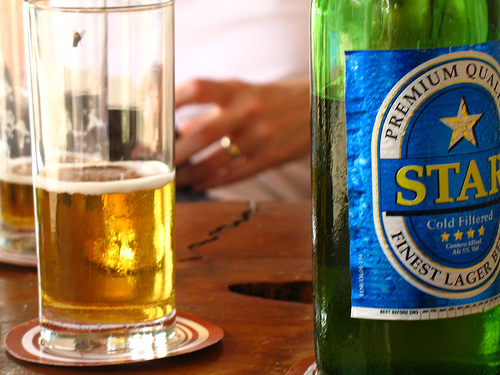 I stole this photo. In west Africa, they usually gave us a coaster or the equivalent to cover our beer glasses, because of all the flies.
The New Haven had two double beds and a noisy air conditioner, a toilet and a shower that had a huge bucket in it and even hot water (although we didn't discover that until our second showers). Not a strong spray head on the shower - this we found to be true throughout the trip.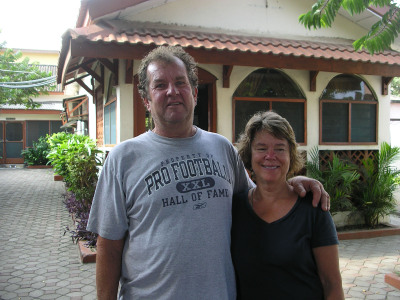 John and Patty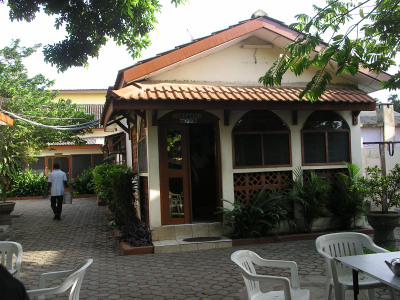 New Haven Hotel
Although we stayed in "white man's hotels", we never felt threatened by the people of Ghana or Togo. They just sort of ignored us, but were in general friendly and helpful if they could be. The taxi drivers and shop owners were a wealth of information, helping us find places and things.
There is a tradition in Ghana that we learned by the second day. You should not walk up to someone and start jabbering like we Americans do. Instead, walk up and say "Good afternoon" and wait for a response. Then ask them how they are doing. Then, and only then, start asking questions about directions or what they are selling. It's a nice tradition.
At the New Haven, we met Susan and her husband, who were also staying there. They are from Switzerland; she had been in Benin for 6 weeks working as a nurse. (We ran into them at the market in Accra too - white people sure stand out!) I mention this because we ran into them later on the trip too.
We had dinner at a local restaurant. It didn't "look" like a restaurant, as there were just a few empty tables in a room next to a smaller room that was a bar that had Star beers. But the tables were set, and we sat down, and eventually a girl came and took our order. Basically, it was rice with a smallish amount of a sauce that was tomatoes and spices, and there was fish too. We all liked it. (But where is the salad, the bread, the dessert? Hey, welcome to West Africa.) Tammy argued with the guy from the bar about the price of the beers. We called her "pit-bull" from then on, and let her negotiate all of our taxi and hotel charges.
Below is the view across the street from the hotel. There are a lot of half-built buildings in Ghana. Tammy says that they don't take out loans, so they build as they get money; if they finish a building, they are taxed. I wondered if everyone just lived in the stalls or on the street because I didn't see homes in downtown Ghana; perhaps people did sleep in the half-finished buildings at night. I also noted that they liked to wash their cars and taxis, as the guys in the photo are doing.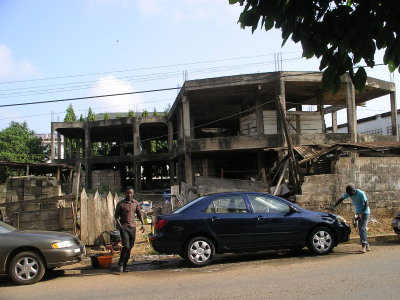 The view across the street from the New Haven Hotel.
Next post: onward to Cape Coast.