John woke us both up at 5:30 a.m. "Let's go!" he said. Crazy man, typical for the first day of a vacation. In Africa, it gets light about 5:30 a.m. and gets dark about 6:00 p.m. Most people in west Africa get up early to get stuff done before it gets hot, and then take a nap after lunch. Also, as I mentioned before, homes and small stands are not lit up with electric lights like in the US, so people need to take advantage of natural lighting.
It was too early for breakfast at the New Haven Hotel, so we started walking down the street to look for food. What I thought was just another little sales stand was instead a restaurant, according to our guide, Tammy. The cook/waitress/owner wiped off a bench behind her and she cooked us eggs on bread and put Nescafe (instant coffee) and sweet canned milk into hot water. (Real, brewed coffee was a rarity in west Africa.) The eggs are cooked flat, like a pressed omelet, and are sort of tough rather than fluffy. There were a few veggies in them. The egg yolks are really light in Africa, so the cooked eggs look white rather than yellow. The bread was thick sliced white bread, fried/toasted in the same weird stinky oil I noted the night before. Okay, it filled us up, but it wasn't terribly appetizing.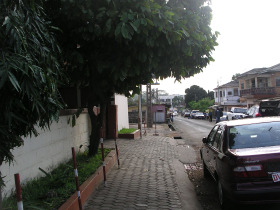 The street restaurant was just a working table and a bench under a sun shade, open air, on the sidewalk.
We decided to leave Accra and go to the Cape Coast, where we would be by the ocean and could visit the place where slaves were held before being shipped to the New World. It's about 100 miles away.
We took a taxi to the station. A "station" is a place in each town where public transportation vehicles pack into a parking lot to offer rides. After we returned to the US, I realized that the "buses" are called "tro-tros". A tro-tro is any vehicle that is not a taxi or personal car or large public bus (these are rare); they can be large or small vans or small buses - there were all sorts and varieties. Handwritten signs on the tops of the tro-tros indicate the destination. In Ghana, there is some regulation of tro-tros, and only 3 people can be put in one row. A tro-tro will not leave until it is full, so you get in and wait for it to fill up. Drivers and their "apprentices" hawk for riders.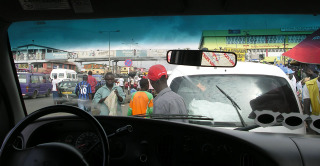 From inside the bus at the station, waiting for it to fill up with passengers so we can leave.
Tammy negotiates an air conditioned, 15 person bus for us. Sellers walk around and try to sell stuff to people waiting in the buses.
The ride to the Cape Coast was our initiation into distance traveling in Ghana and Togo. I sat in the first bench seat behind the driver, and I was right in the center so if it stopped suddenly, I would be thrown into the windshield. I called it the "crazy death seat". Seat belts? Once in awhile a taxi or van had them, but they were usually broken or stuffed behind the seats.
The ride was crazy as hell. Sorry, a rare swear word from me, but this instance warrants it. The rule of the driver of this rather fast van was to go as fast as possible. If he was behind someone who was going slower, he passed. Passing meant squeezing by or going into the opposing lane. It got less crowded the further we got out of Accra, which made it scarier because he went faster. Recall also that there are people walking along the road carrying stuff and selling stuff. And potholes.
Once we had to pass two big trucks that said "flammable, no flames near". So the driver gets us into the opposing lane, and a car comes from the opposite direction. The car flashes its lights, and we squeeze back in between the two flammable trucks. I took to closing my eyes and visualizing myself back safe at home.
One figures that things will work out, that if the situation is as crazy unsafe as it looks, there would be a lot of dead people and someone would fix the situation. Maybe. But there were signs that said "do not overspeed, X people killed at this spot". And there were burned out vehicles and crashed vehicles littering the sides of the road.
It took us about 5 hours to travel the 100 miles. We sure were happy to get out of that bus.
Next post: Cape Coast and slave museum.