The Green Turtle offers several "ecotours". We decided to take a canoe tour of a mangrove forest. So, Friday morning found us up and waiting for the tour guide at 6 am on the beach in front of the Green Turtle. Morning, we are told, is the best time to see the
mangrove forest
.
We walked with the tour guide up the beach about a quarter mile to a village. He called the village "old town" and "new town", connected as they were by a bridge. We found out later from the Swiss couple that the villagers would go to the beach, take a poop, and cover it up with sand. Yuck. Black trash bags were everywhere, even in the mangrove forest. The village was stinky, and people were bathing in the brackish water of the inlet that bordered the village. Well, enough of my whining about the messiness.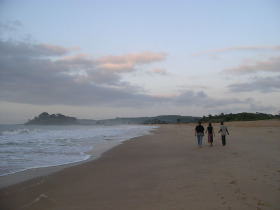 John, Tammy, and the guide walking up towards the village for the canoe trip.
We climbed into the canoe and started up the river/intertidal area through the mangrove forest. The guide was quite knowledgeable about the threatened mangrove forests, forests revered by the local people. The trees drop roots down into the swampy, salty soil and create an ecosystem for a variety of crustaceans, fish, amphibians, and birds. We saw a toucan, and the guide pointed out and named several other birds. It was quite beautiful, with reflections of the trees in the still morning water. When the guide was not talking, the only sounds were the sweep, drip, sweep, drip of the canoe oars.
Click on "read more" for photos of the mangrove forest.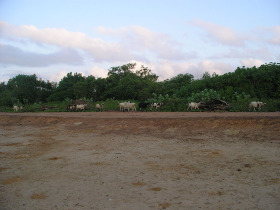 A herd of goats grazing near the beach.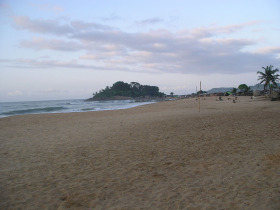 The view up towards the village.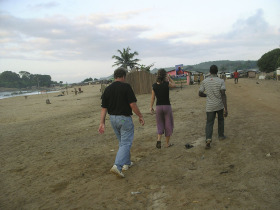 John, Tammy, and the guide entering the village.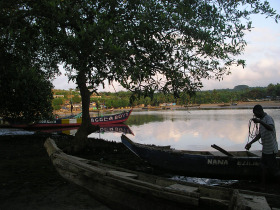 The guide's helper preparing the canoe for the trip.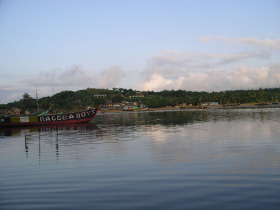 The village as seen from the water.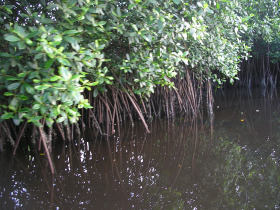 Close-up of the mangrove trees in the water.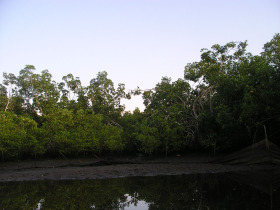 A tall area of the mangrove forest.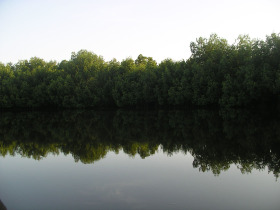 Mangrove forest.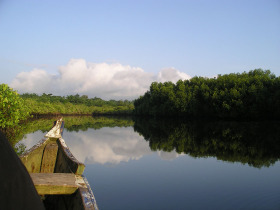 Mangrove forest.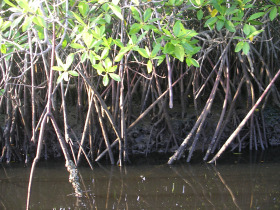 This photo shows how the root shoots drop into the water.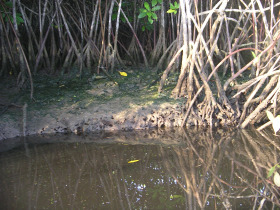 This is a shot of where little crabs live, although I don't see any in this photo.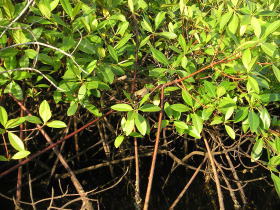 There's a lizard in those the green, green leaves!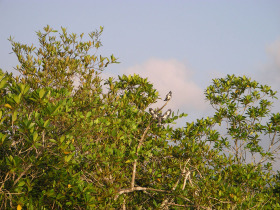 Two African birds. Sorry, I'm not a birdologist.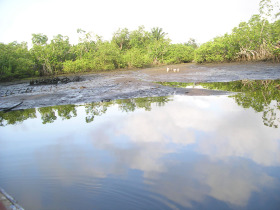 Some chickens living where the river meets the mud meets the forest.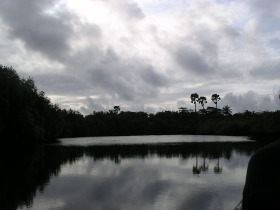 A pretty view.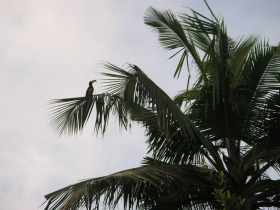 A toucan.
Next entry: Saturday, travel day.