Our travel to the town of Gocek on the Gulf of Fethiye and takes us through pretty country. This photo was shot from the bus, near Bozarmut: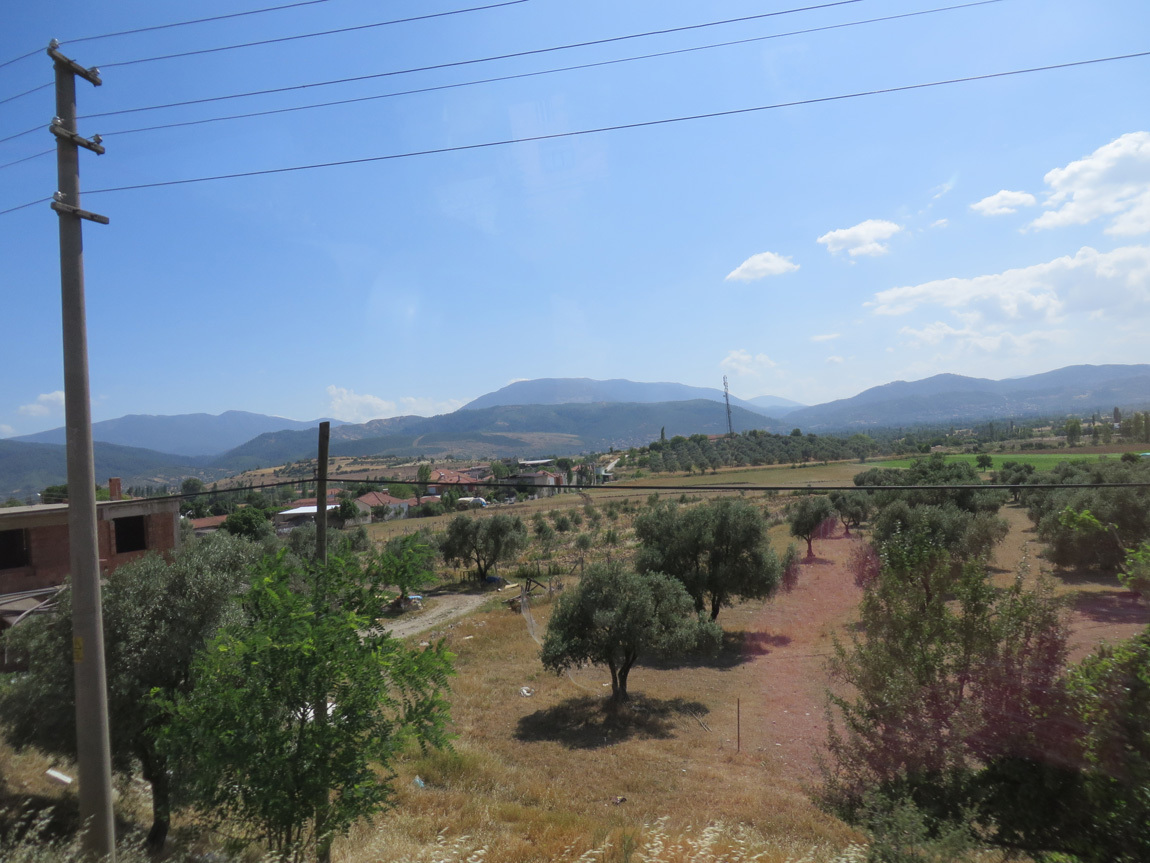 We pass a marble quarry near Yatagan. I imagine people 2000 years ago digging out marble for their statues, monuments, and structures. I have a favorite town in Colorado called Marble, where they mine some of the marble that is used in our own national monuments. There is something fascinating in pulling beautiful slabs of stone out of the dirt of the earth.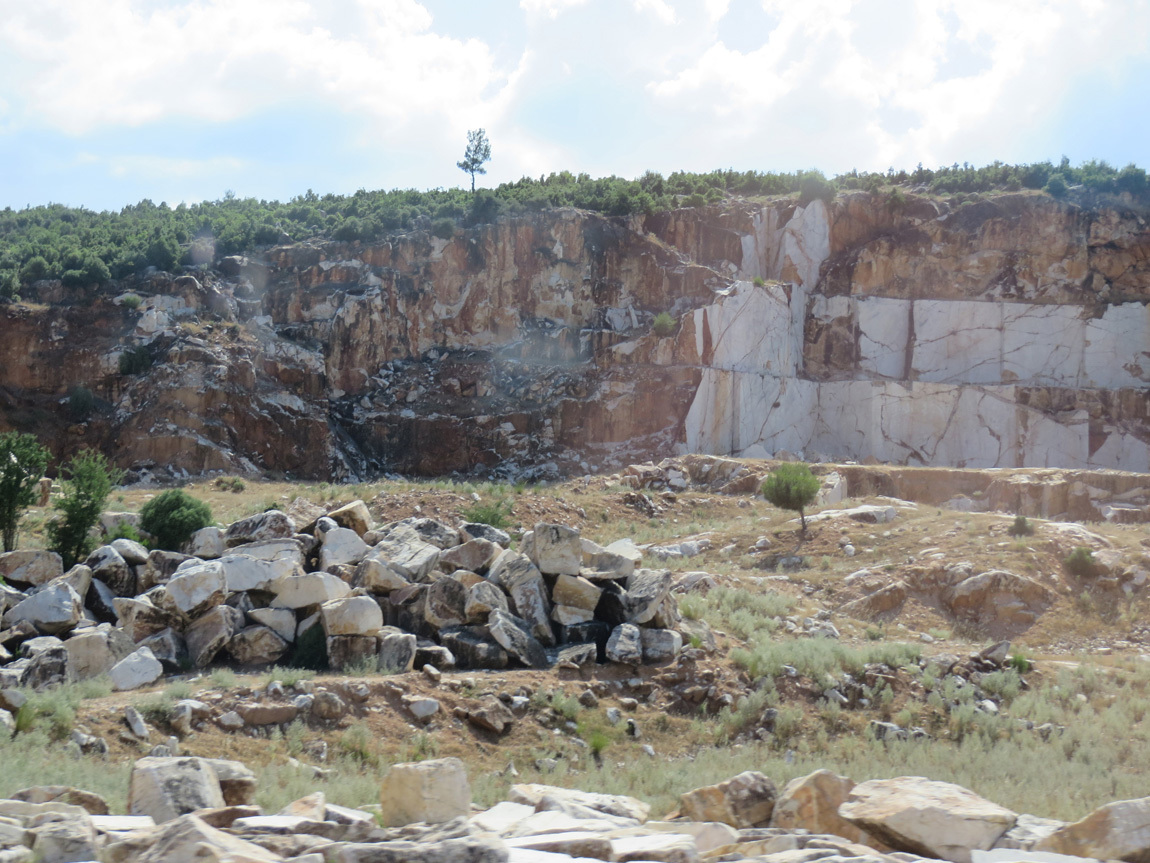 After 4 hours on the bus, we finally arrive at the town of Gocek. We leave the bus and walk through this small resort town to get to our gulets. I considered this a welcome sign: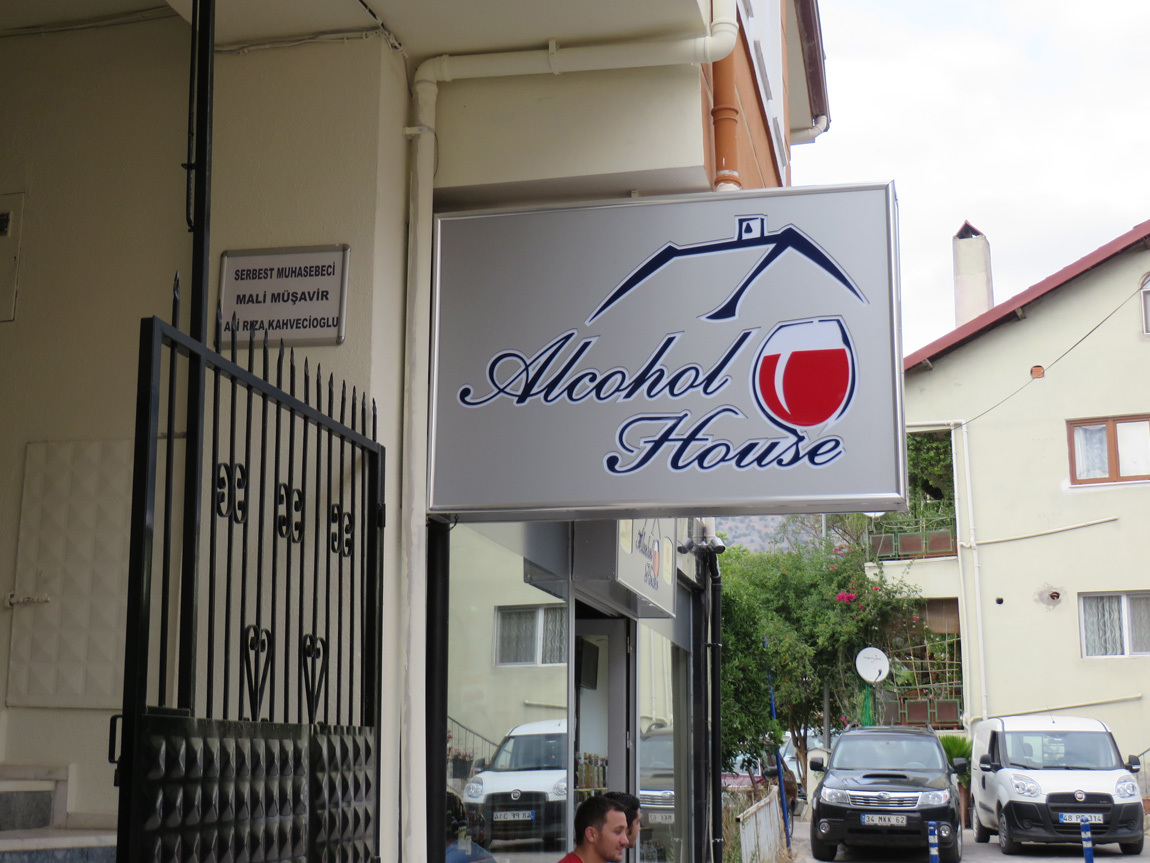 This is the town square: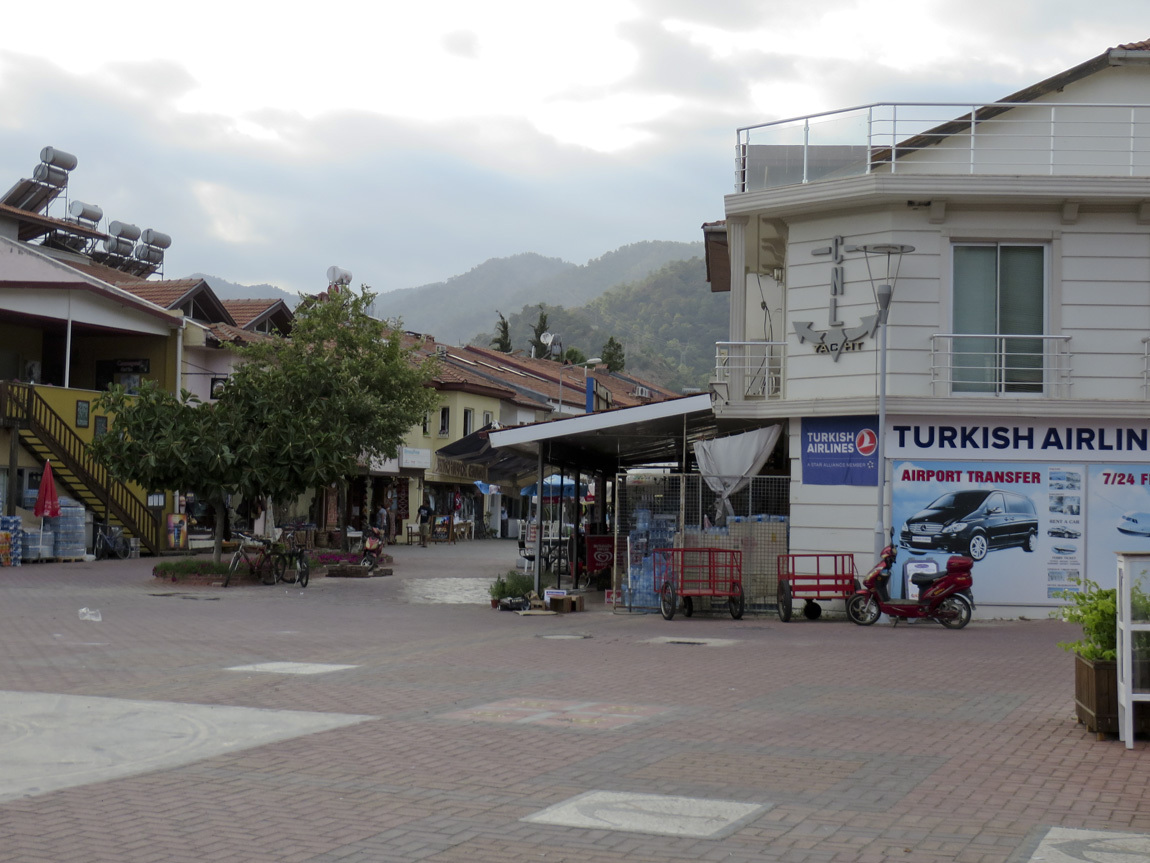 I am still amazed at the abundance of great fruits and vegetables on display in Turkey: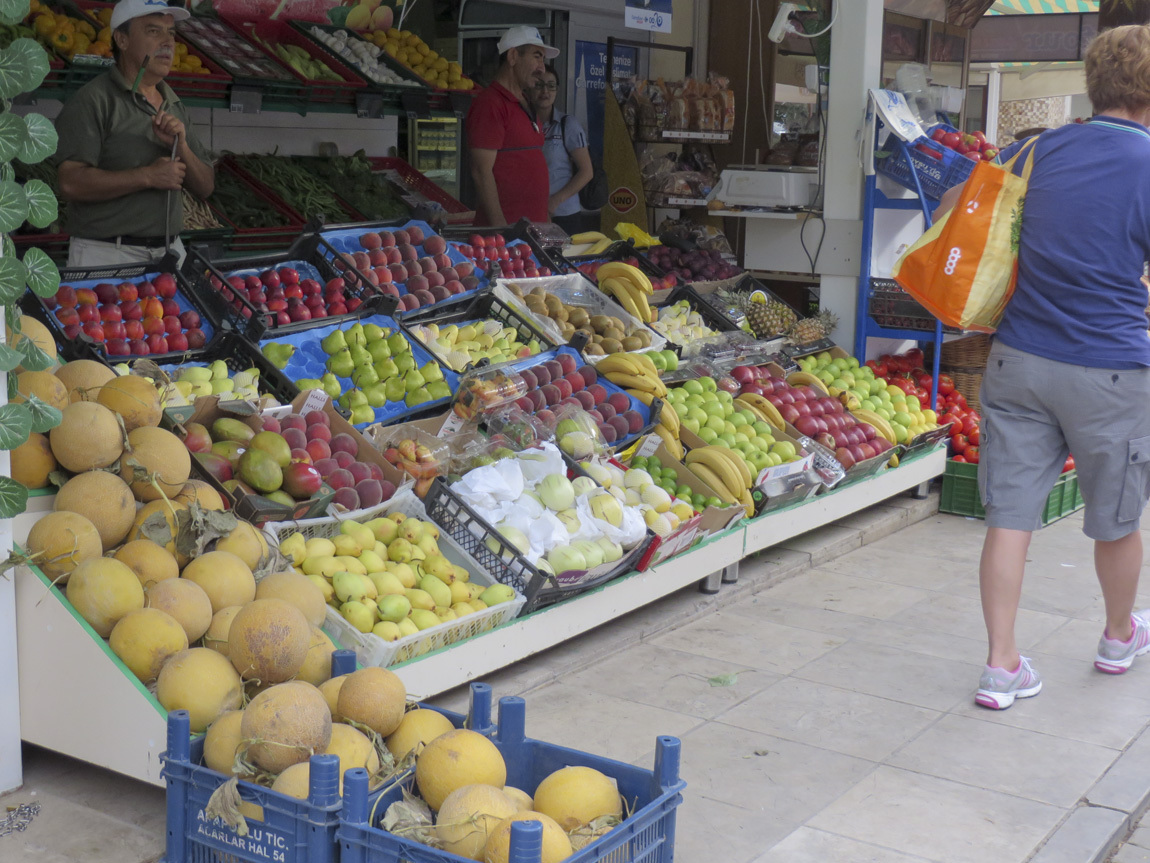 Here is Ali on the boat dock, guiding us to our two gulets. Half the group goes to gulet #1, and the other half to gulet #2.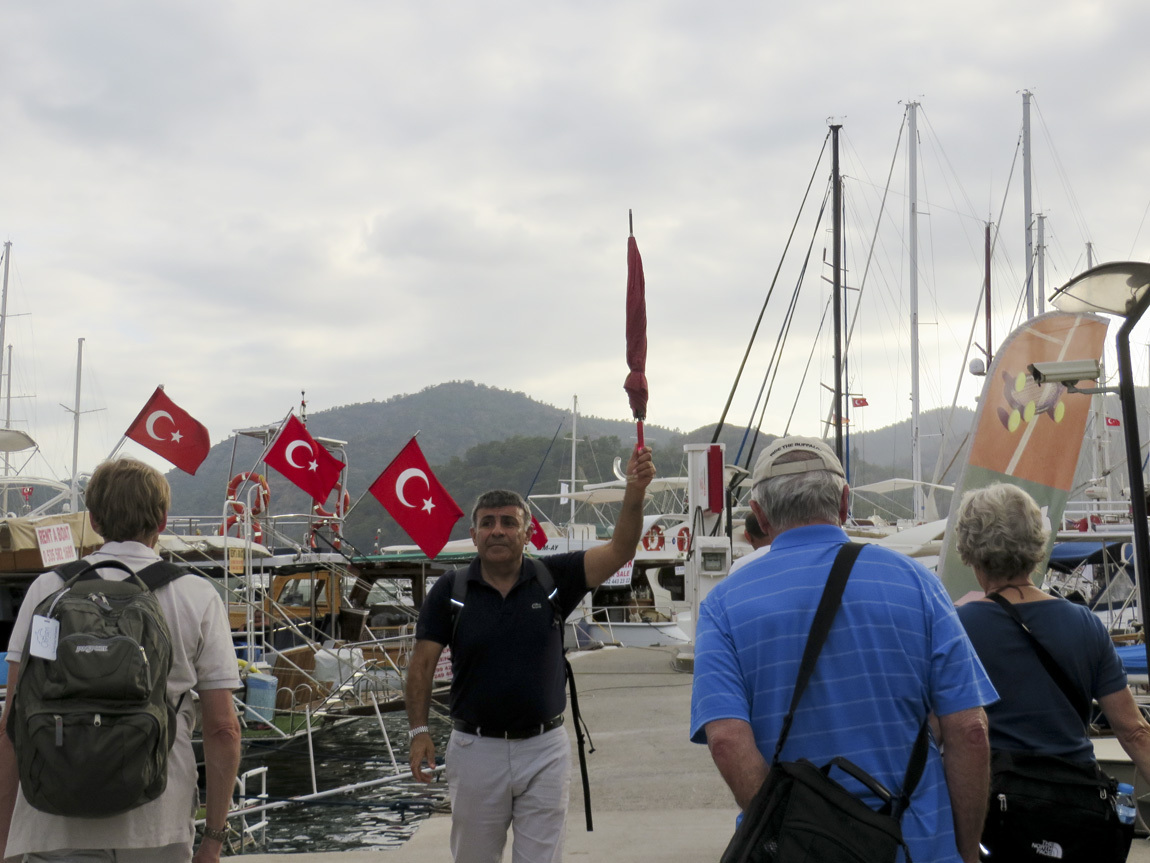 Here is our gulet, #2. Our boat boy is putting all of our luggage on board.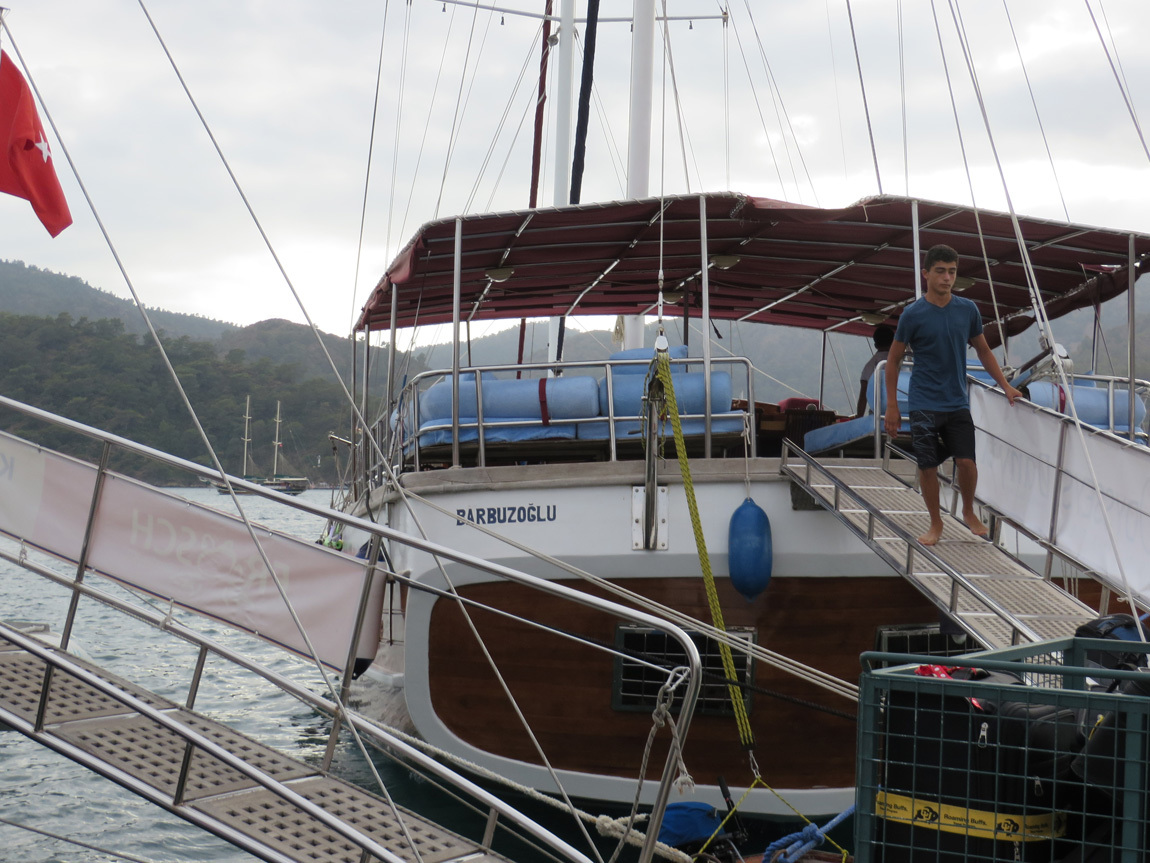 Once we are all on board, our captain takes us out into the bay. Here is the other gulet, gulet #1: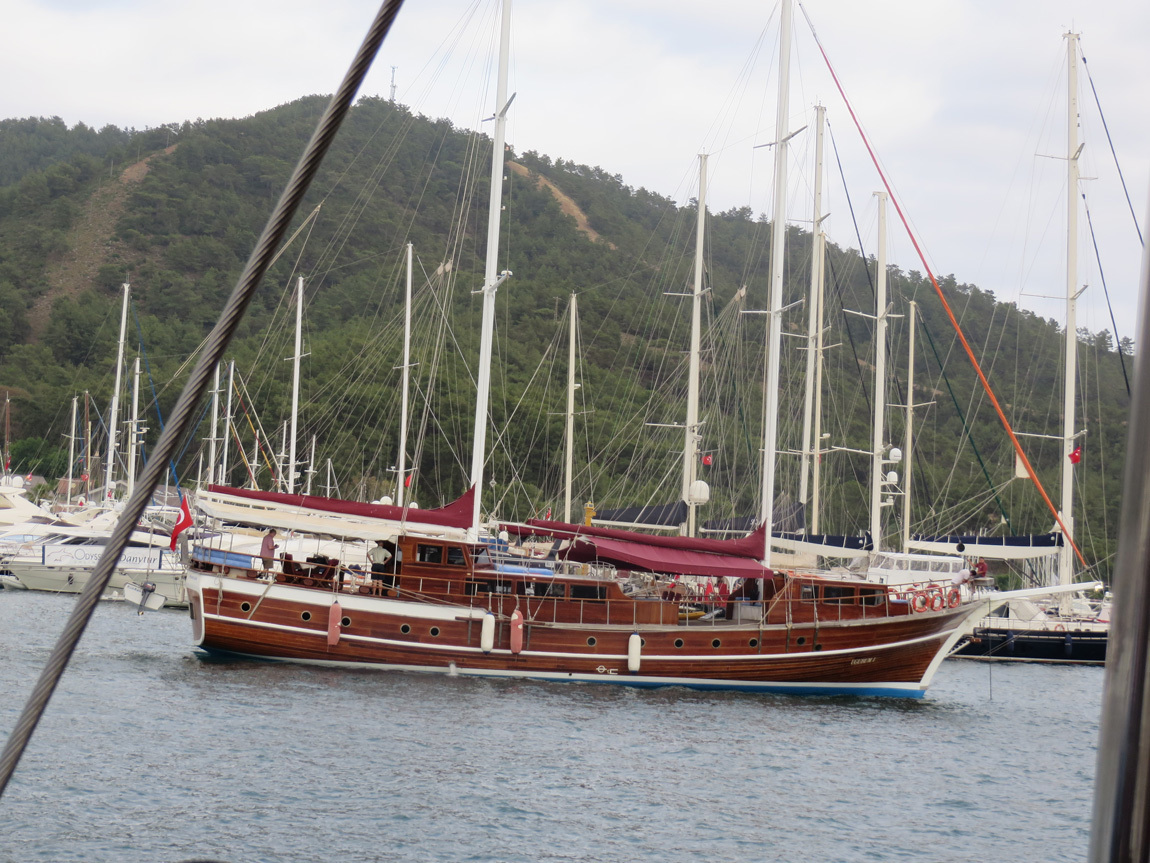 These boats look small, but they easily accomodate 6 couples. On the deck there is a lot of space for sitting on big cushions, either up near the bow or near the stern. There is a large table near the stern on our boat, and that's where we have all of our meals. We have three crew members, the captain, the boat boy, and Arman, who speaks English and is in training to be the captain. Ali is on the other gulet.
The crew works together to prepare all of our meals. The food is always wonderful! It is served family-style with large plates passed around for everyone to dish up for themselves. Lots of salads, tomatoes, cucumbers; watermelon for dessert; main entrees of fish or eggplant or chicken or kebabs. The grilling is done over charcoal by the captain. We run a tab for our alcoholic beverages.
Each cabin has a bathroom with a shower and toilet. Our bed isn't huge, but it is pretty comfortable. We can opt to sleep up on deck in the cool night air (John does this once). There is a galley and sitting area next to the cabins, and in it is a place to charge our devices. No wifi, though. Oh well, this is vacation!
The sails on the gulets are mostly for show. Generally, the captain propels us across the waters using the motor. That first night, the captain takes us to a pretty cove, and we spend the evening talking with our tourmates-turned-friends, enjoying a meal and drinks, marveling at the views, and settling in to life on the gulet.
Navigation:
first Turkey post
next Turkey post