I allow myself guilt-free coffeecake for breakfast only a few days a year. Last Friday was one of those days. Thinking about the significance of the day, lines in a Pearl Jam song run through my head; I go to the computer to play them loud through the speakers

ooooo-oooh, I'm still alive
Later, I run a mile on the track, and then get on the elliptical machine, setting it a little different from the last time I'd used it. And yes . . . I'm still alive.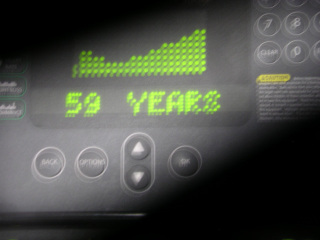 This was a tough photo to get, since I had to be on the ellipticals and pedaling to get the machine's display to work. Also, I had the flash setting off, meaning a slower shutter speed. After several tries, I deemed the above photo acceptable. Luckily the camera was set at a high resolution, and compressing/shrinking the image makes the number readable.
One of my attempts produced the following photo. That's what came on the screen whenever I stopped pedaling to snap the picture. I think it looks kind of cool.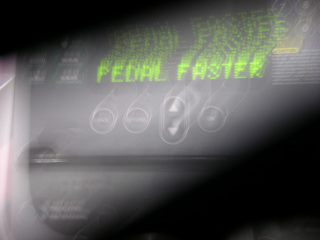 The last photo is shot down the track. It's unfortunate that it does not show clearly the mountain in the far distance, because that mountain is Blue Mountain, just above our house in Lyons.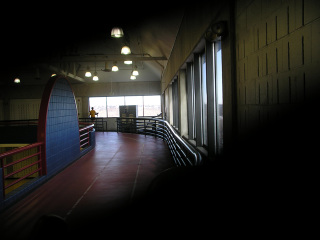 And the final picture I will put only in your mind. A woman, pedaling slowly on an elliptical, holding a camera in one hand, holding on with the other, trying to keep the camera steady, taking a picture, looking at the result and trying again, the track filling with lunchtime joggers, wondering at the eccentric old lady on the machine.