At about 11 am we get into the jeep to go on a picnic. Once again, we drive for awhile on the crazy, steep trails.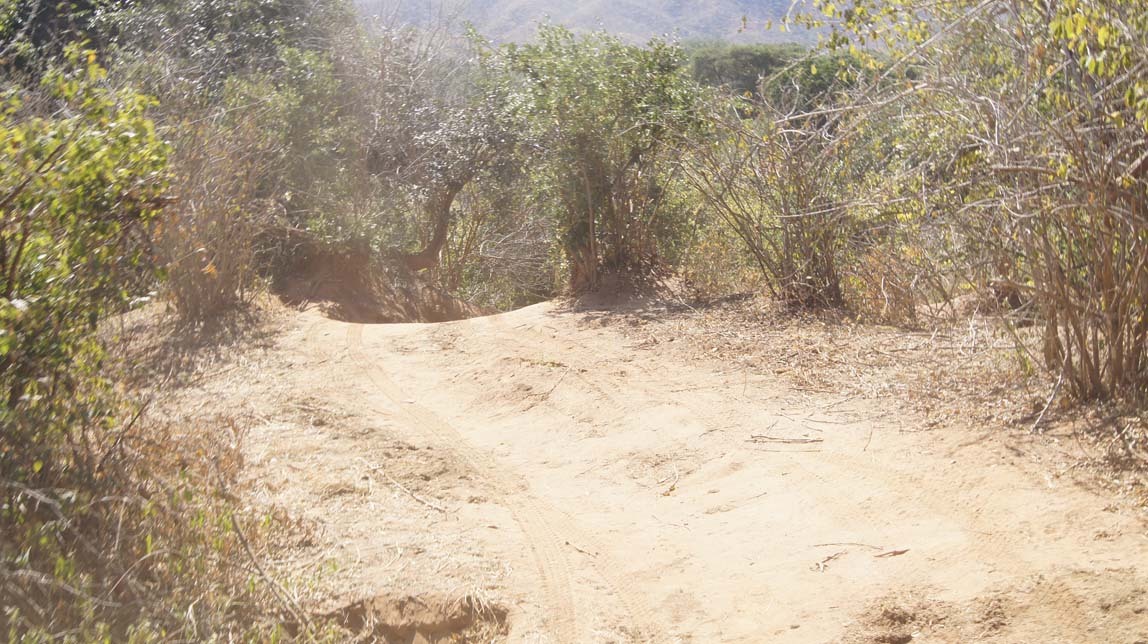 We head towards the mountains. The picnic spot is under a large tree, and near a waterfall. We come to the picnic area first. There, a crew from the lodge has set up canvas chairs, a table loaded with food (there are only eight of us!), and a full bar. There is also a handwashing station for trips to the guarded "bush toilet". Are we pampered or what? This is crazy.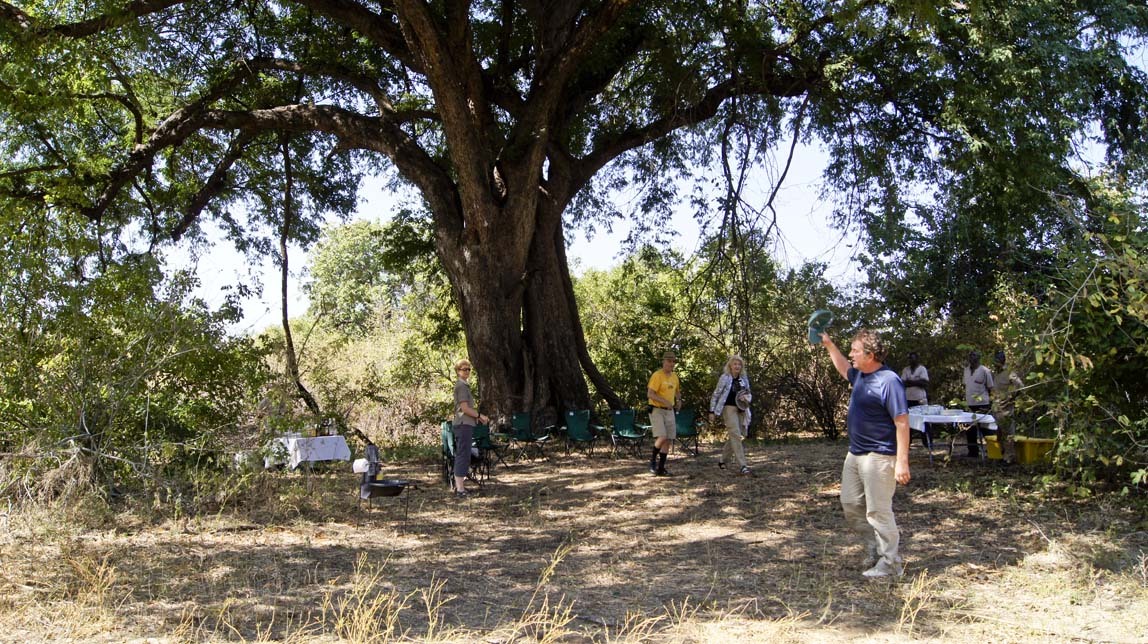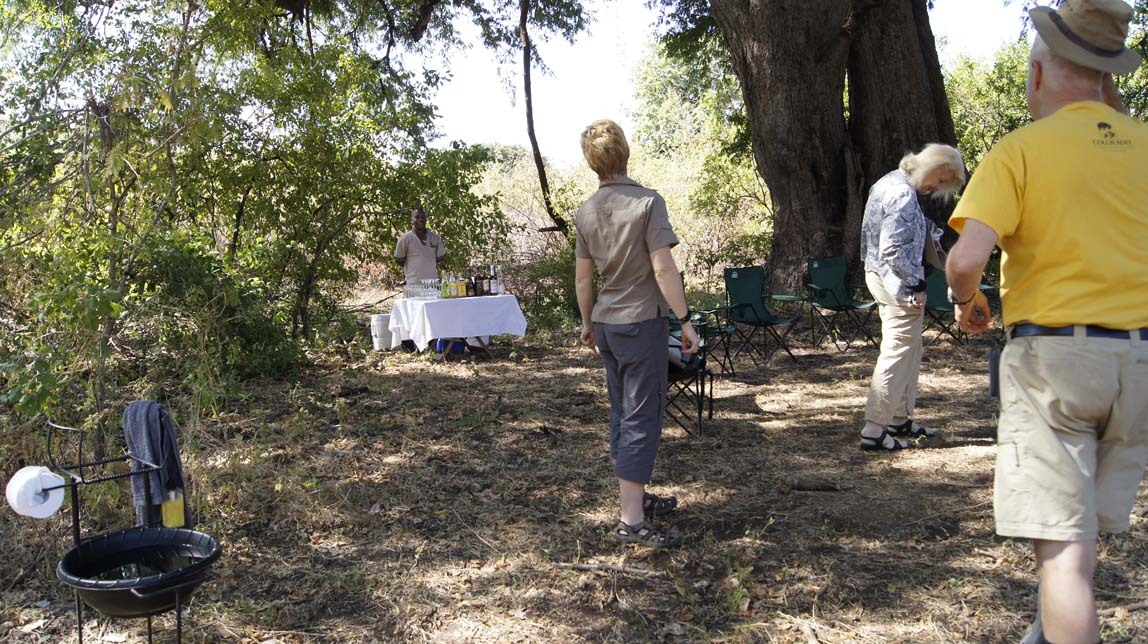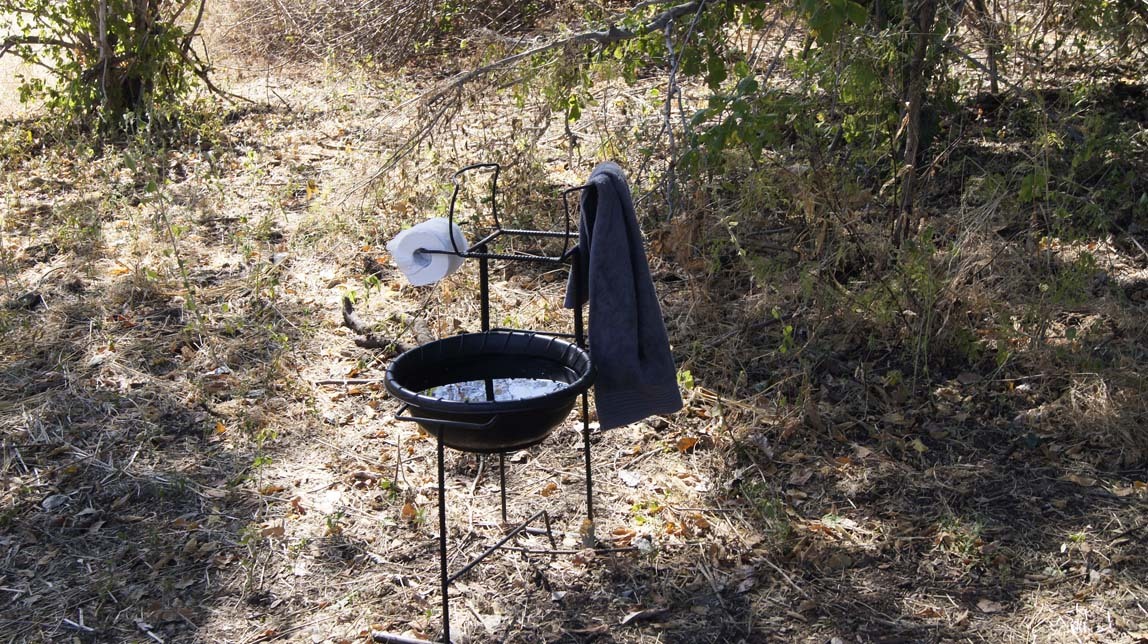 We settle into enjoying our food and drinks. Nothing like being in Africa enjoying a gin and tonic.
A short jeep ride takes us to the river. The falls dump into the river near the rocks to the left in this photo: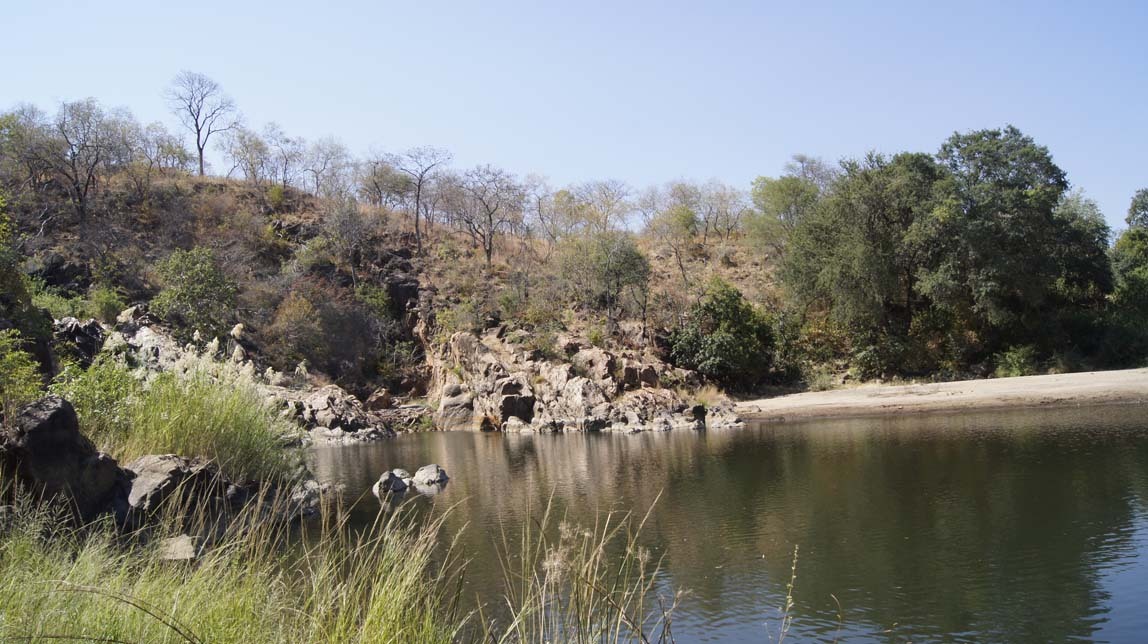 Hmm, maybe the gin and tonics weren't the best idea. Because, the next thing the tipsy tourists do is climb up a cliff to the top of the falls. We have to step up steep and wet rocks, while perched on the edge of a dropoff. I and the other women (except Tonia) stayed at a spot mid-way up that had a great view of the falls, while the others went to the very top. I braced myself steadily against a huge rock and took some photos.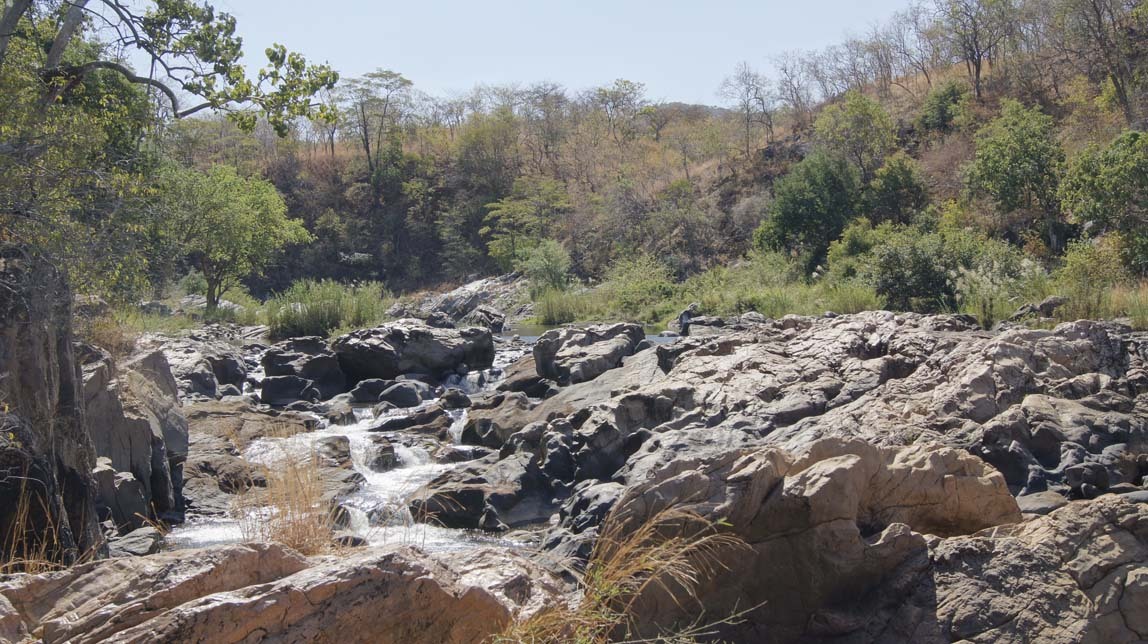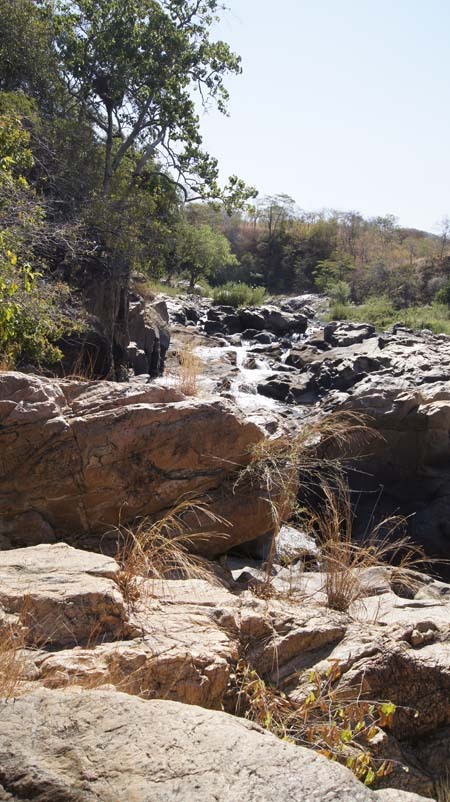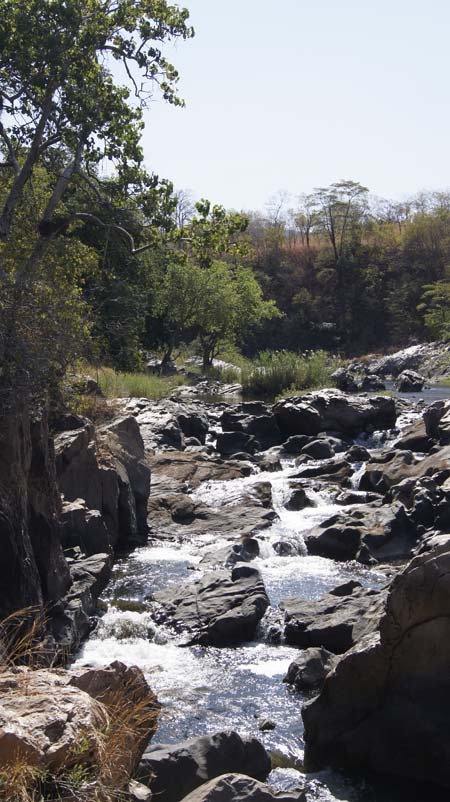 The guys came back, smiling: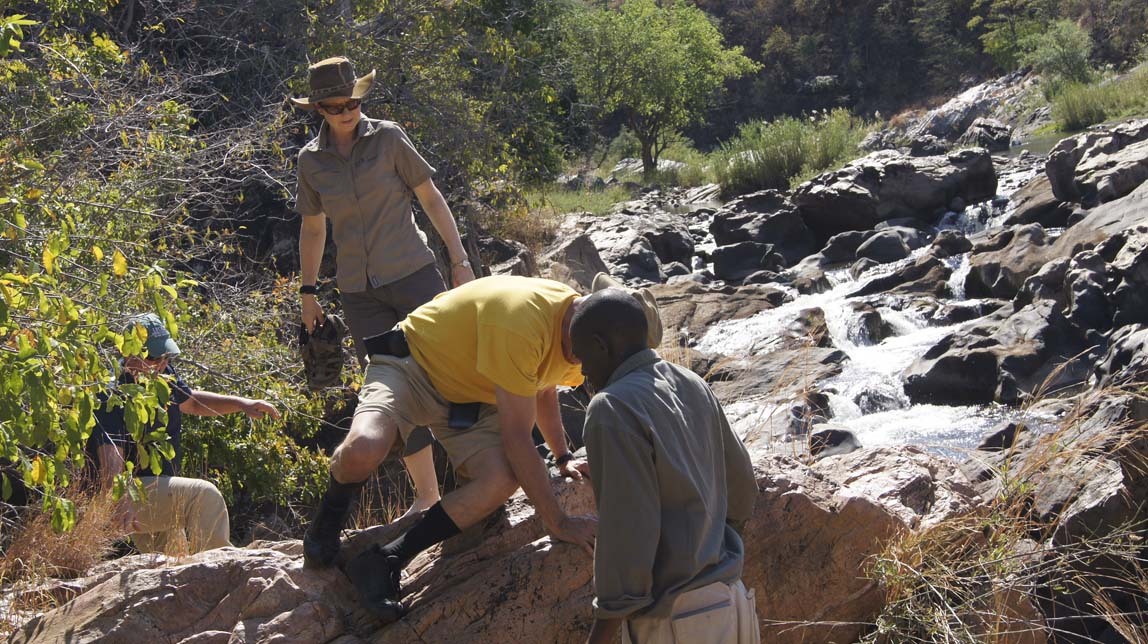 John and Simeon: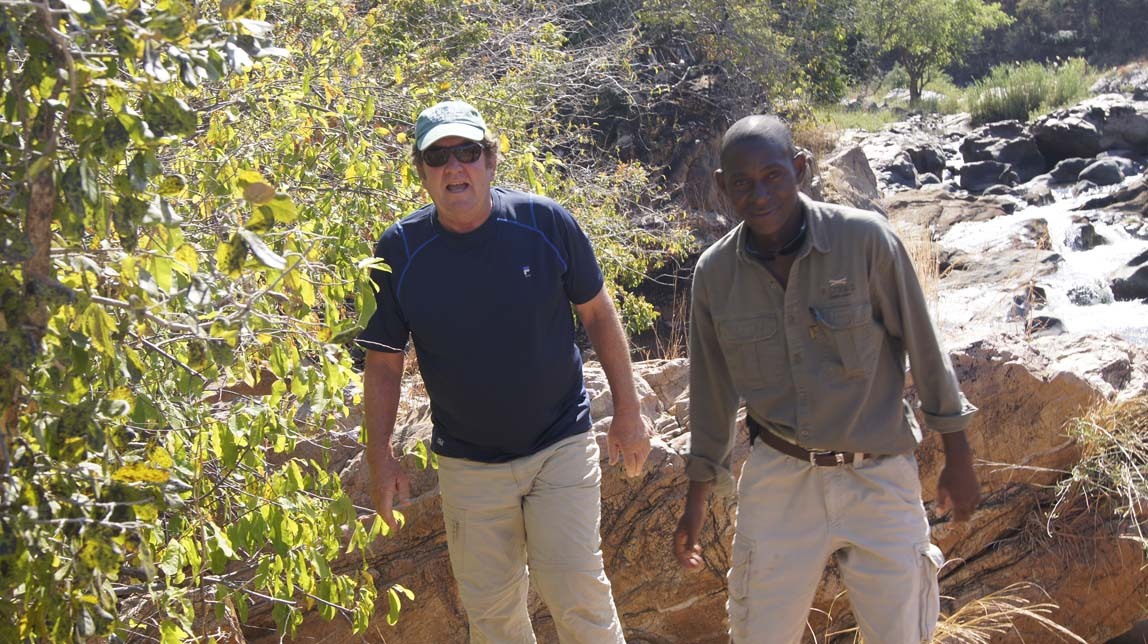 We returned to the Royal Zambezi, and after a short rest we went out on a canoe trip. The canoes were towed down the river to where a secondary, small river forms a passage for a short distance between two spots on the Zambezi River. I think it's the same area we were in when we saw the maternal herd cross the river the day before. I didn't take my camera because I didn't want to risk getting it wet. We saw elephants and hippos and crocodiles, and we kept our distance since we were in a canoe rather than a large jeep. It was a peaceful, quiet way to view the animals.
Back at the lodge we were again met with glasses of sherry. Later, we went on a night jeep drive, not quite as exciting as the night before, but we did see for the first time a
bush baby
. Dinner at the lodge that night was fresh caught perch, one of the best meals in a trip of excellent meals.
Navigation: first safari blog entry
Next blog entry