"Knock, knock." That's our wake-up "call" at the Royal Zambezi, spoken by one of the helpers at our tent door.
At the lodge we are offered a buffet of fruit salad, yogurt, breakfast breads, juices, and of course, coffee! We watch the sun rise over the river as we enjoy our early morning nourishment and caffeine.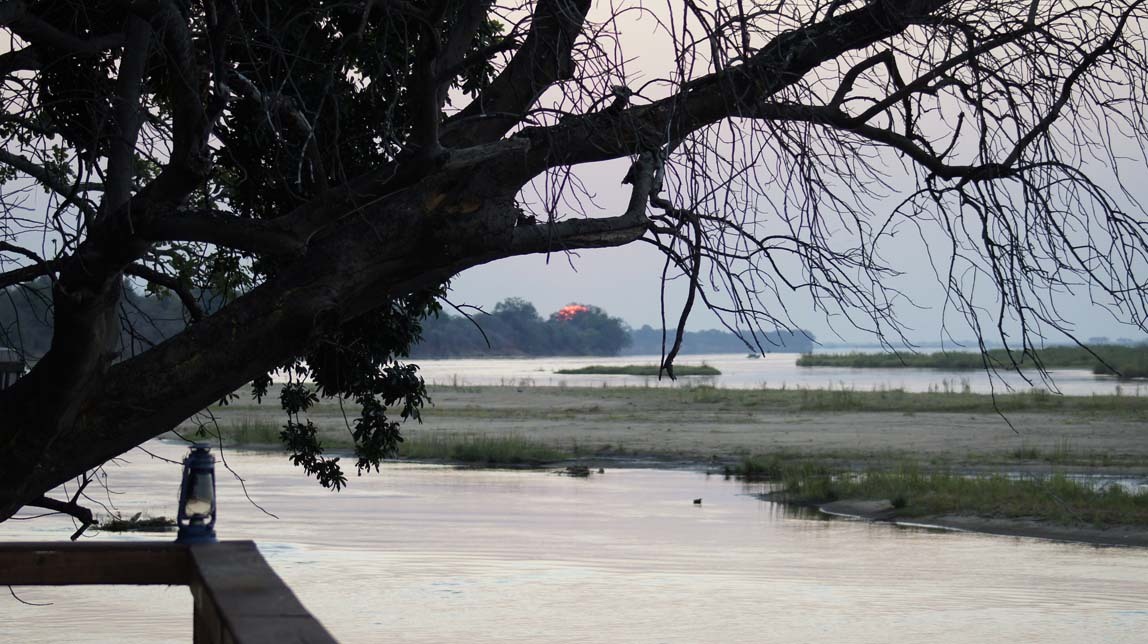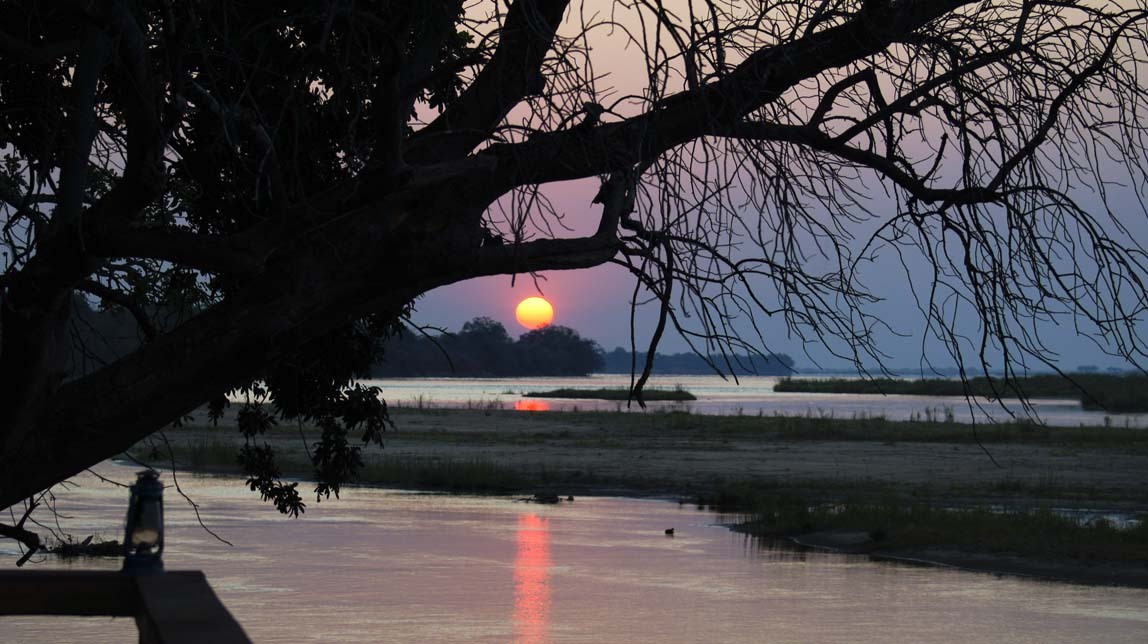 Soon we are off in the safari jeep for the short drive to the entrance to the Lower Zambezi National Park. We get there about 7 am. Our guide Simeon jumps out of the jeep and talks to the park rangers who man the office. They gesture and talk awhile, pointing up and down the road. Simeon comes back and says "a big male lion just walked by the office, heading back down the road, out of the park." So we turn around. We are off to track the lion!
Is this crazy or what? Besides the report of the park rangers, our guide bases the male lion presence and direction of travel on these footprints in the sand: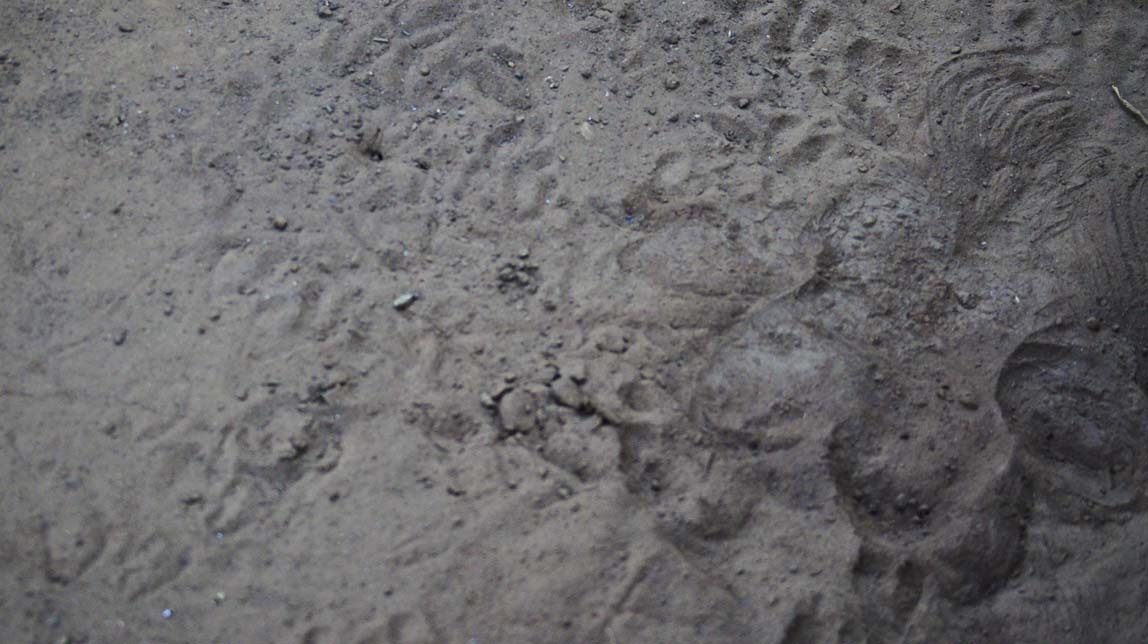 I can't see the tracks in the above photo, but I'm not an expert. We'll have to trust our guide.
Simeon and Tonia talk about the habits of male lions as we drive along. Dominant male lions service females - lionesses - in different prides. This particular lion is likely on the move from one pride to another, since his prints are always on the road (easier to travel than the bush) and he is taking a straight, direct path (to wherever he is going). He is on a mission!
We come to an area with a slow moving river beneath a tall, red-earth cliff. No lions here, but a group of baboons is hanging out. It's amazing how they can go right up the cliff. I took lots of photos in the early morning sunlight.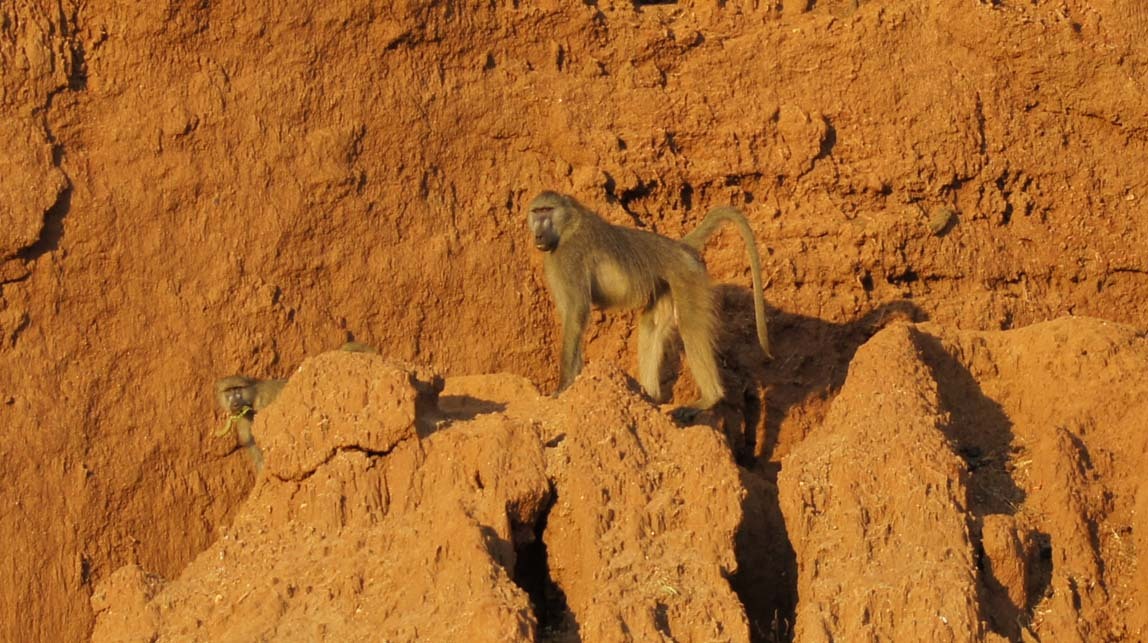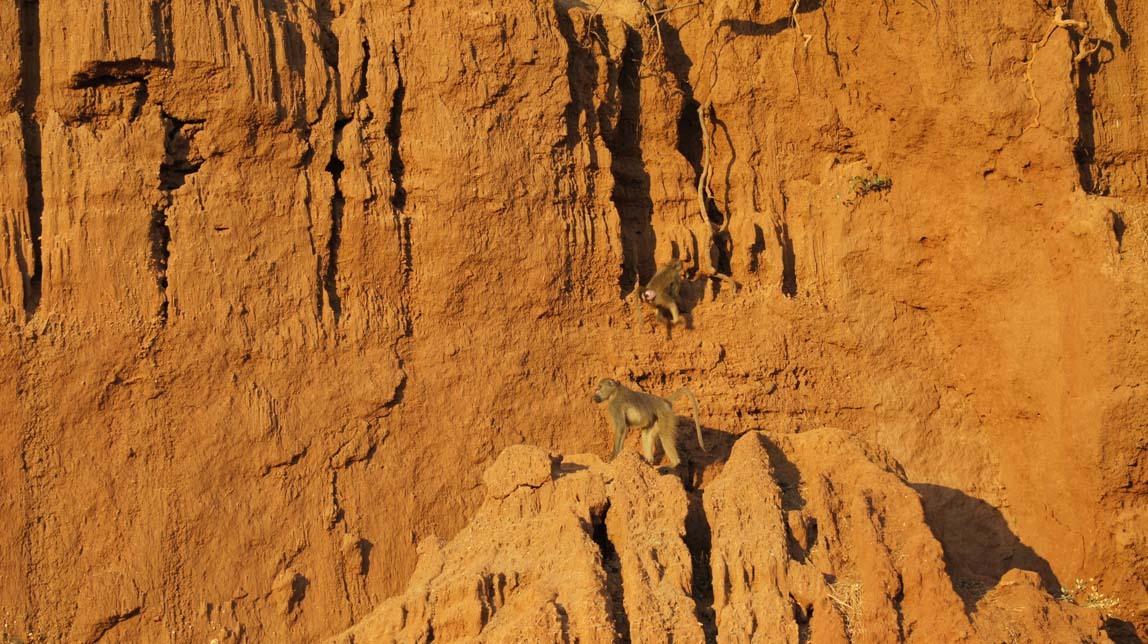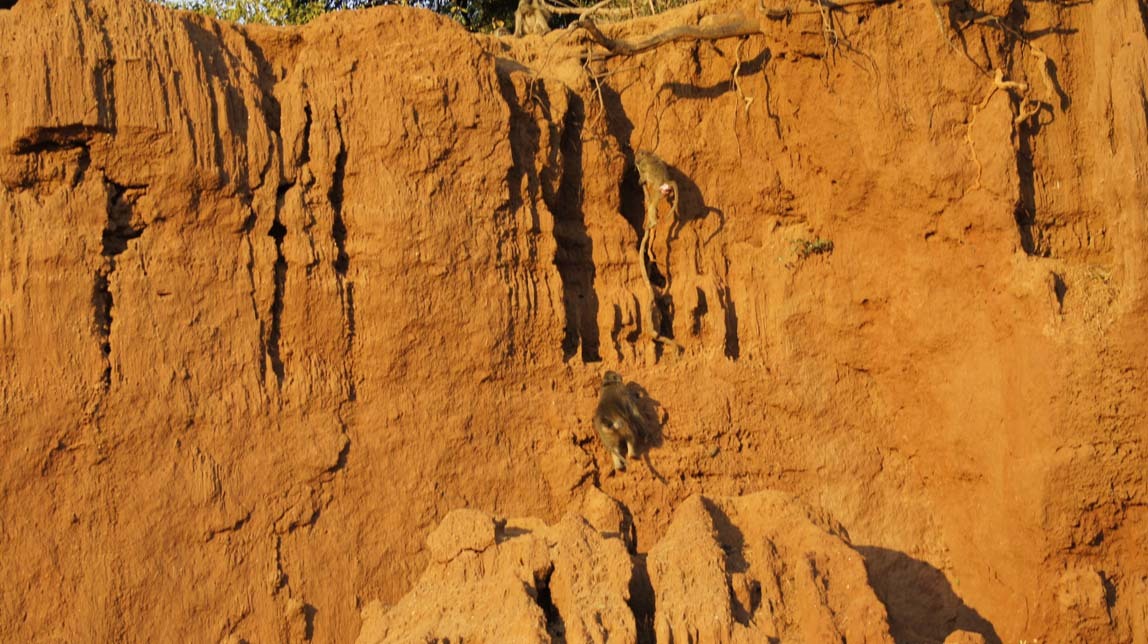 Awhile later we saw an African open-bill: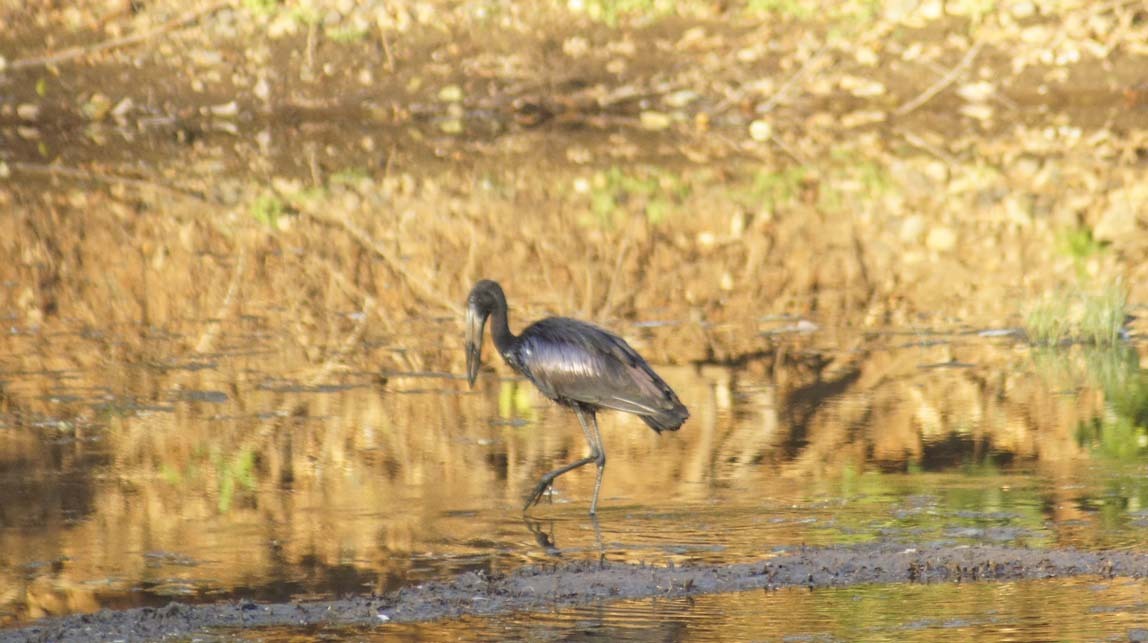 Half an hour into the lion-tracking, we enter Lower Zambezi National Park through a different entrance than we had originally intended: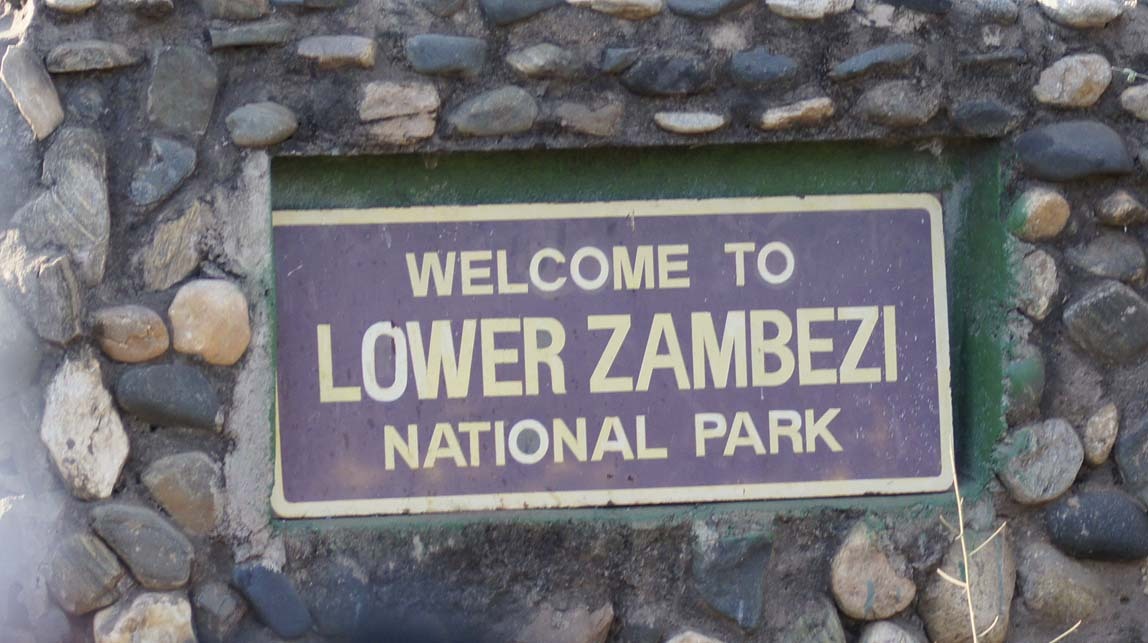 An hour later, the jeep trail went up a very steep, rutted, and overgrown trail. The driver tried to get the jeep up it, but it just wasn't making it. So we all got out of the jeep and walked on ahead a little ways, and they cut bushes out of the way and and tried again.
Nope, it didn't make it that time. He tried again.
Yeah! This time he made it.
It was worth getting the jeep up that steep trail - at the top, Simeon drew a circle around some lion tracks. I think I can see the print in this photo.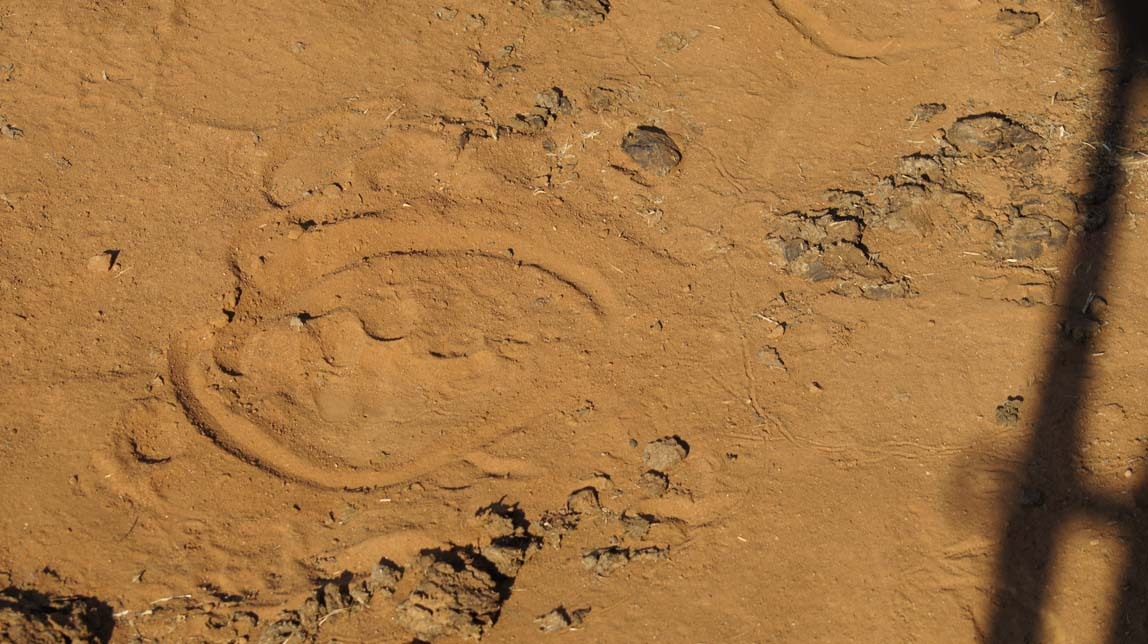 We did see a baboon: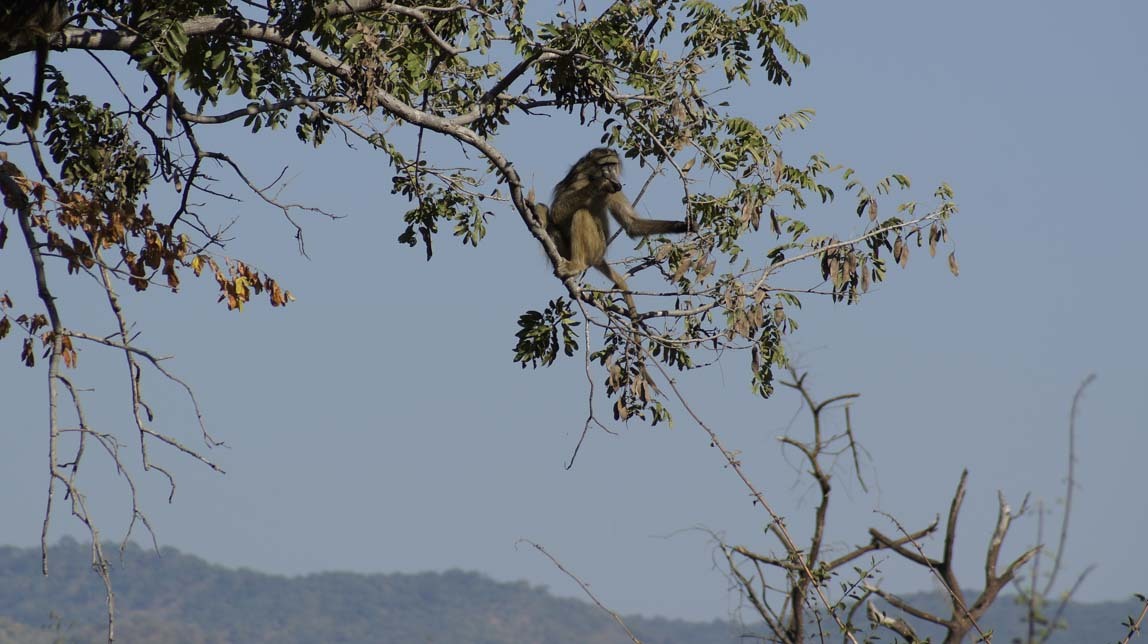 And we saw a really neat tree called a "
strangler fig
". This "tree" begins as a seedling in the crevice of another tree, and grows roots down and branches up, eventually enveloping the other tree and strangling it.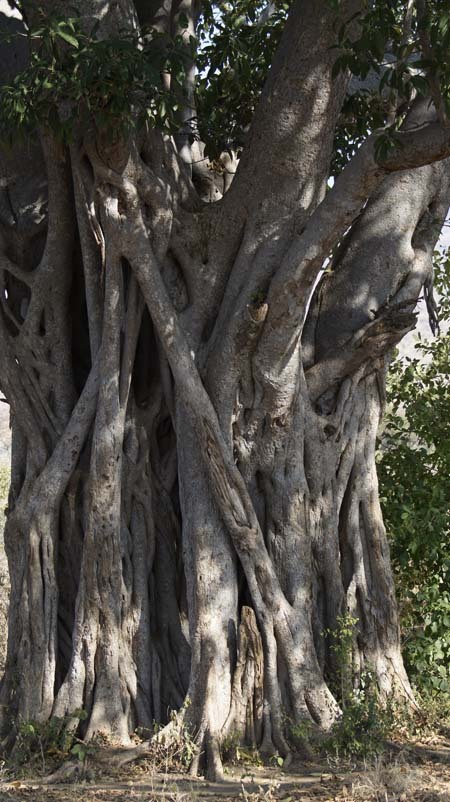 We drove and drove on the dusty roads, looking for that lion. Up hills, around curves, down hills, backtracking, going through water - this was a heavy duty four-wheel drive trip. Simeon or his helper often had to push branches out of the jeep's way. We saw a lot of scenery, but no lions. Finally we gave up and drove up the mountain a little ways and stopped for coffee and treats (and bush toilet). The views were nice, so I'll share a few of my scenery photos.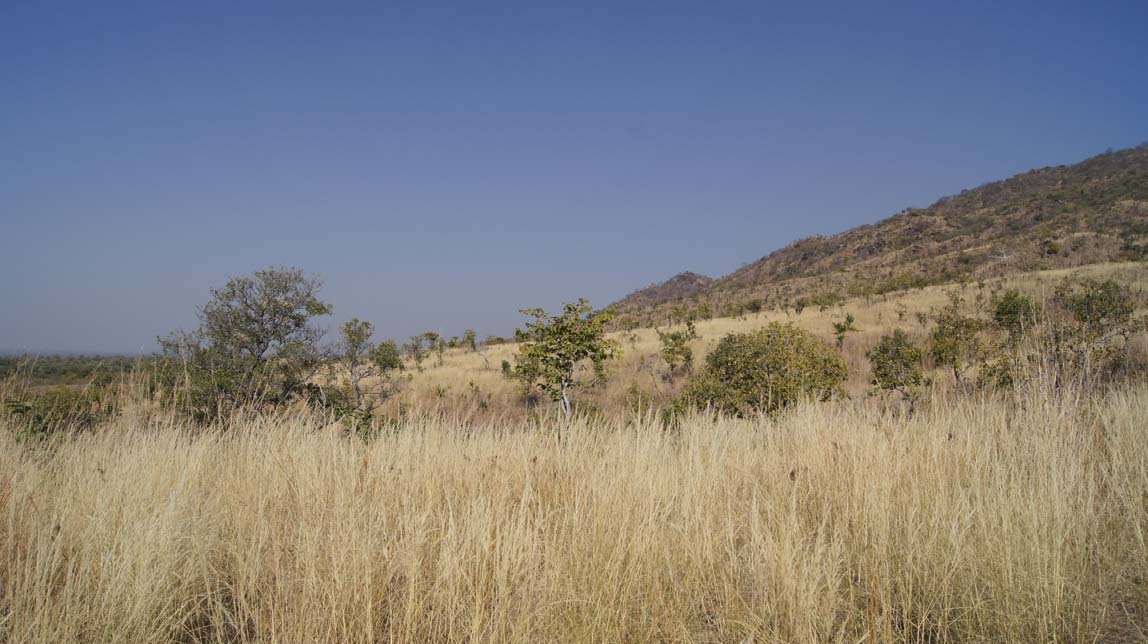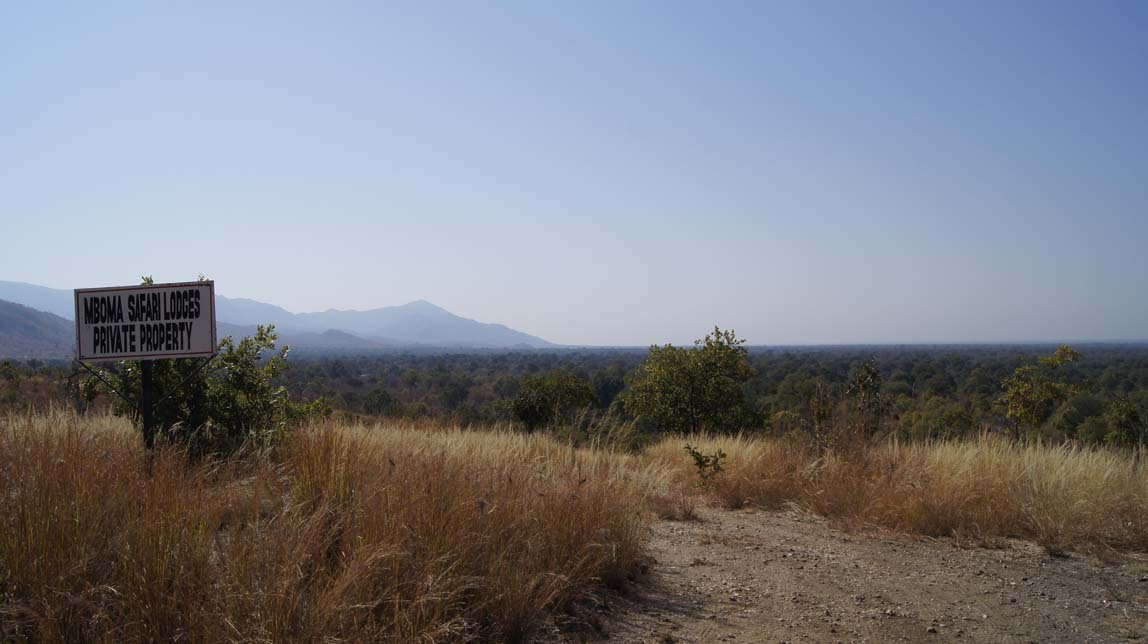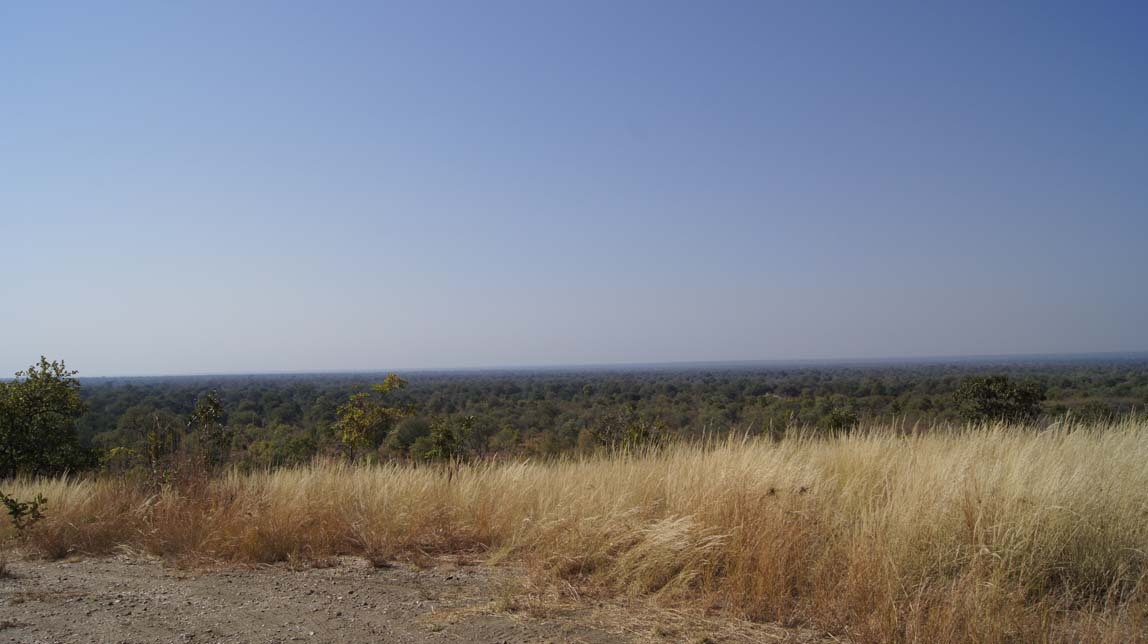 I crouched down and pretended I was a lion in the grasses: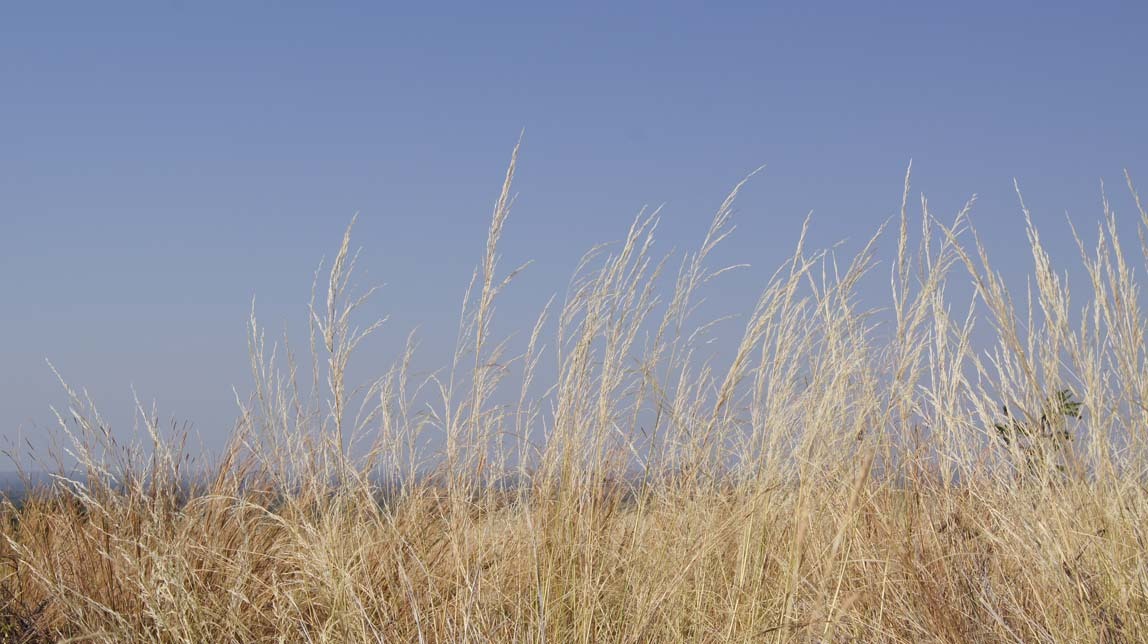 (It does look like the grasses you see lions in in nature movies, don't you think?)
We get back in the jeep and spend another hour on the roads. More scenery, that's about all we saw.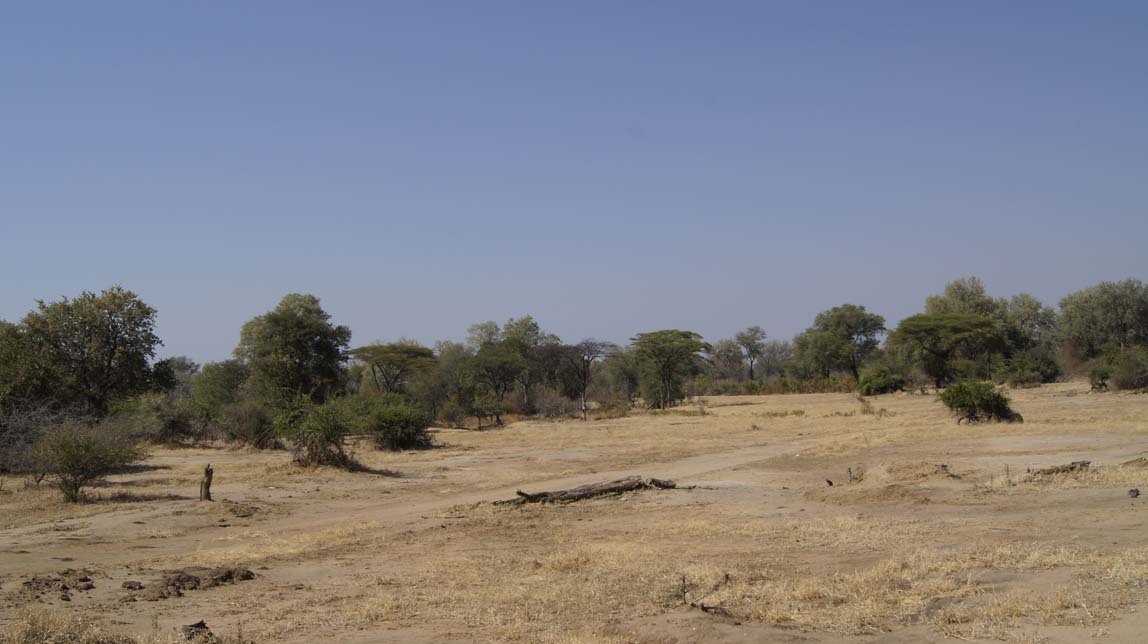 No lions here: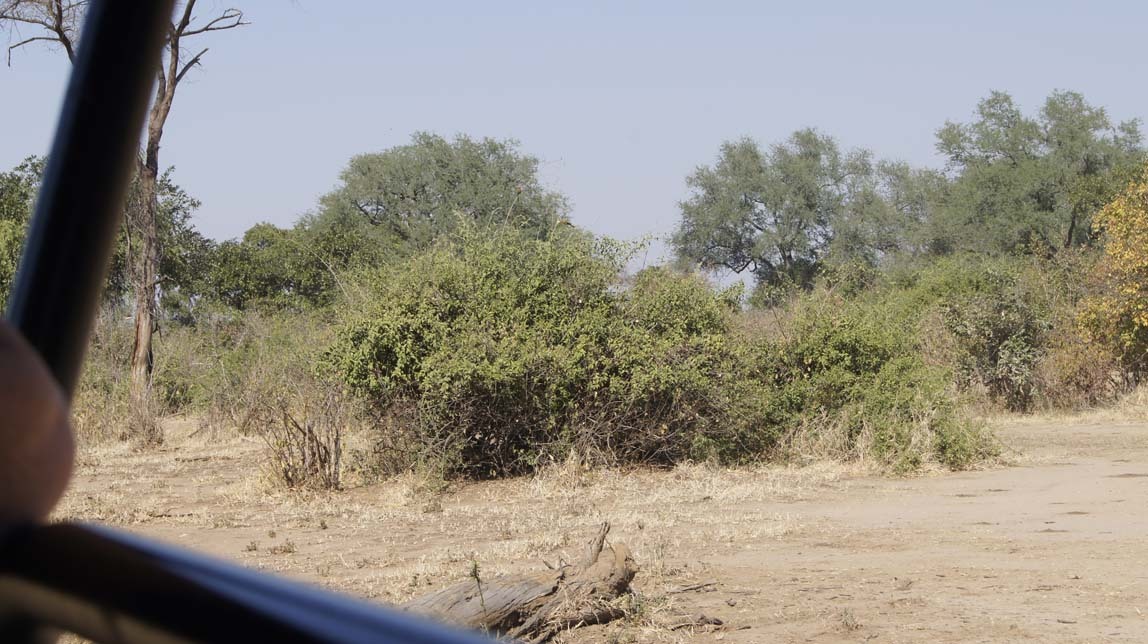 A couple kudus near a mud hole: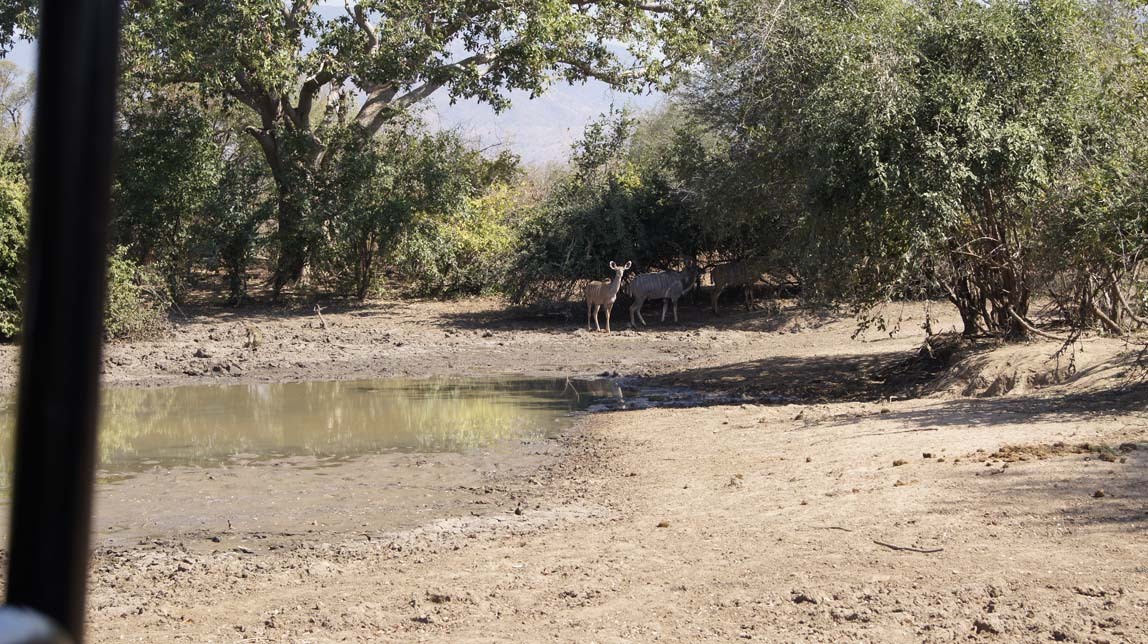 Acacia trees: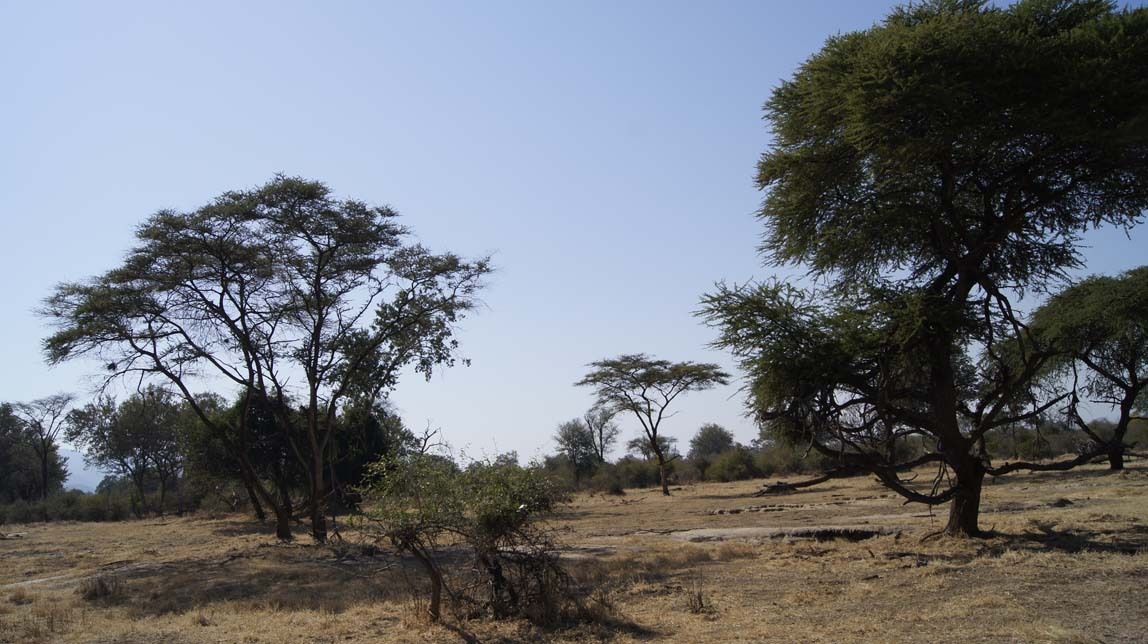 Over four hours after starting the lion-tracking, we come to the private airstrip, so we know we are just about back to our lodge.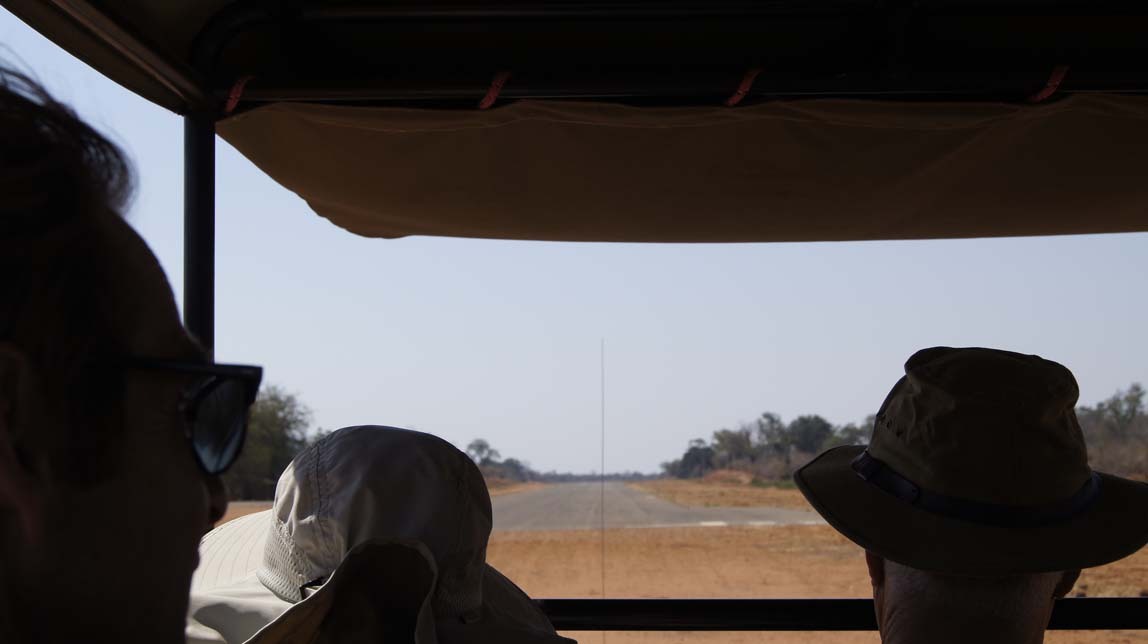 Dusty and a little tired of the bouncing jeep, we gratefully return to our lodge. It was an interesting time and we saw a lot of the Lower Zambezi National Park. We had an adventure, even though we never saw the male lion.
We sat down to a brunch and enjoyed the great, quiet views of the river. We then had several hours to enjoy our tent and bar and the surroundings. I sat out and watched a monkey climb around the tree in front of our tent. We needed this time to rest: we have another safari drive scheduled for this evening. Unlike in Chobe National Park, in the Lower Zambezi we are allowed to drive around looking for animals after the sun sets. We want to see a leopard!
Navigation: first safari blog entry
Next blog entry