Months of planning, John and I thinking "safari" sounds fun, but not knowing exactly why. Then long flights and we are in Africa. We meet our tour group and guide, spend a night at a grand hotel, and take another flight up through Africa to Victoria Falls, Zimbabwe. Our tour guide ushers us into our first motor coach to go to the safari lodge.
After so much time spent caught up in details, captured in planes, finally we are chattering with new friends as we drive along a dirt road through the African bush. We wonder how far away is the lodge, what will it be like, then . . .
. . . I hear "baboons!!"
I look out the window as a family of baboons crosses to my side of the road. Suddenly I know: Yes – this is exactly what I want to experience! This is what it is all about. I really want to see the animals of Africa, and now I am doing it! My first inclination when I read the
African safari brochure back in November
was right, this was a really, really good idea, to come here!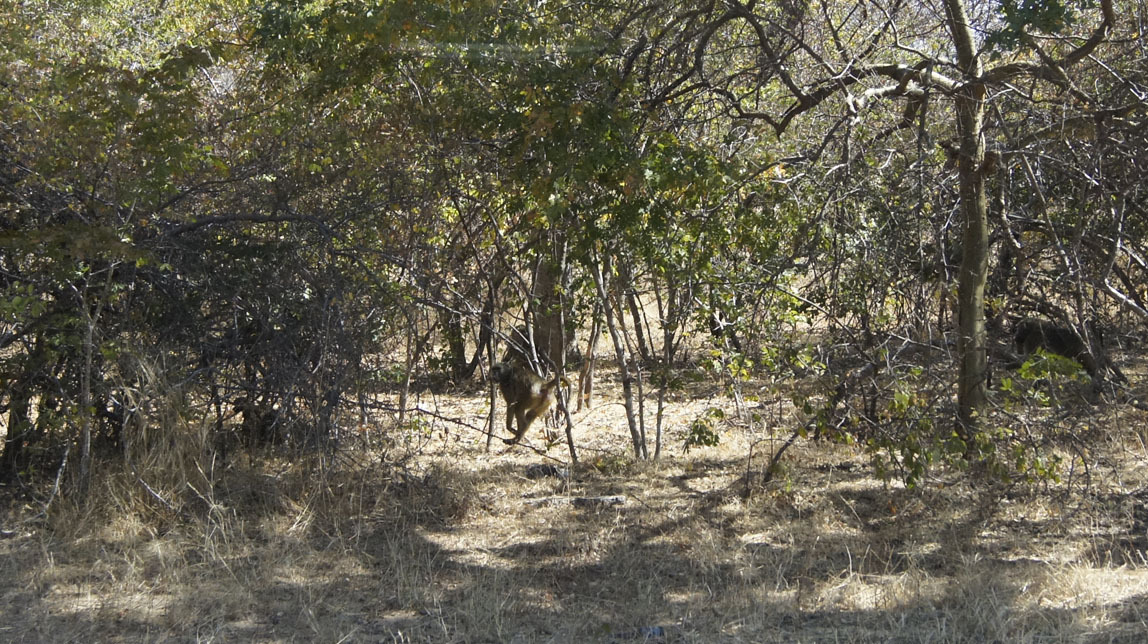 Photographically, this is the worst photo that you will see in this blog. But I have to start with it, because it captures a significant moment: my first sighting of a wild baboon running across the road while I fumble to grab the camera that will become a comfortable and natural part of my hand for the next two weeks, while I realize that I have just stepped into a different world, a world of animals out of a zoo, a world of African animals roaming freely.
Navigation: Next blog entry.