Our first three safari nights were spent near Victoria Falls at the
Stanley and Livingstone
, a safari lodge. As we arrived, we were greeted with glasses of cold, fresh juice. We put our luggage in our room (well, "suite" is more like it), gazed at zebras near the lodge's water hole for awhile, then got back in the vehicle for the drive to Victoria Falls.
Victoria Falls
is one of the seven wonders of the natural world. The falls form as the Zambezi River, nearly a mile wide, drops suddenly three hundred feet into a narrow chasm that runs perpendicular to the river. Thus there are two huge, long cliffs, the one the river falls over, and the one we will stand on, a few hundred feet away. It's early winter for Zimbabwe when we visit, and the river is nearly full volume. We are told to be impressed, but we really don't quite know what to expect.
The road to the falls has signs that warn "Elephants!" Baboons and warthogs frequented the city area, and vervet monkeys played around the gate into the Victoria Falls national park.

Note: Click on any photo to view a larger version.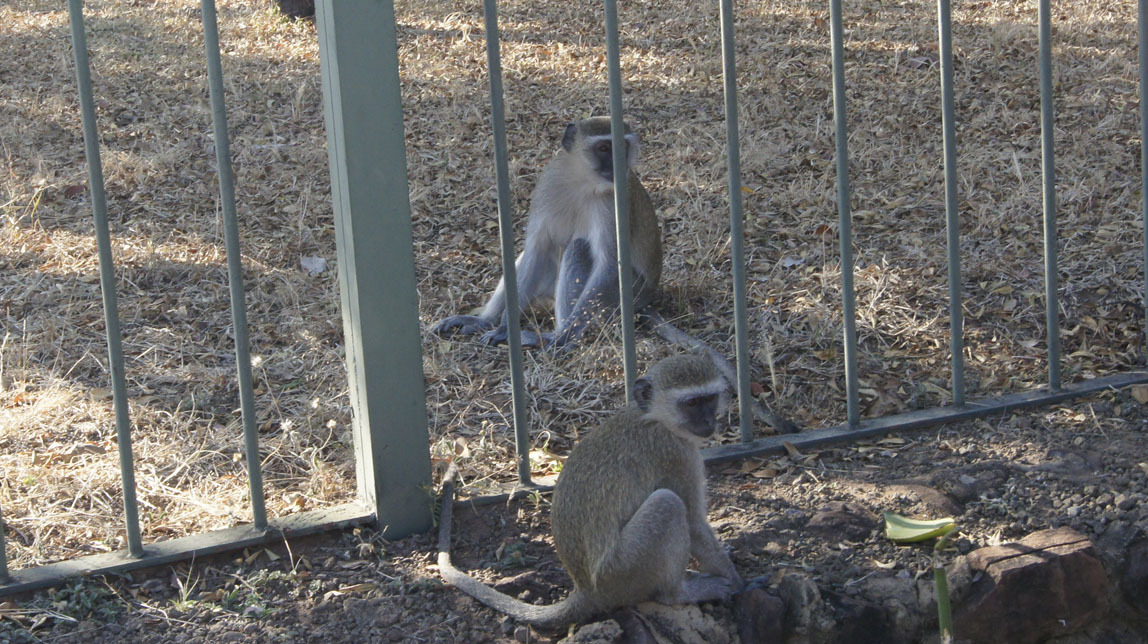 The viewing trail begins at the western end, loops away from the falls to the eastern end, then comes back west along the cliff's rim. At the trailhead, Tonia (our guide) makes sure we have umbrellas and raincoats, and points the way.
The local peoples call the falls
mosi-oa-tunya
- the smoke that thunders. We soon learn what this means.
Mist billows and drifts across the path, rains down on us. Rainbows form in the mist. Sunlight sparkles on the water droplets on the grasses and bushes. The falls, unseen, thunder their presence.
We walked through this surreal world. We got wet. We didn't care.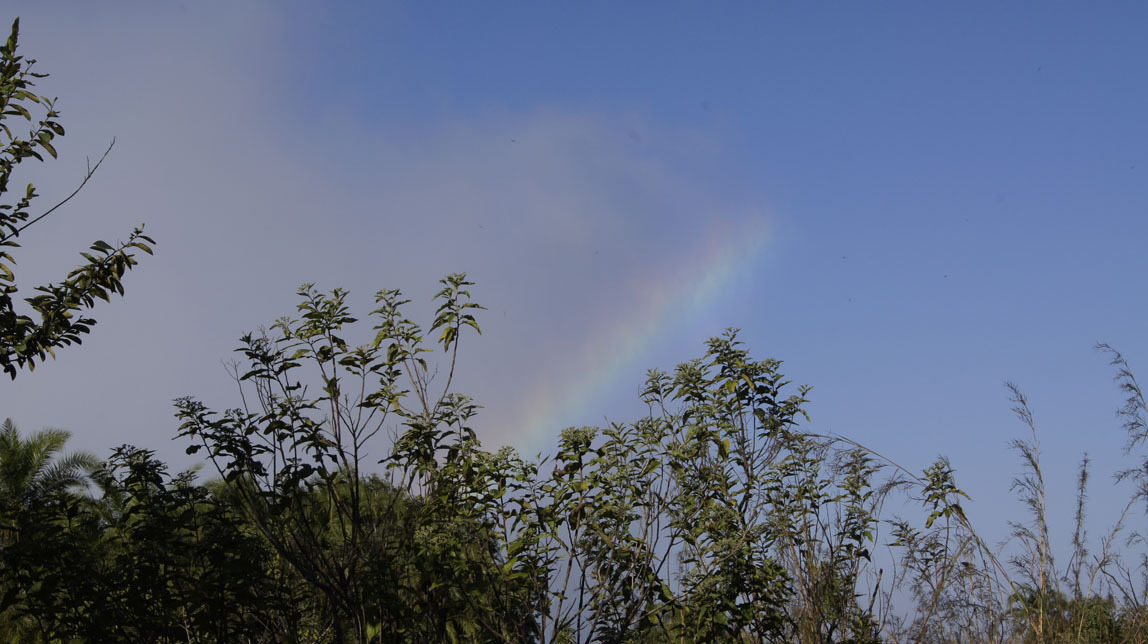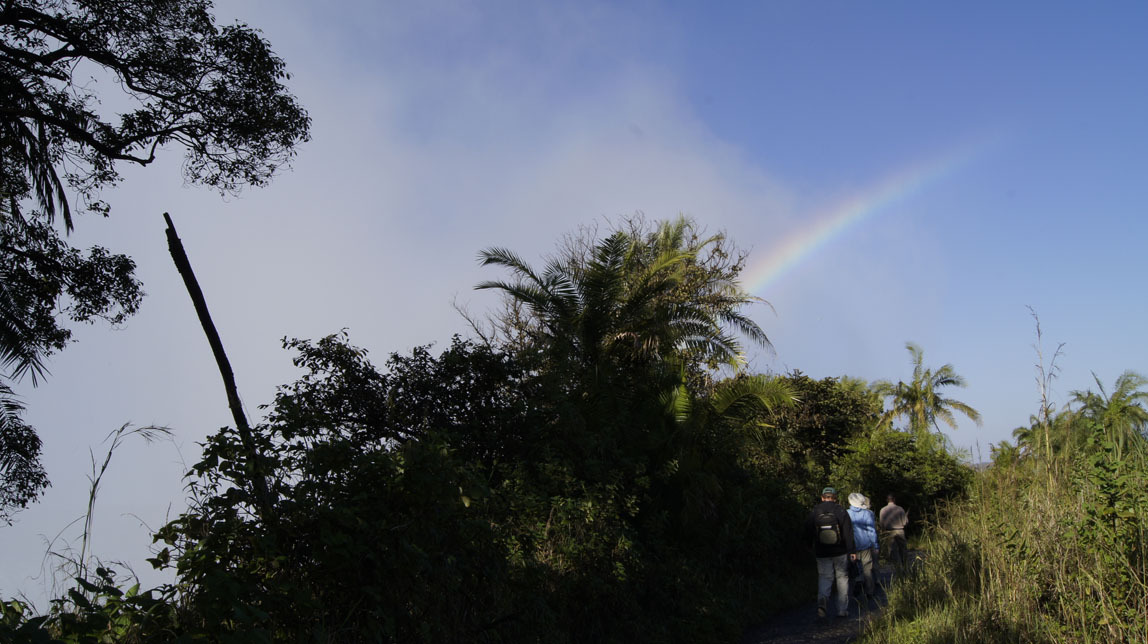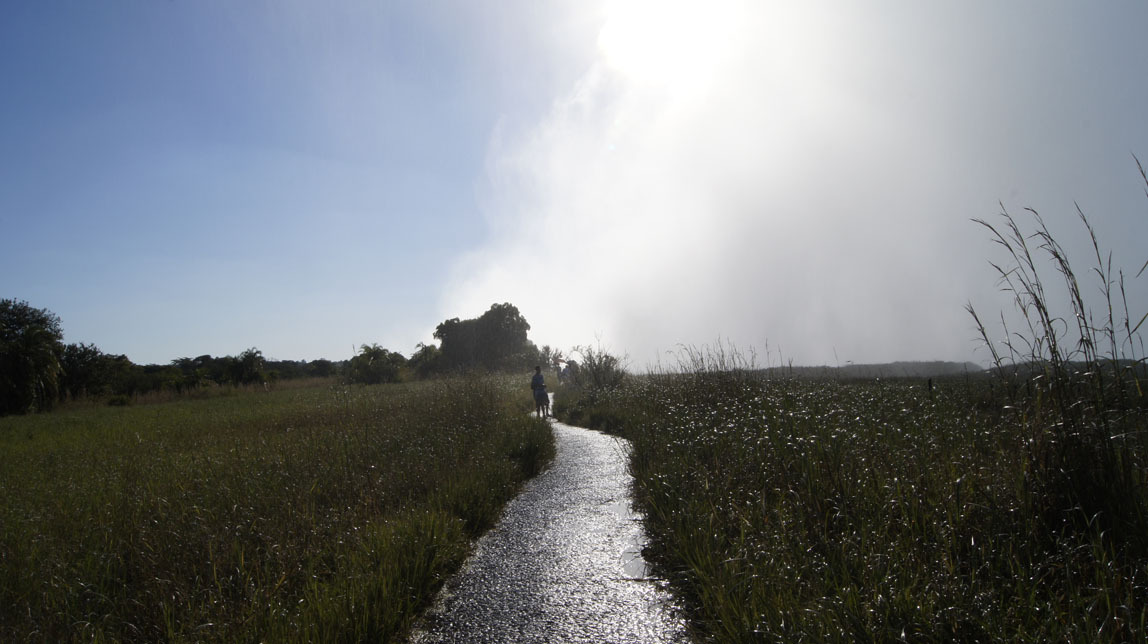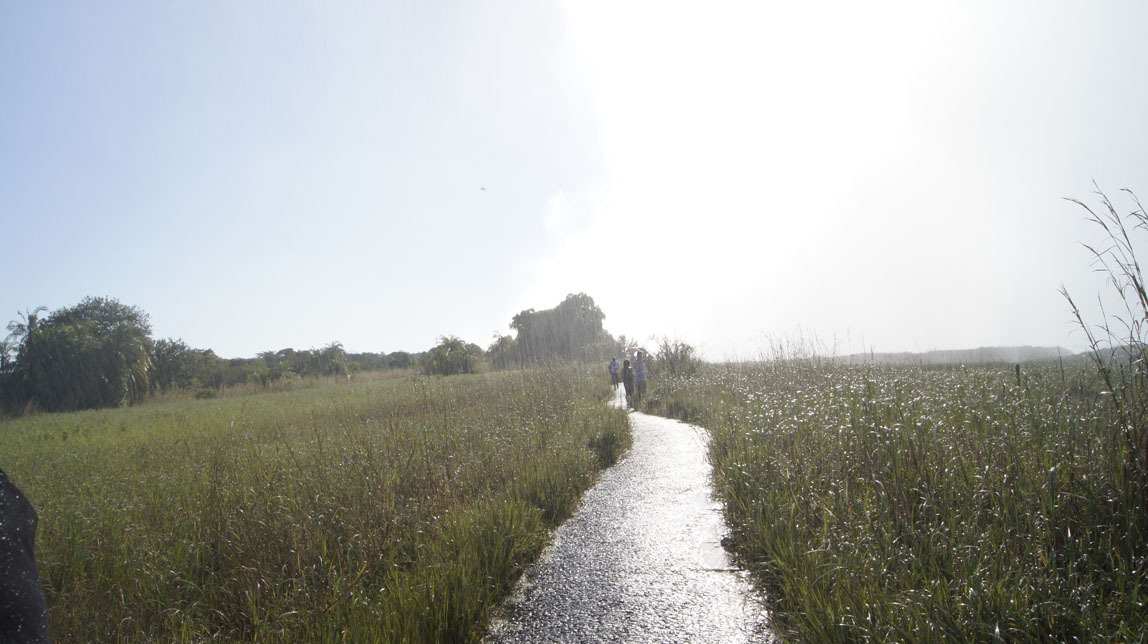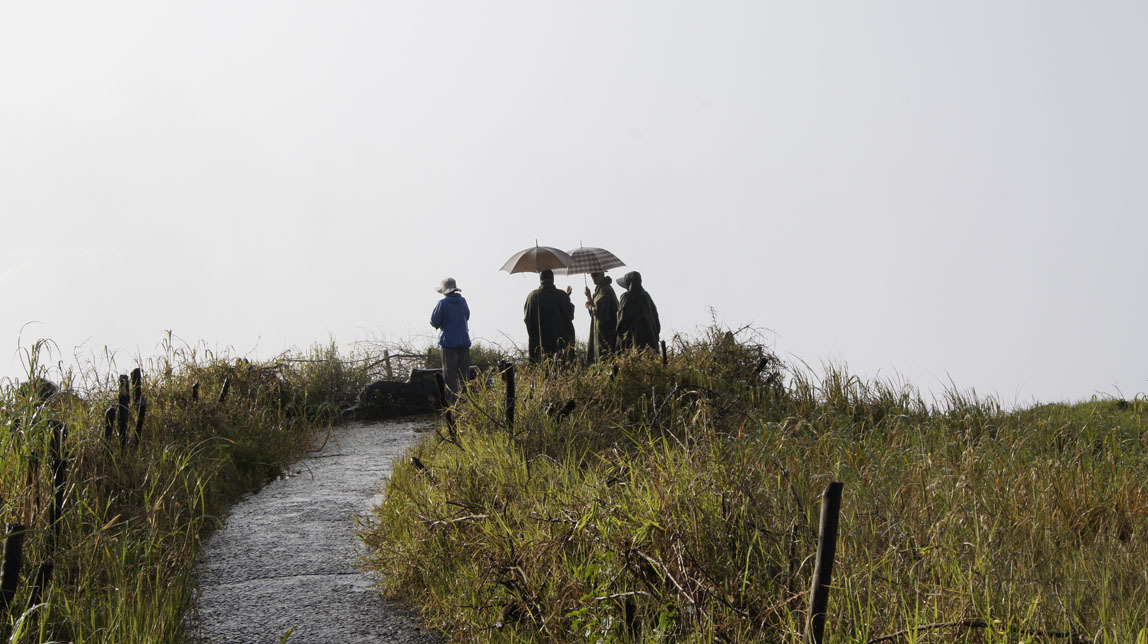 At the eastern end, the Zambezi gathers and rushes off in a narrow channel under the Victoria Bridge.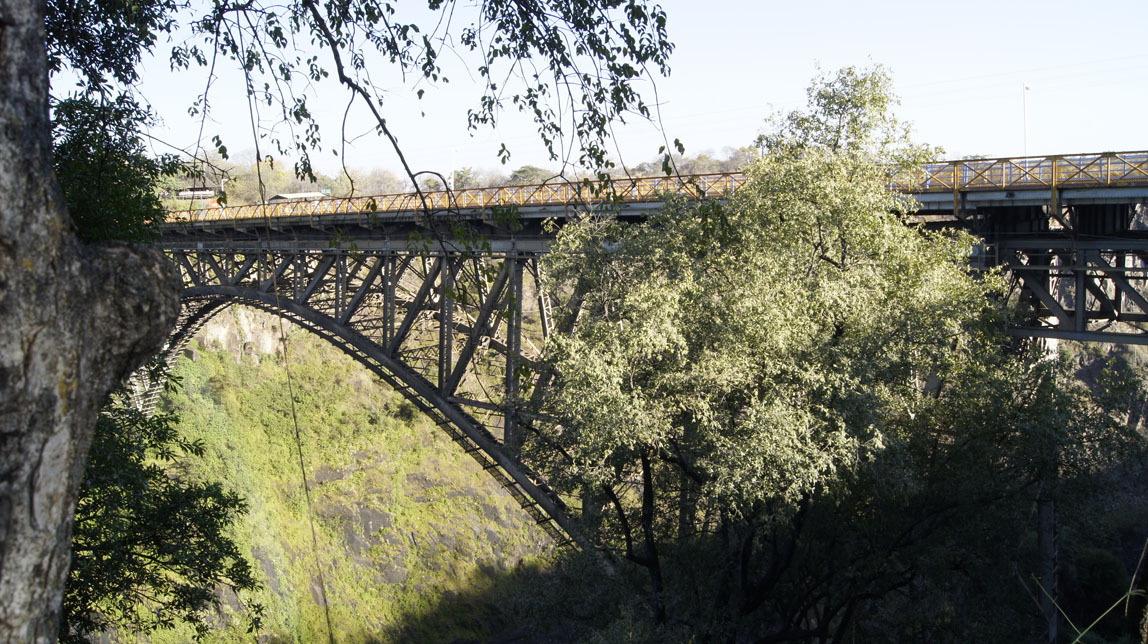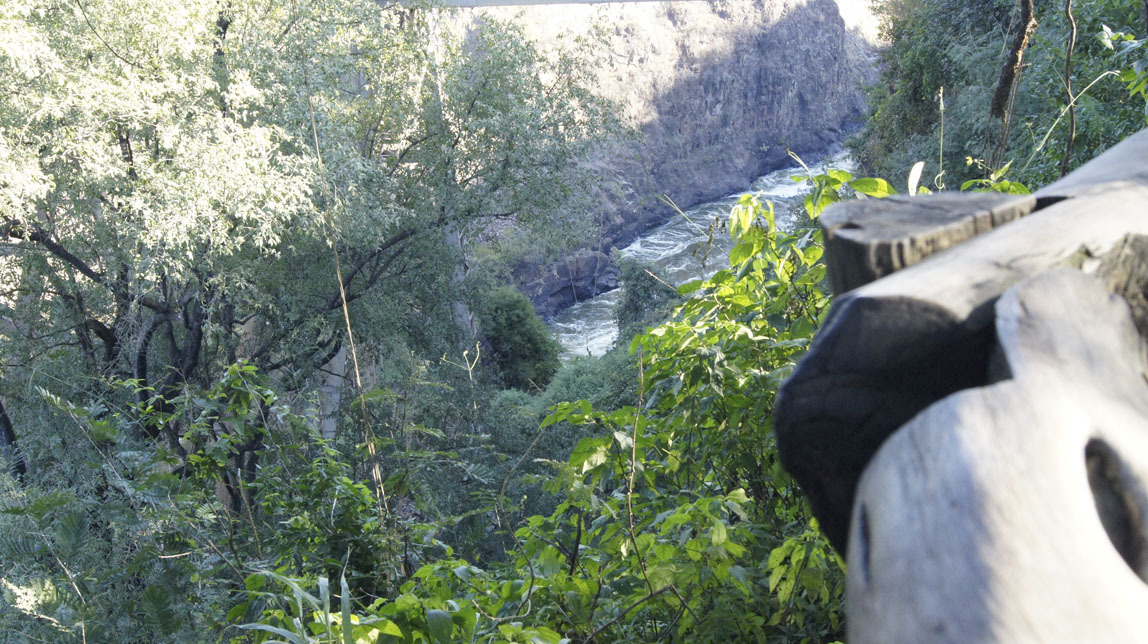 Our first look at the falls: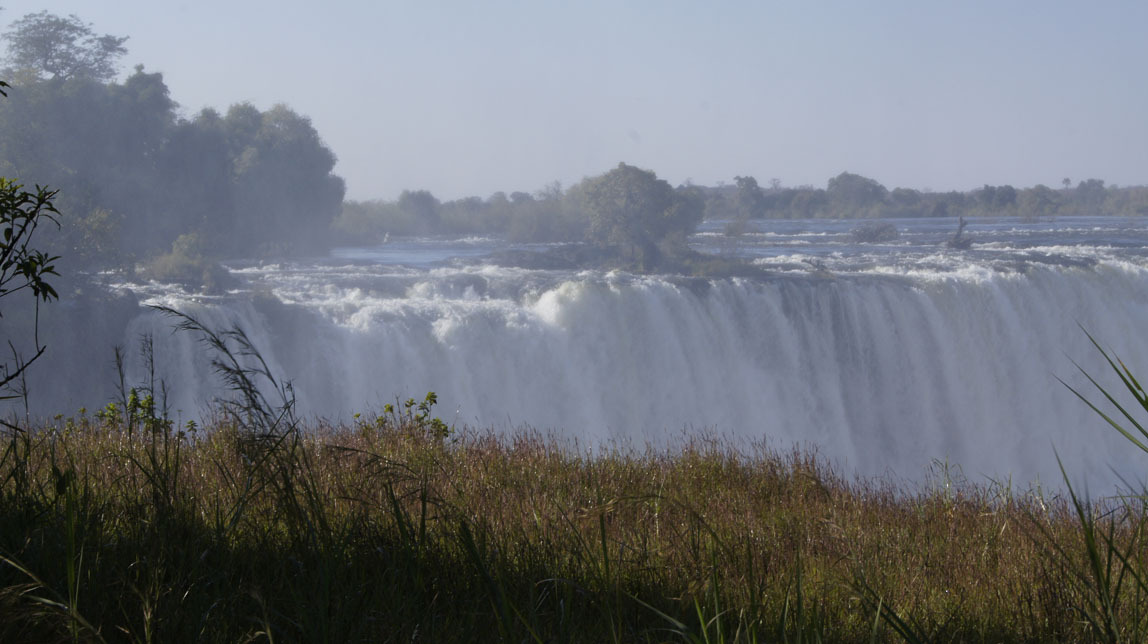 The photo isn't out of focus, what it shows is the mist. The problem with getting good photos of the falls is that clouds of mist periodically rise up and partly obscure the falls. The mist rises so far above the falls that you can see it from miles away.
John held an umbrella over me so I could take pictures without soaking my camera. The mist rose and fell; I got a few shots when it least obstructed the view.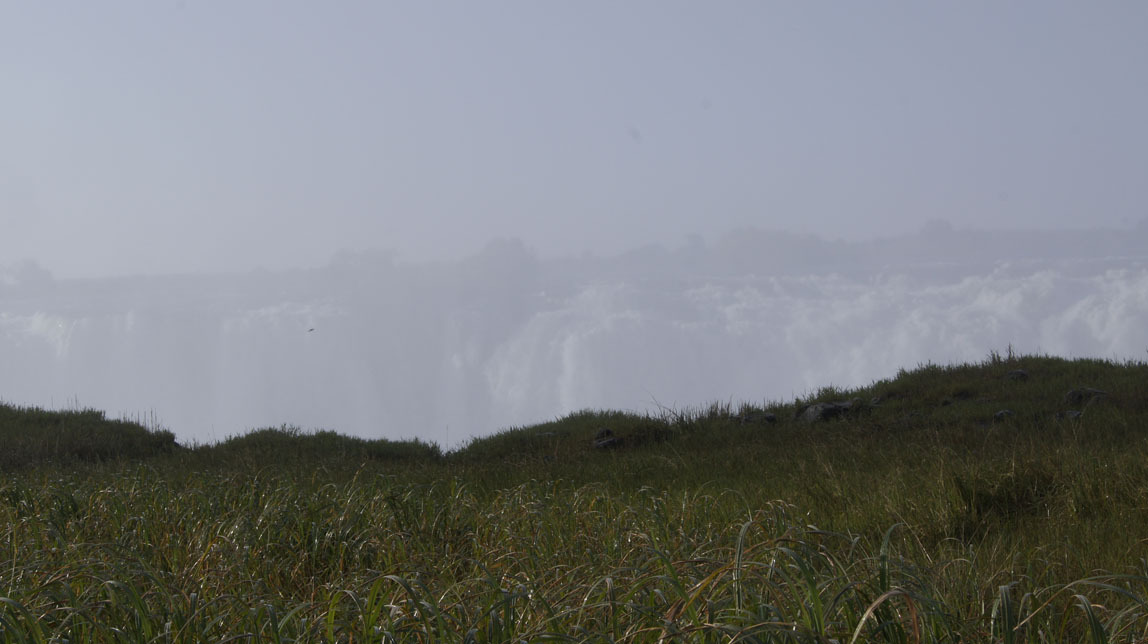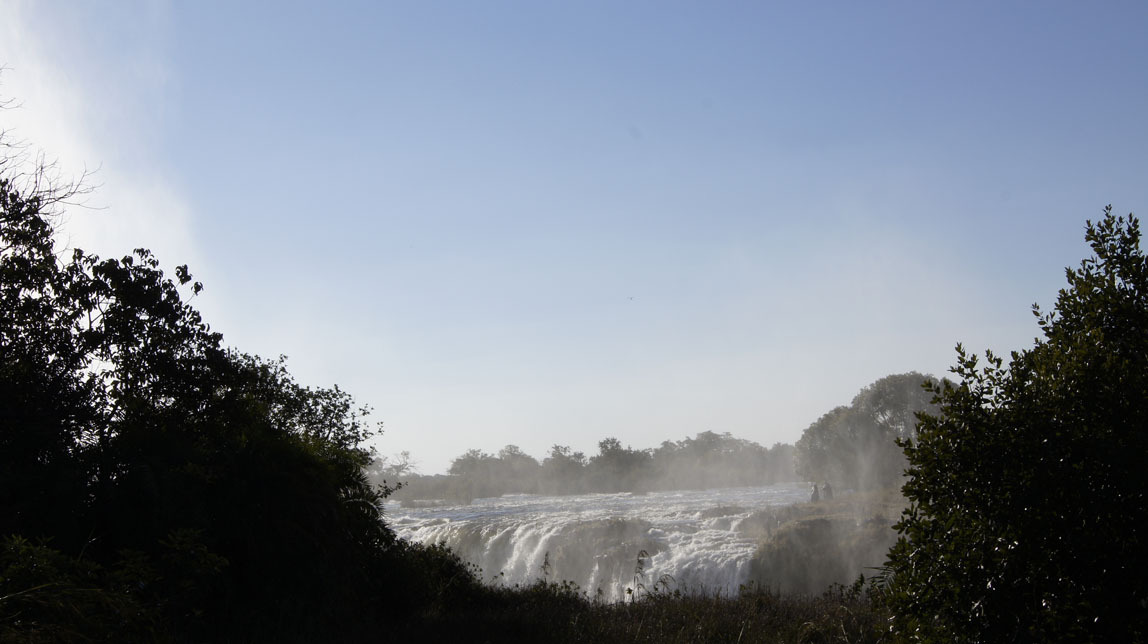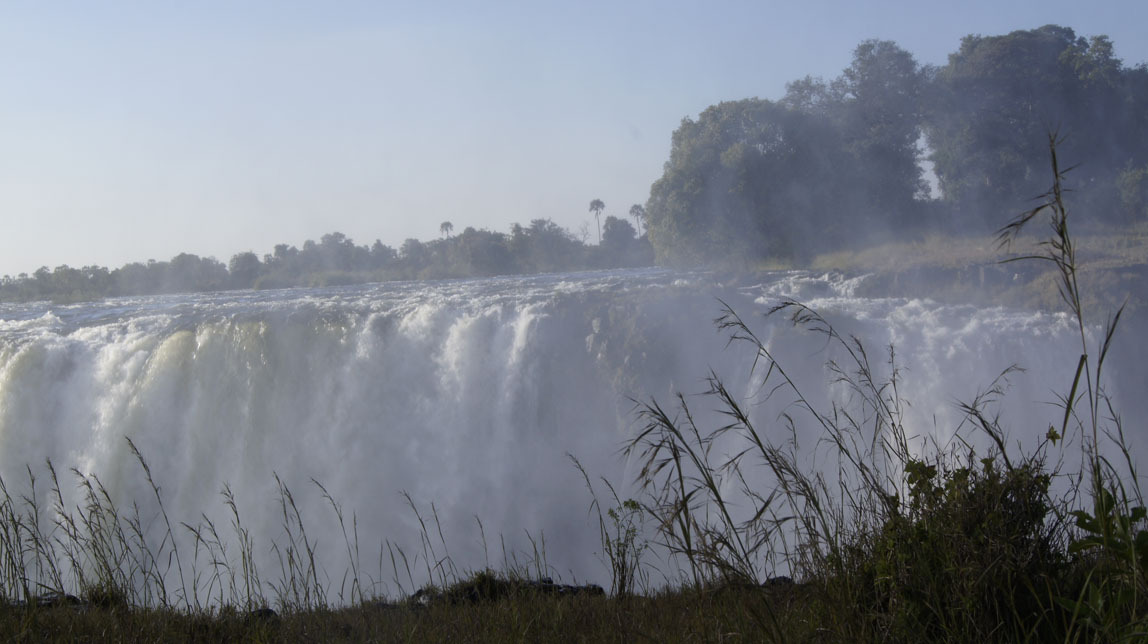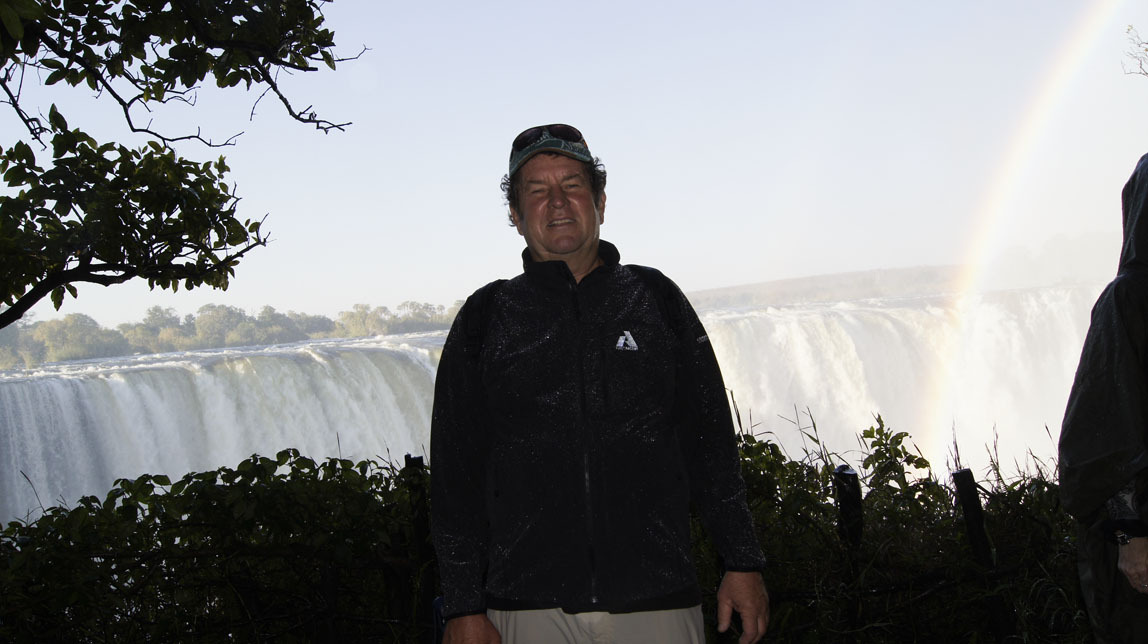 John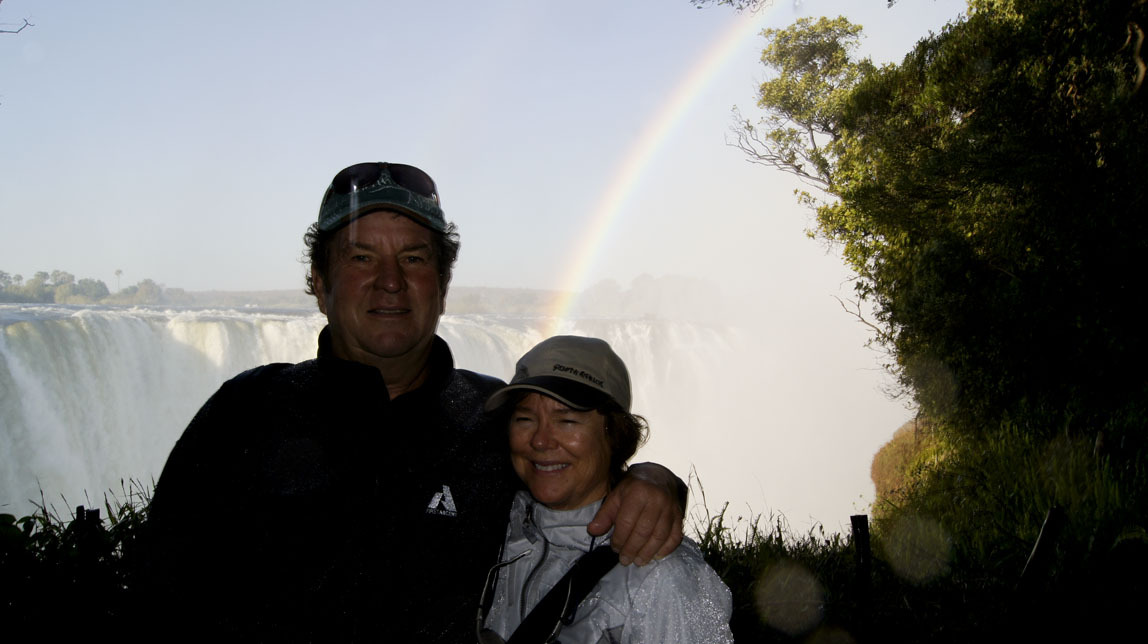 John and Patty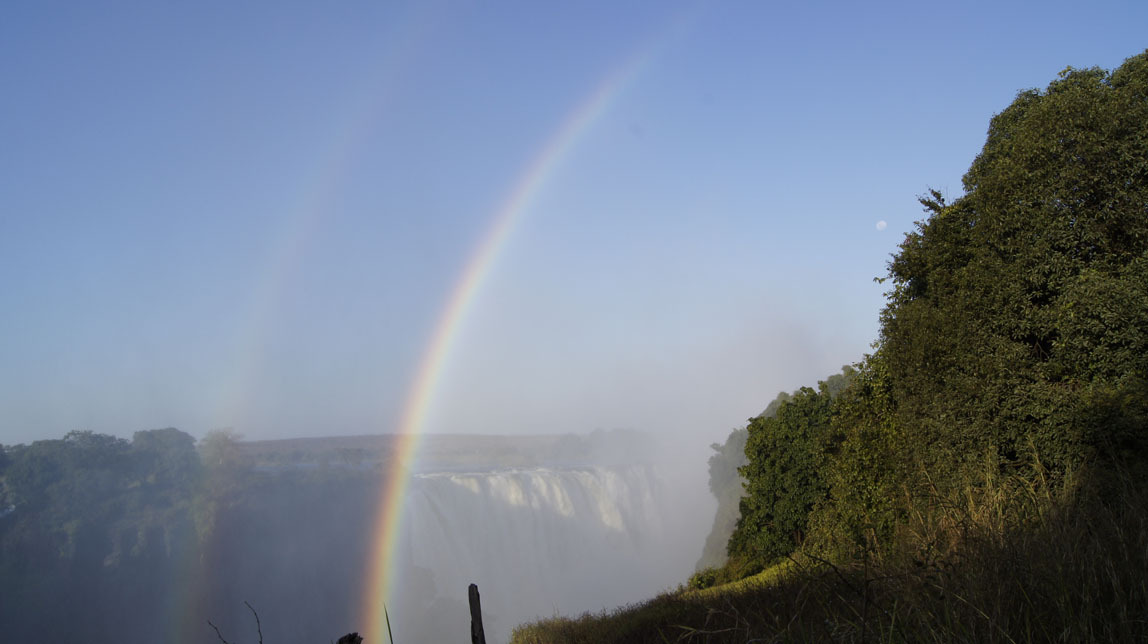 note the moon to the right of the rainbow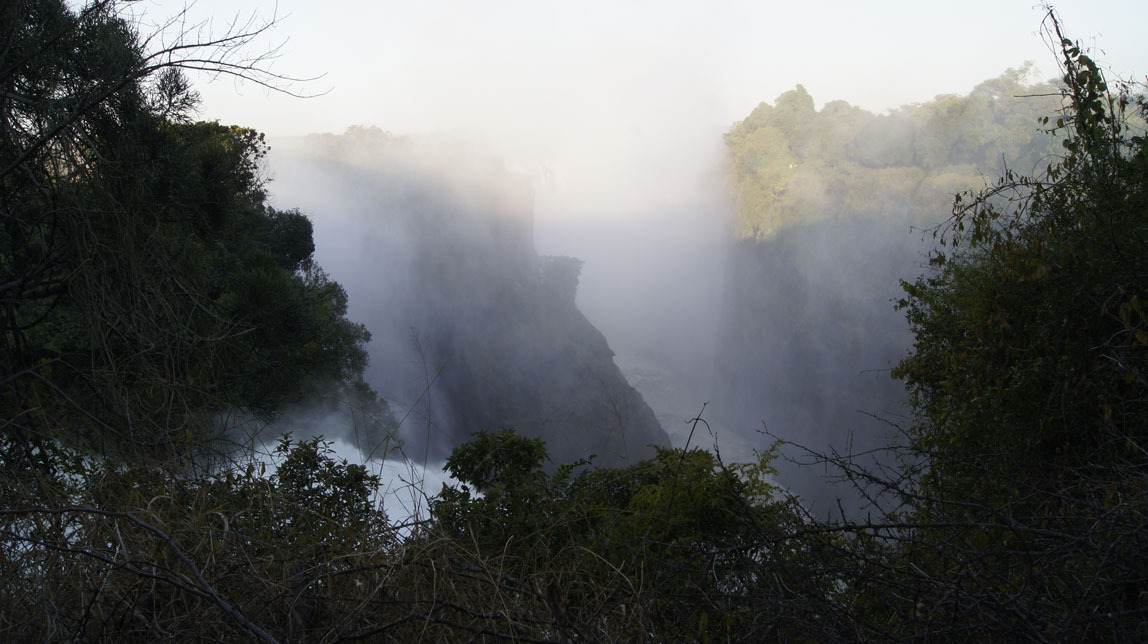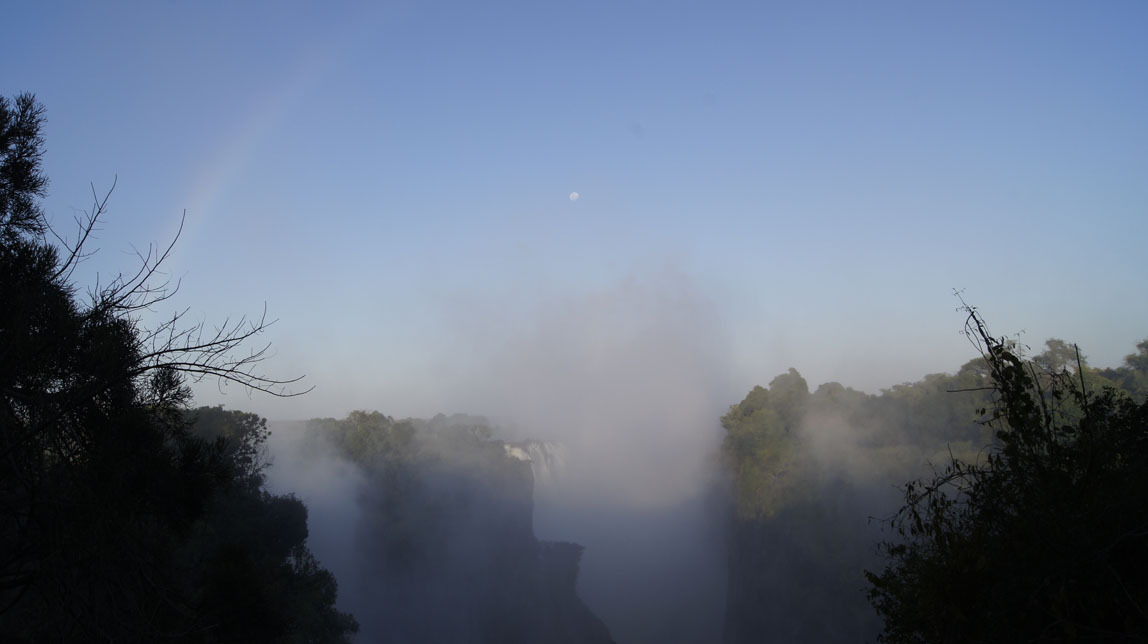 Soaked and still in awe of the falls, we finally had to leave and go back to our lodge. We watched the animals at the water hole and had an excellent dinner at the lodge: crocodile in crepes as appetizer, a beef main dish, and a sort of lemon meringue pie. We sat for hours drinking wine and talking about our day, our lives, and how to make the world work better.
A movie of the falls lets you hear the sound:
Navigation: first blog entry
Next blog entry