We left for our next safari drive at 3 pm. This drive lasted until almost 8 pm. Long, but one of the most exciting outings we had on the entire trip.
About an hour into the drive, we came upon a mother and baby elephant.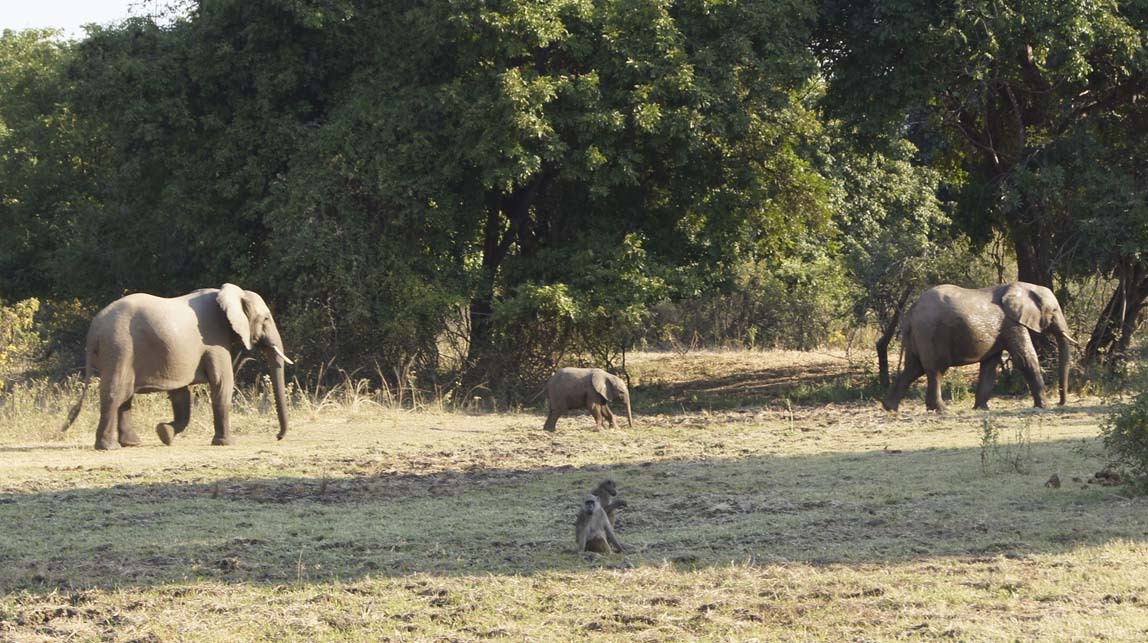 The group of elephants turned in our direction and were right along the road we were on.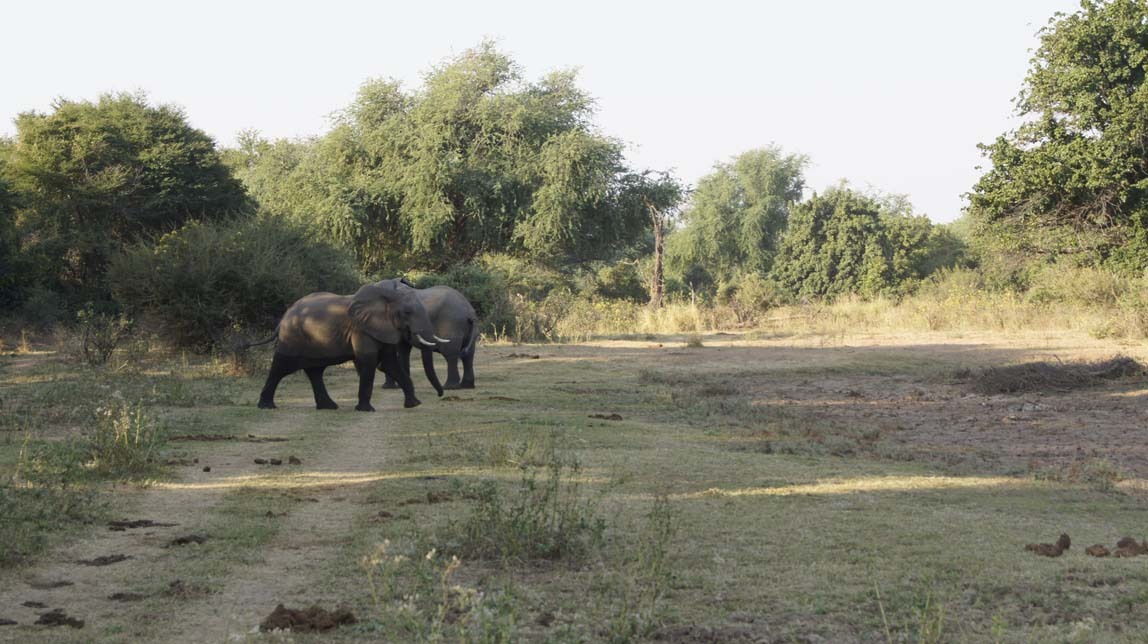 That mom did not want us in her way. She definitely let us know that we should stop and wait for her to cross with her baby.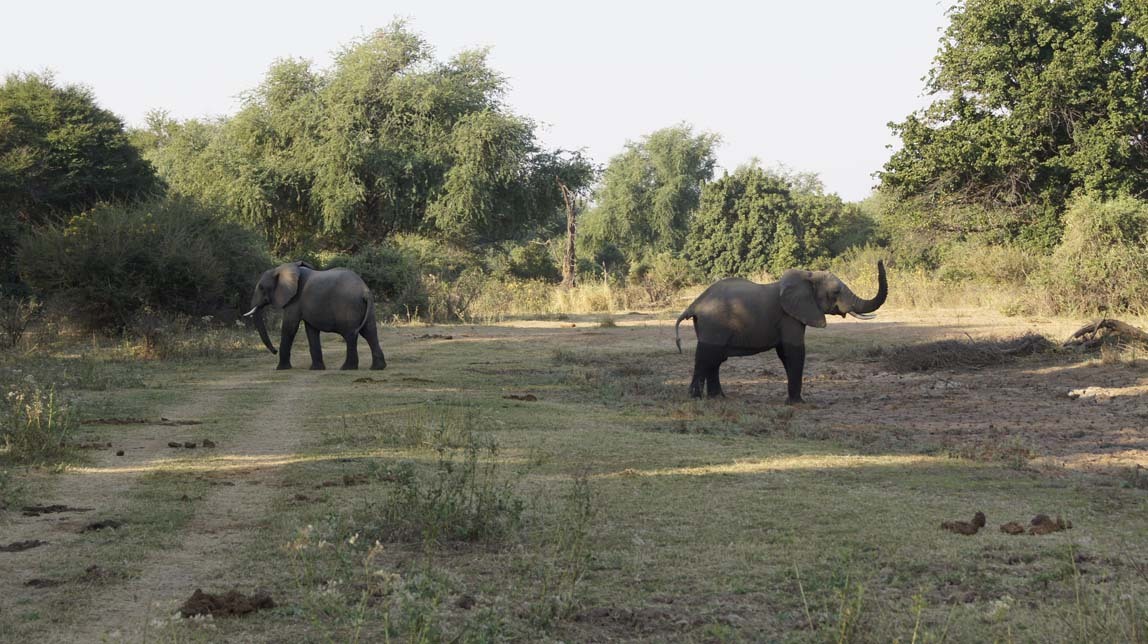 Here is some attitude: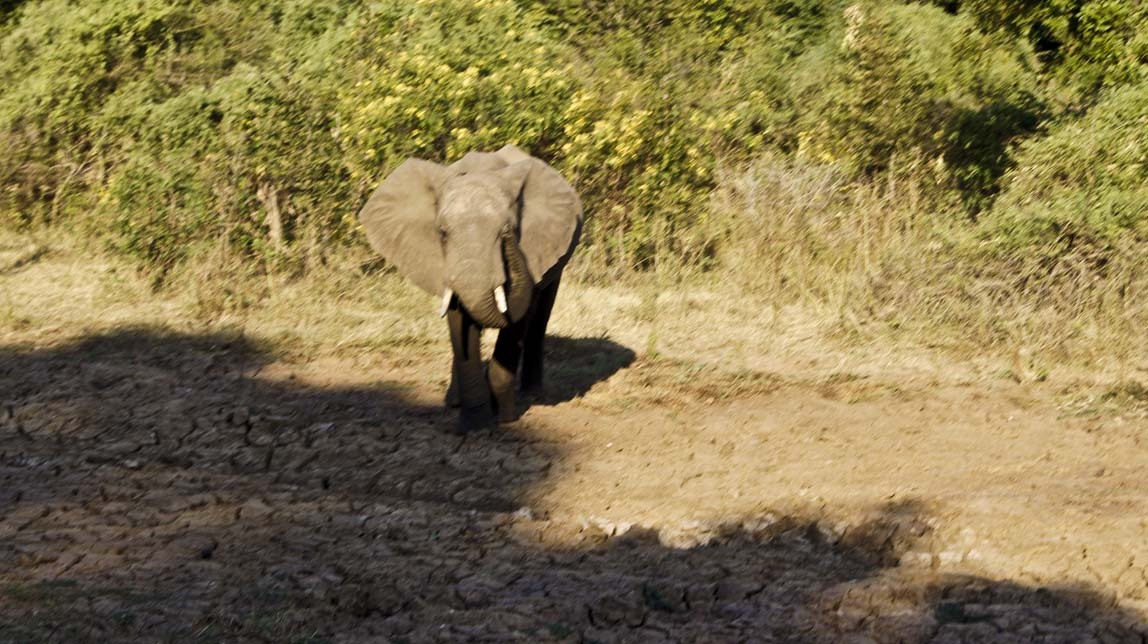 This elephant sashays away, showing us who is boss in the bush: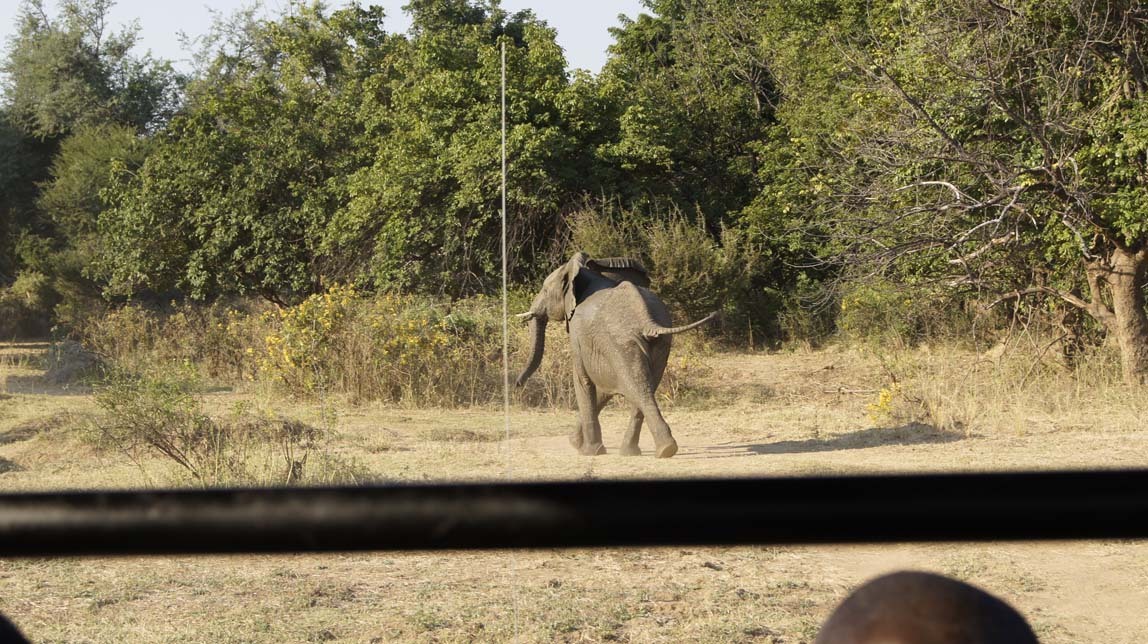 The elephants in Chobe were tame compared to the elephants we saw here in the Lower Zambezi. We definitely felt a difference in attitude in the elephants here. We kept our distance!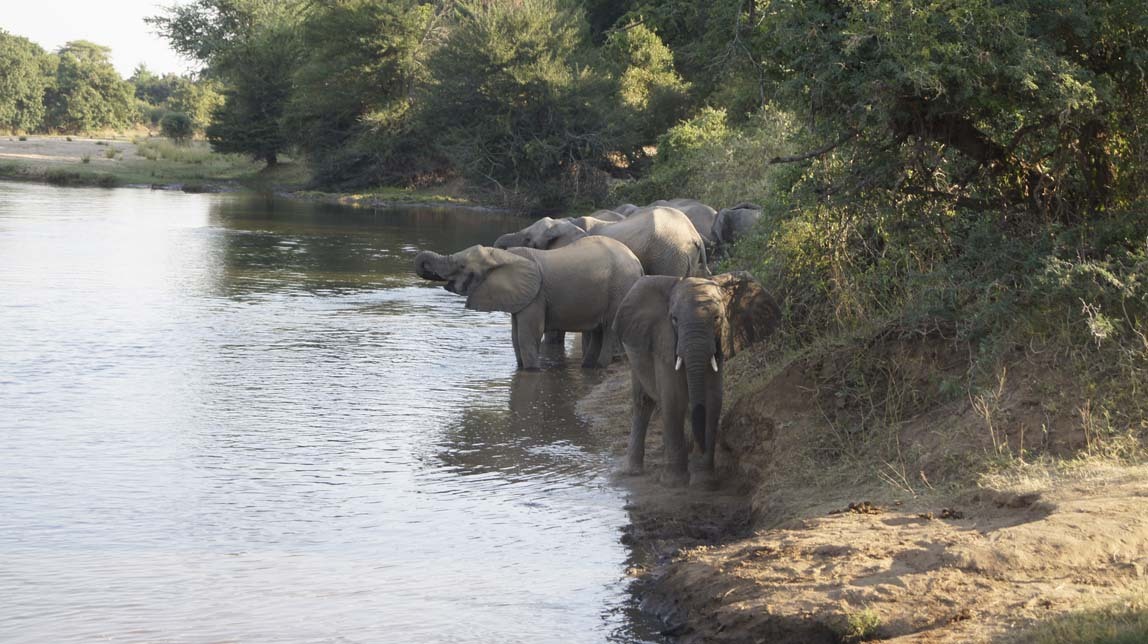 The elephants were wilder, but also, we did not see the same level of habitat destruction as we did in the Chobe park. You'll note from the photos that the bush looks healthier in the Lower Zambezi.
The movie below is the same group of elephants, now crossing a shallow river. You can hear us talking about how the elephants have us a bit intimidated!
When Simeon started down this jeep trail to the river, we thought he was going off a cliff!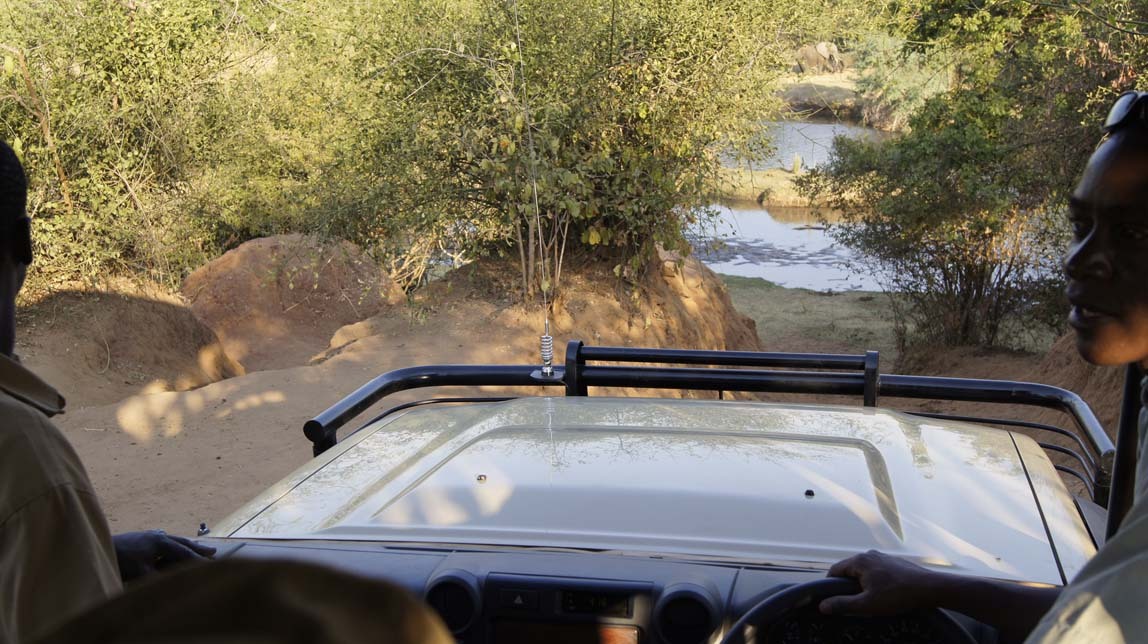 A pretty view of the river. That's a hippo in the water.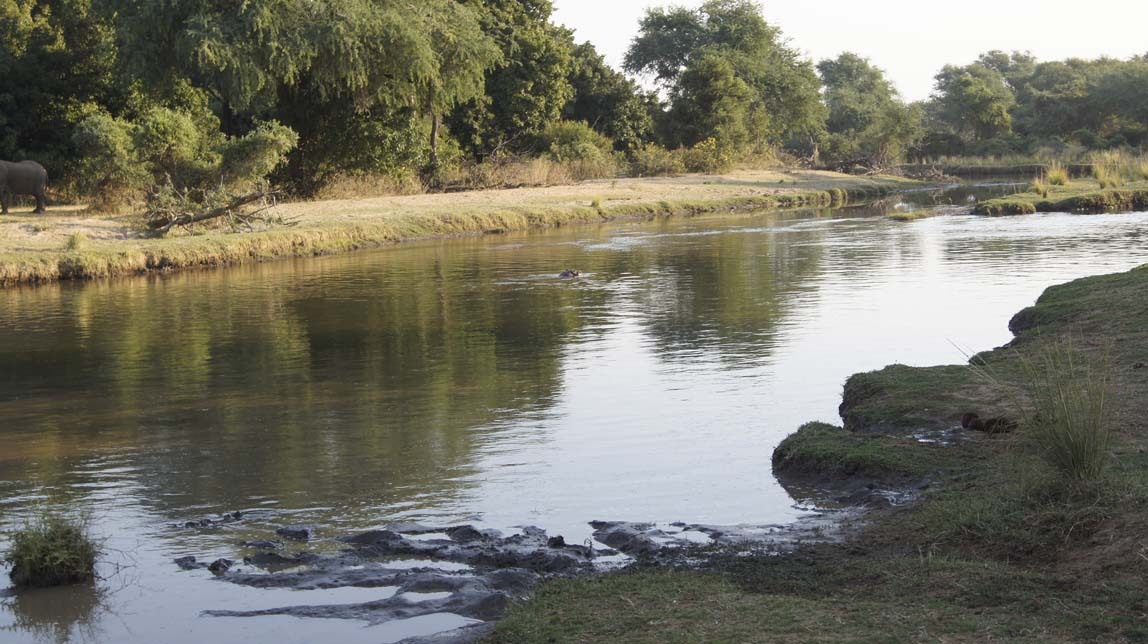 A baobab tree: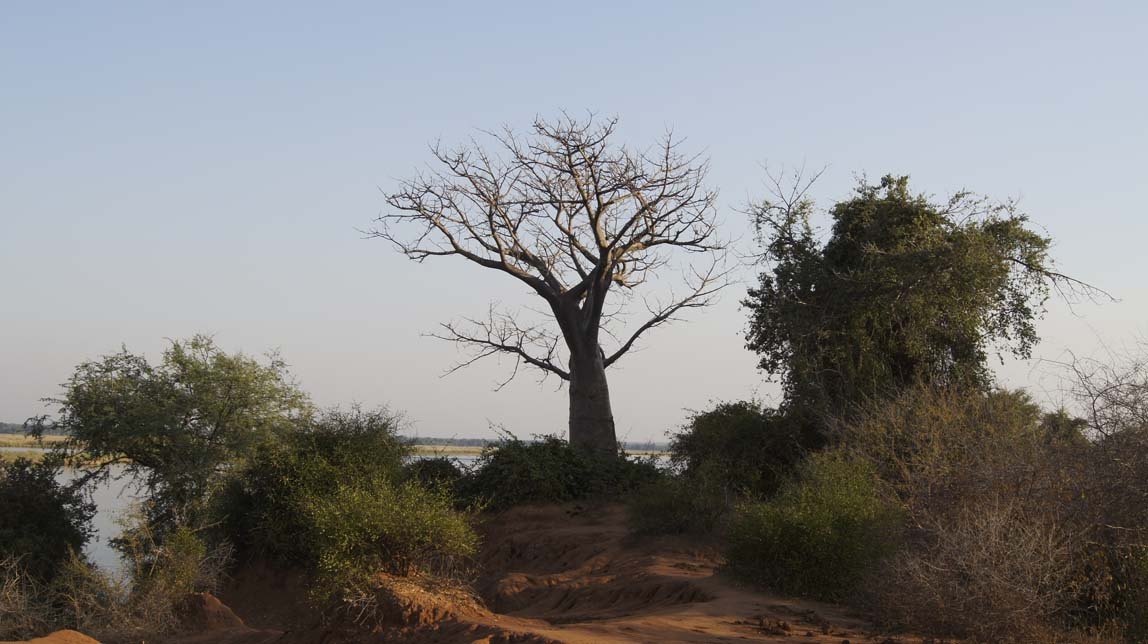 It's almost half past five. Time for a sundowner! Simeon brings us to a pretty spot on the river and we watch the sun set: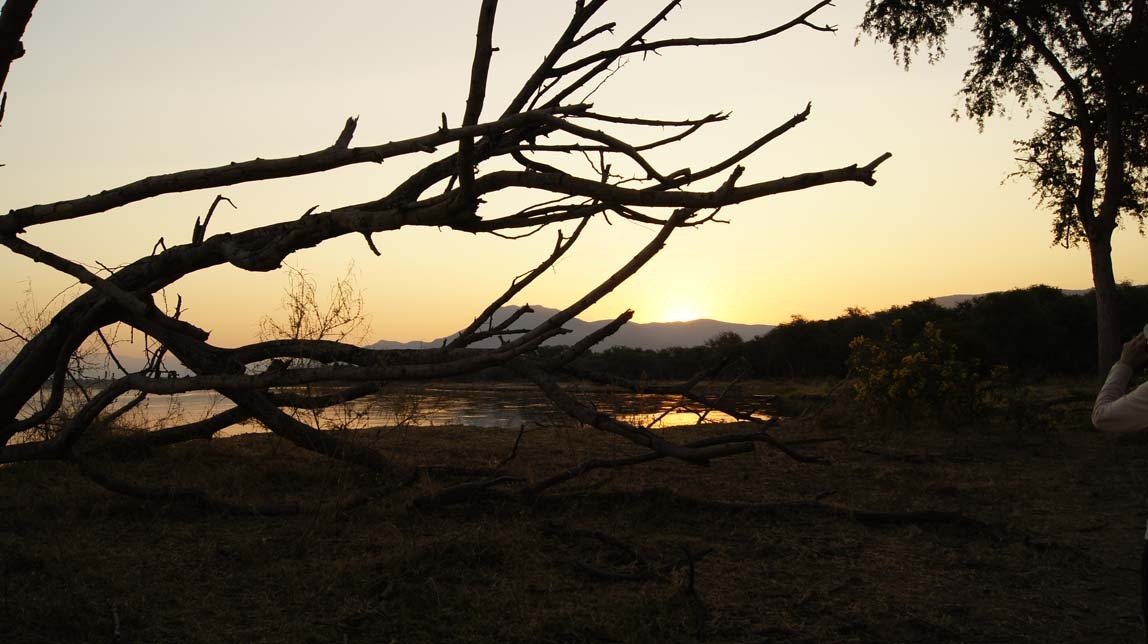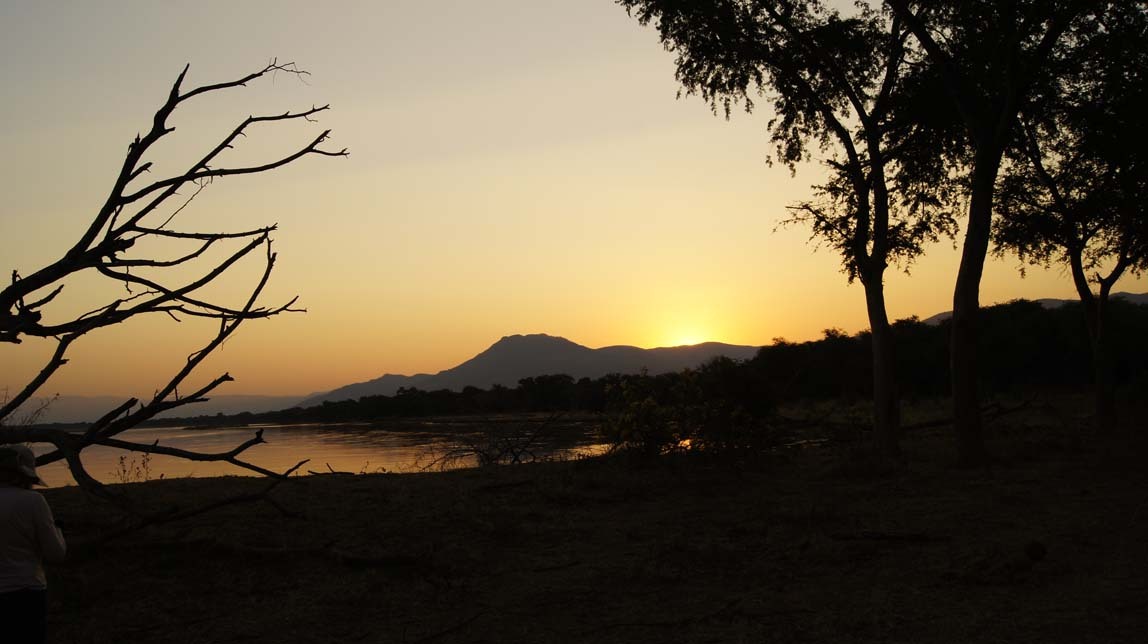 Simeon and his helper set up our sundowner bar: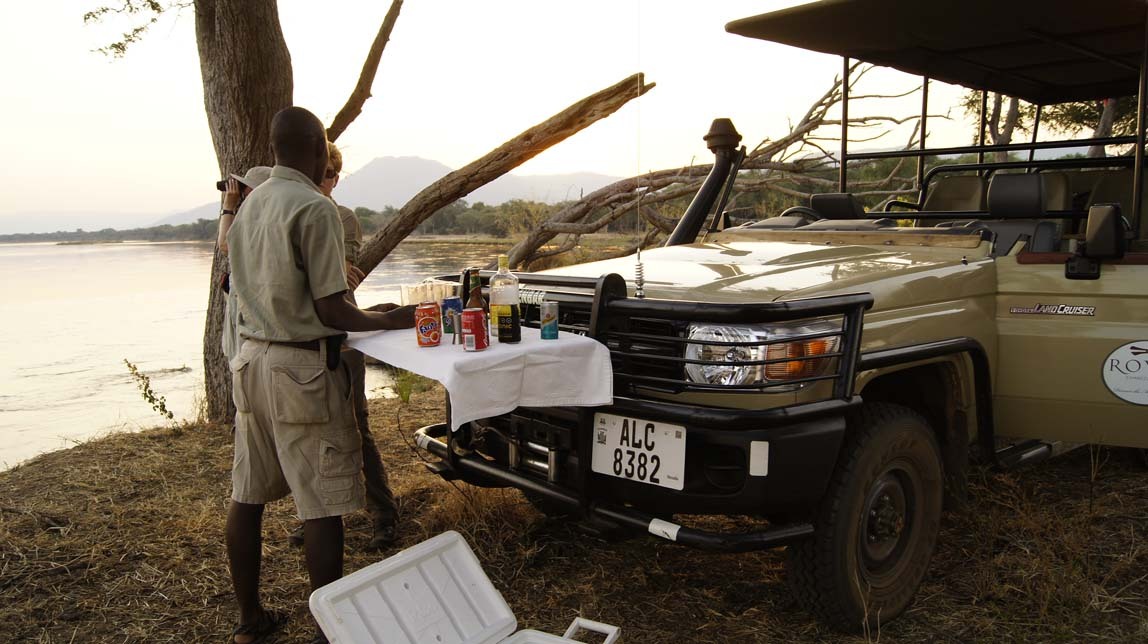 Wow, is this ever the way to travel!
When we got back in the jeep, I put away my camera. It's too dark to take photos by this time. (I regret this decision later.)
This movie below doesn't show much, but it gives you an idea of what it was like driving around in the dark. The helper kept shining a spotlight left, then right, back and forth across the jeep trail and into the bush on either side.
Whenever the guides saw an animal, they would turn off the jeep lights. One reason is that prey animals such as impalas would be put at a disadvantage, meaning, predators could easily see them. Once we suddenly had a hippo in the headlights. Simeon immediately stopped the jeep and turned off the lights and we waited quietly until the hippo left. It's not a good idea to be in the way of a hippo, even in a jeep.
We drove through a herd of elephants. We couldn't see them, but we could hear them crashing through the trees on the left, the right, behind, and in front of us. Suddenly one trumpeted right next to the jeep! We all jumped about a foot and slid over to the other side of the jeep to get away. We didn't feel entirely safe, even in the big vehicle. These elephants are wild! They showed attitude in the daylight, but at night, that "attitude" was multiplied by about ten! What an experience.
About half past six, we saw another light, and a jeep that had stopped. What are they looking at? Maybe a leopard in a tree? That jeep leaves and we drive up to where they were. Simeon stops the jeep and turns off the jeep lights. Then they shine the light in the tree and - there! a leopard!
It was so amazing to see. She was looking right at us. Tonia told us that the leopard looks very pregnant. I didn't get a photo - I tried, but I had it set to "no flash" and didn't get it out of my camera bag and changed to "flash" in time. I was sort of thinking that we shouldn't be taking a flash photo of wild animals. Oh well, Tonia got a good photo, and sent a copy to me: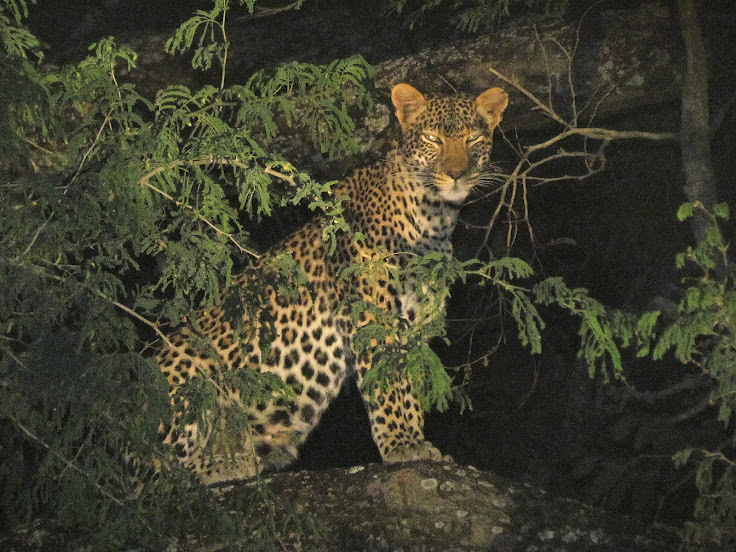 photo of our leopard courtesy of Tonia
The leopard eventually moved out of the tree and walked away. That was just so cool!
We kept driving around for another hour. There was word of another leopard sighting that didn't pan out. The sharp-eyed guides found other animals, though, and spotlighted them for us to see: a jennet, a civet, a white tailed mongoose, and a waterbuck.
Finally, we return to the lodge and an 8 o'clock, three-course dinner. All of us put that crazy wild drive through the elephants and the sighting of the leopard as among our top three experiences of the trip. We are glad we still have another couple days to enjoy the Lower Zambezi.
Navigation: first safari blog entry
Next blog entry