Plastic shopping bags concern people like me who care about how our environment looks, and how it might function in the future. Besides filling our landfills with unnecessary plastic, these bags escape our hands and end up blowing around the streets and stuck in trees and fences. This one was found near my home: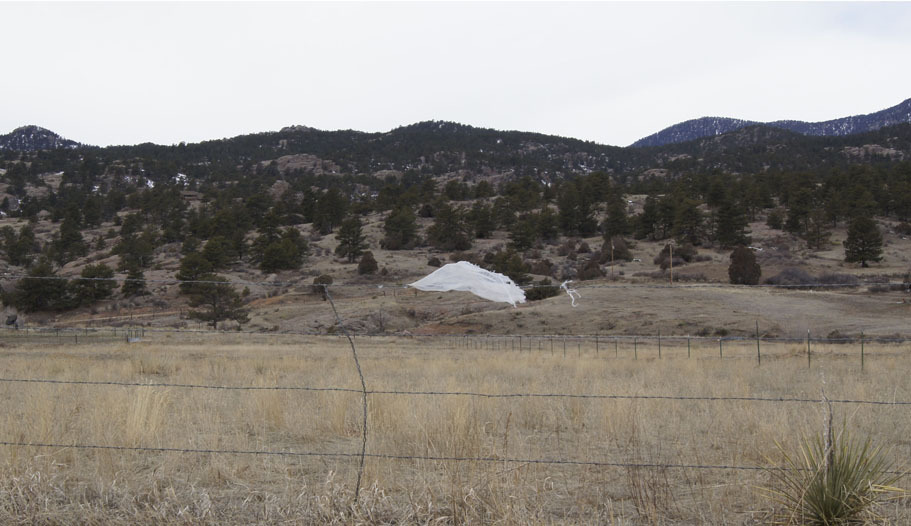 And on the streets of Africa last fall, the sights were abysmal.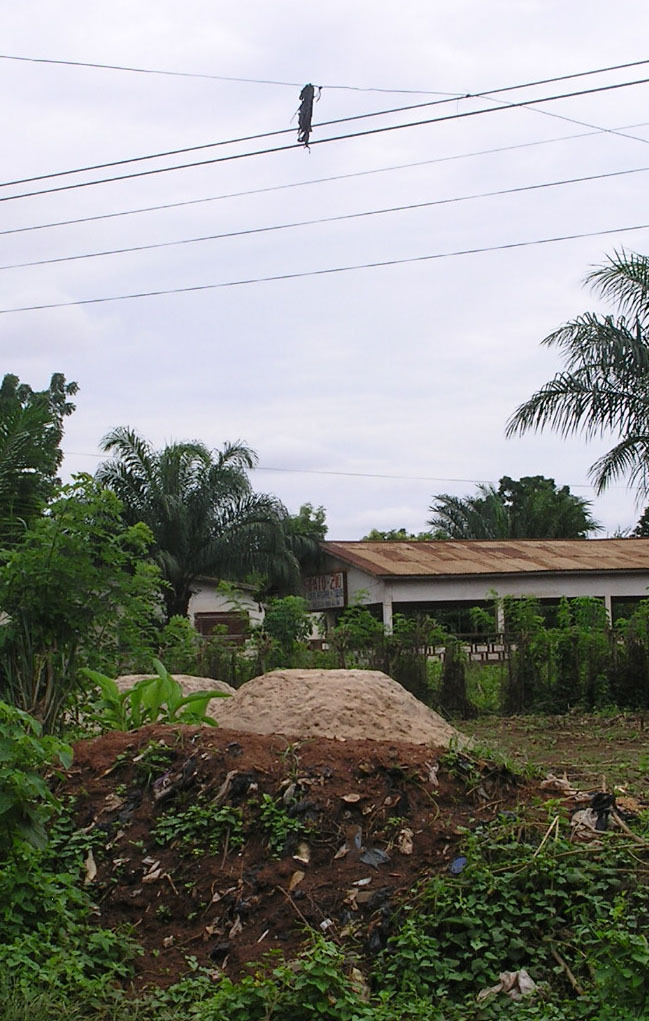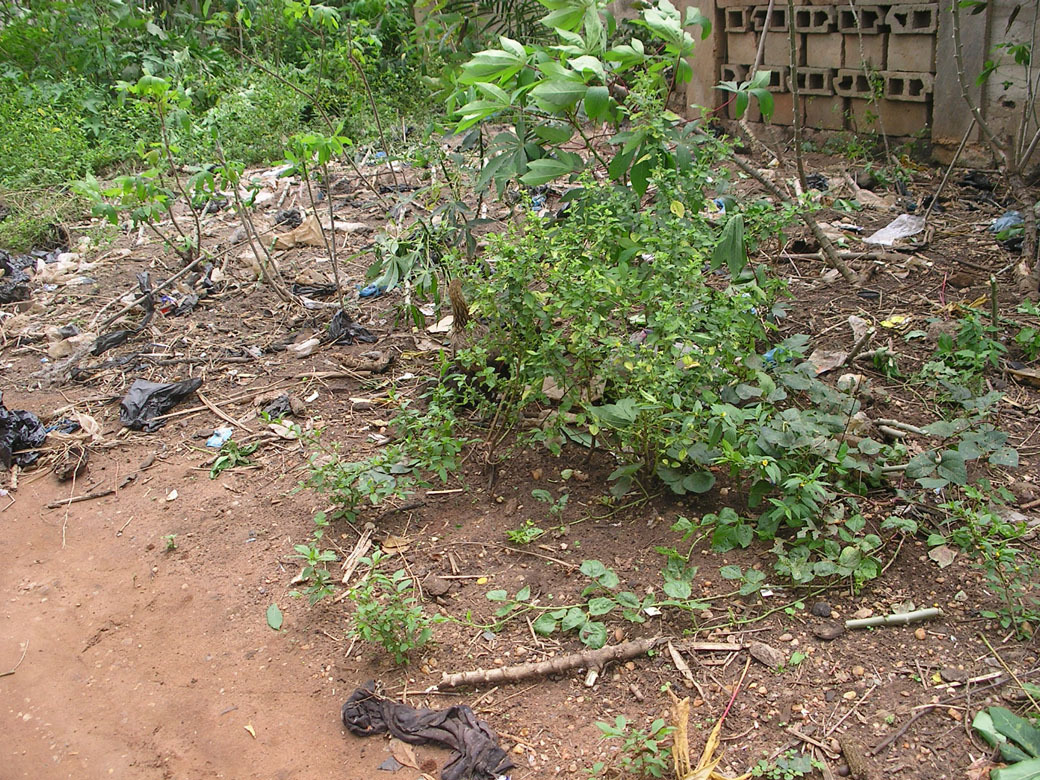 I remember when the big supermarket chains first began offering reusable cloth bags to their customers. I thought: What a great idea! Inspired, soon after an Earth Day somewhere in the 1990s I started purchasing store-brand shopping bags as I could afford them.
As time went on, the design and colors of reusable store-bags changed, but I continued to buy bags from different stores as the whim befell me. Eventually I ended up with a hodge-podge of variously-logoed cloth bags. I was a walking advertisement for many establishments as I handed them to the bagger at the check-out stand.
The bags were stronger than plastic, but the handles tore if you filled them with too many groceries. Eventually the bags became so dirty that I had to wash them. But they shrank! After washing, barely any groceries would fit into a bag. And the printed logos started to fade and crack.
Click on "read more" for more of this blog entry. Click here for how to make the bags:
Bag-Lady Bags
(I stored the bags in the trunk of my Mazda, and once when I picked them up I found a mouse nest in them. That car's vents were infested with mice and it became known as my "Mouseda".)
One day I realized that I looked like a "bag lady". I put my groceries on the check-out stand and handed a motley bunch of bags in various stages of stains and sizes and rips to the checker, and the bagger reluctantly took them and start to fill them. When he was done, the guy standing behind me in line said: "oh, wow, she is using pillow slips for her groceries". I slunk quickly away, pushing my cart in front of me, keeping my mouth shut about how I was saving the environment. He didn't get it, and maybe he had a point. The bags were ugly.
Inspiration hit me again sometime around 2000: I could make my own cloth grocery bag! I'm a seamstress, I could do a better job! And my bag wouldn't have a logo on it. So I designed a bag and found some good heavy cloth at the fabric shop. I washed and dried the fabric before I cut it out, so that it wouldn't shrink after it was sewn together. I double stitched all the seams and especially the handles. When it was sewn together, I decided to add some whimsy to it with stenciled-on designs of animals and flowers.
The bag was so cute and durable that one year I decided to make several and give them away as Christmas presents. As time went on, I made more bags for myself. Now I have so many that I don't have to use any plastic bags when I go to the grocery store. The checkers at Safeway still groan a bit when they see my cute bags, because the bags don't stand up in the little plastic-bag stands. But at Whole Foods, they always cheerfully thank me for bringing in my own bags. I donate my "bag credits" to their current charity, too.
It is now 2012 and all the bags I've ever made are still in great condition. My favorite bag is the one that I sent my mother for Christmas so long ago. Everytime I see it, still with the paperclip that she had put on it, I think of her carrying that bag to one of her club meetings, and
I remember her smile
.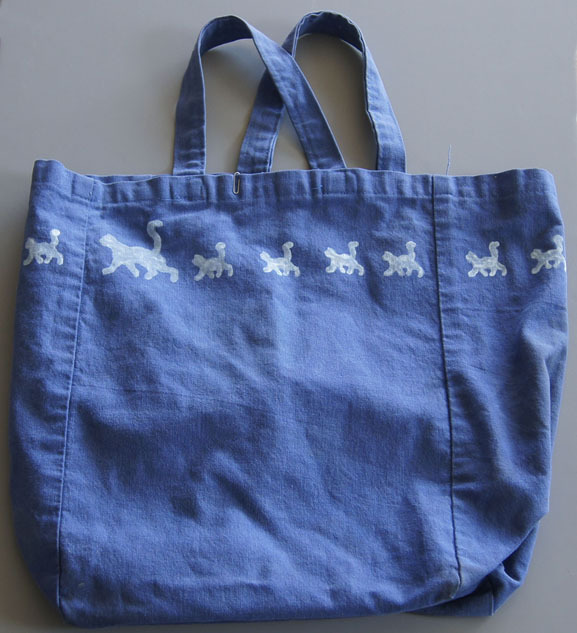 I took some time and made a web page on how to make my "Bag-Lady Bags". I've meant to do this for years!
Bag-Lady Bags