Our second day of our 2-day museum pass. We choose our museums and head to the main tourist area of Paris.
Musee des Arts et Metiers is our first stop. I don't know why I didn't take any photos here, since it was very interesting for both of us! We saw historic scientific instruments and measurement devices: astrolabes, gyroscopes, balances, thermometers, satellites, and chemistry glassware. There were models showing construction methods. The history of communication area had old telegraphs, telephones, typewriters, and computers. And then there was a collection of vehicles, land and air, all the way up to rockets and spacecraft. It was fascinating and we spent close to two hours there.
Next, the Picasso Museum. What a treat to stand right in front of Picasso's amazing paintings. We strolled through rooms of sculptures and drawings as well. Picasso's scrawled notes were displayed in covered cases. This painting is framed by wavy-glass window views of the outside.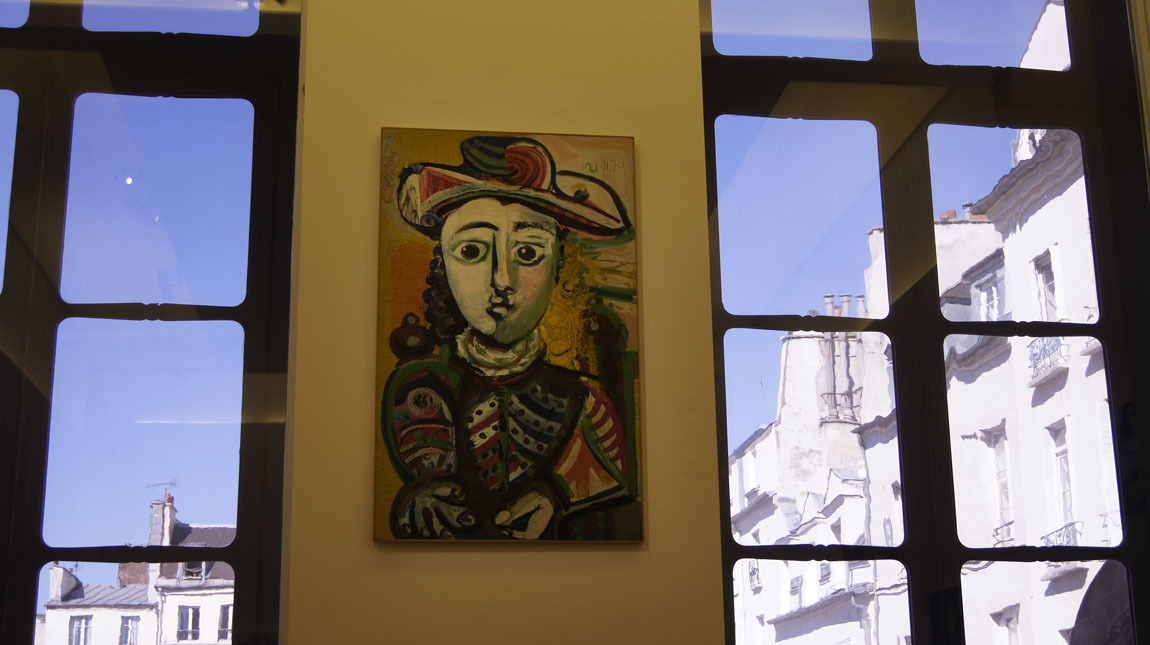 Femme au fauteuil rouge: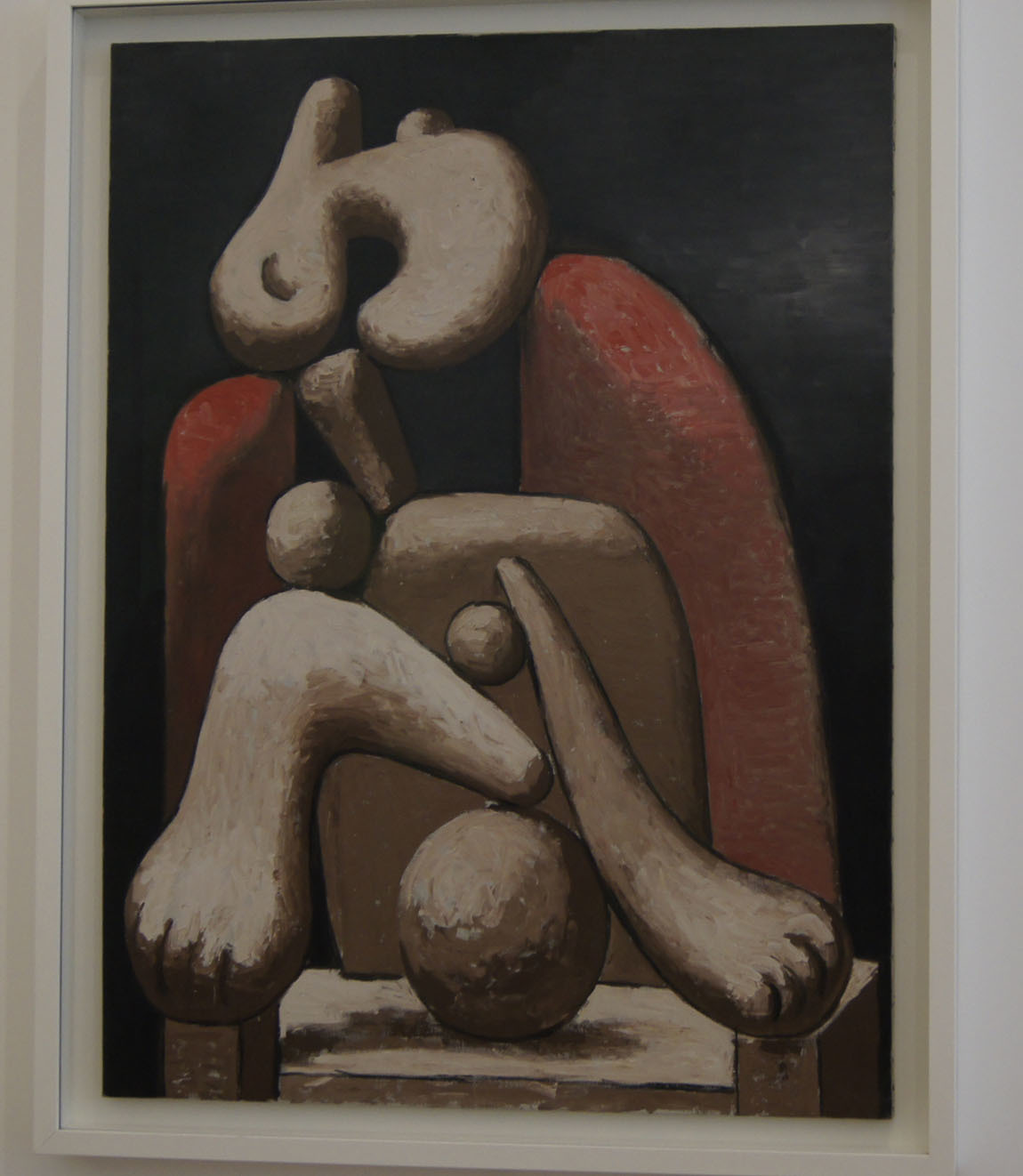 Grande baigneuse au livre, or Great Bather Reading, is the title of the next painting. I liked this one a lot, because it looks to me like a woman looking down, head on her propped up arms, and very sad.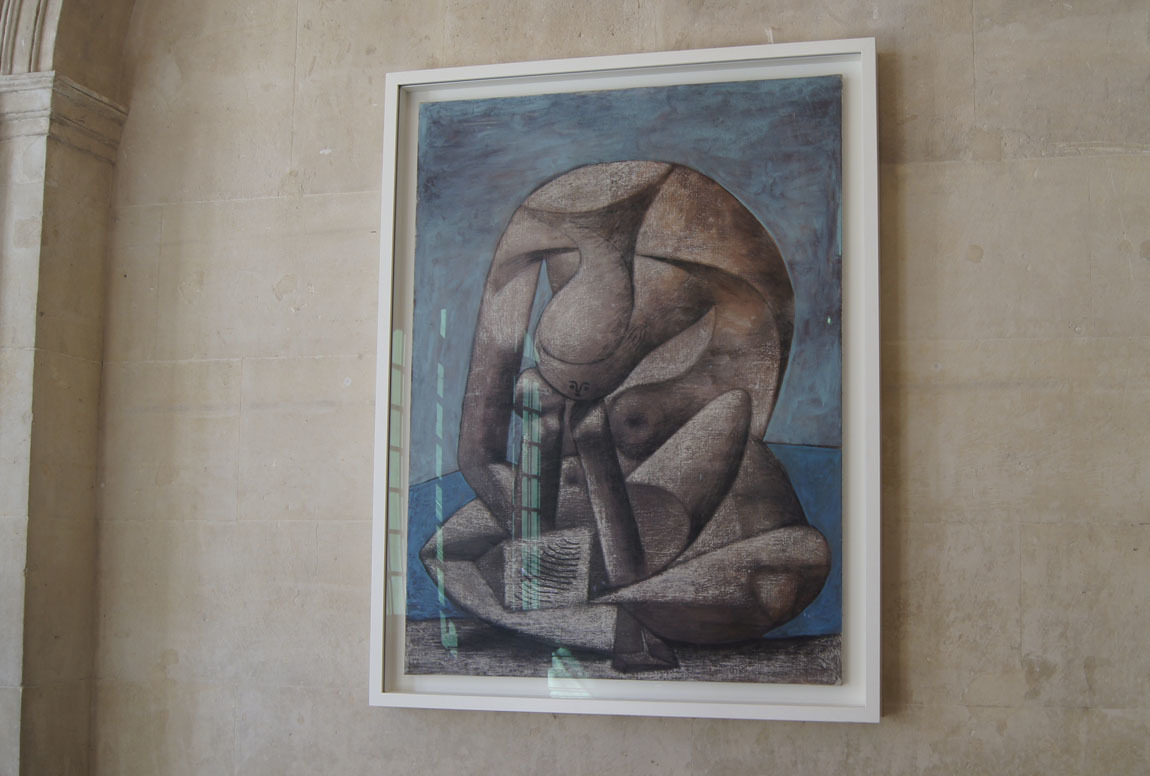 The Conciergerie is our next museum. And what is the Conciergerie? During the French revolution, it was the prison where people to be guillotined were held. It was the last stop for 2,780 victims. One of these victims was Marie-Antoinette. Gruesomely interesting.
We enter the Conciergerie into this room in the Gothic style with thick winding staircases: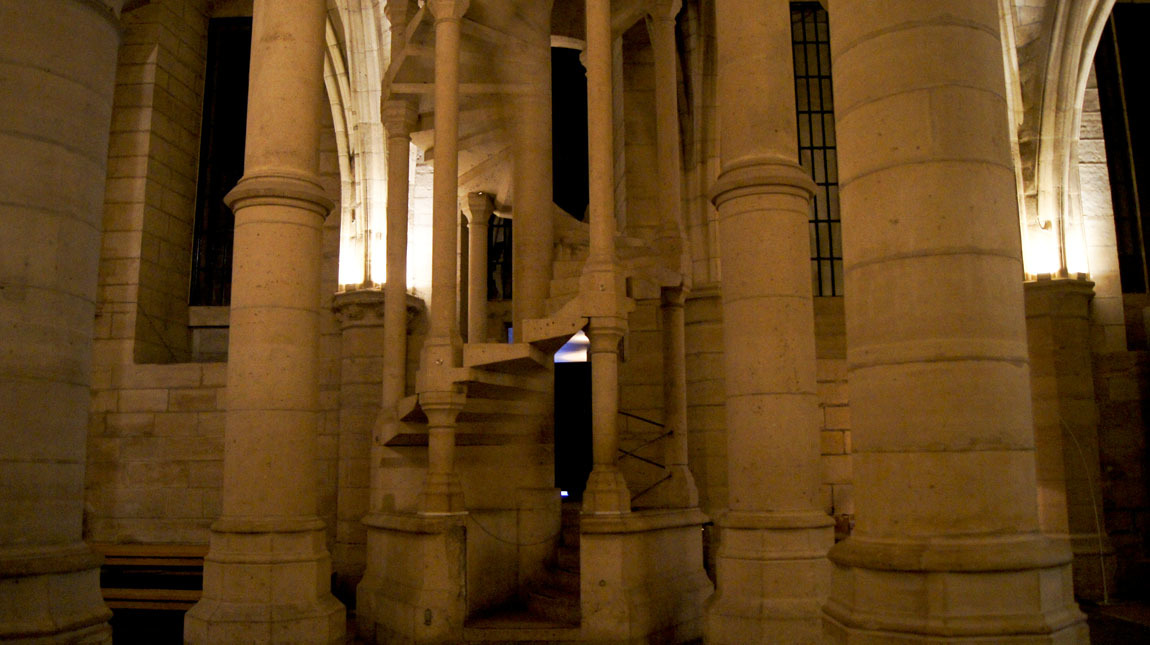 Commoners were held in cells like this: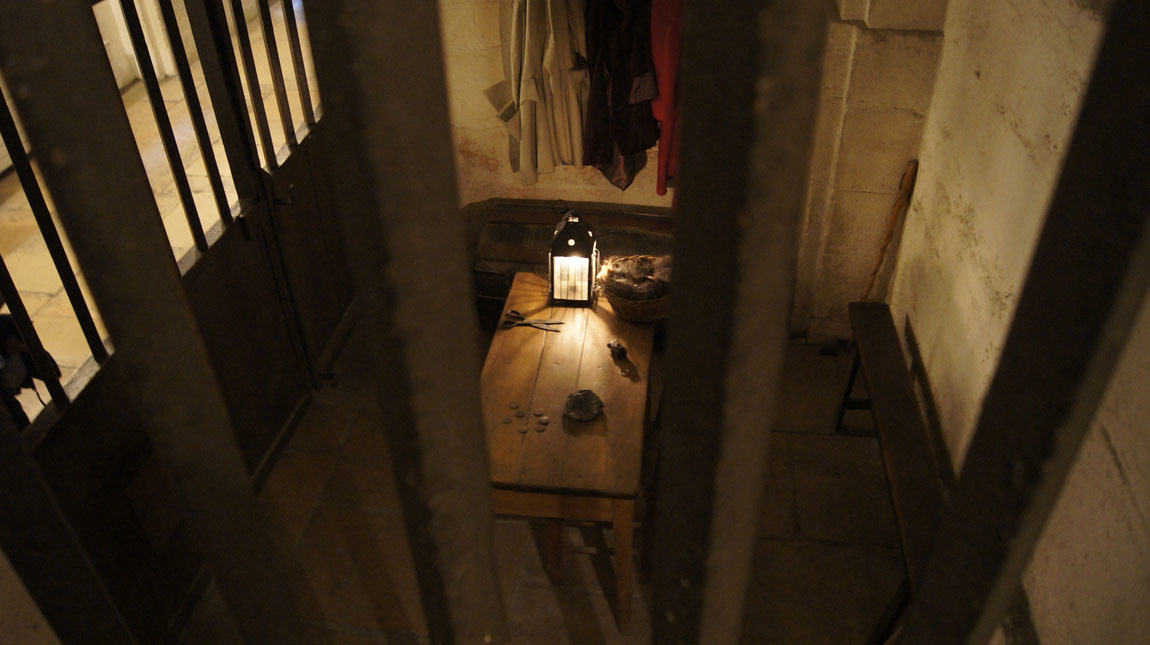 On a wall was a list of those who were guillotined at the Conciergerie. It lists each persons name and occupation.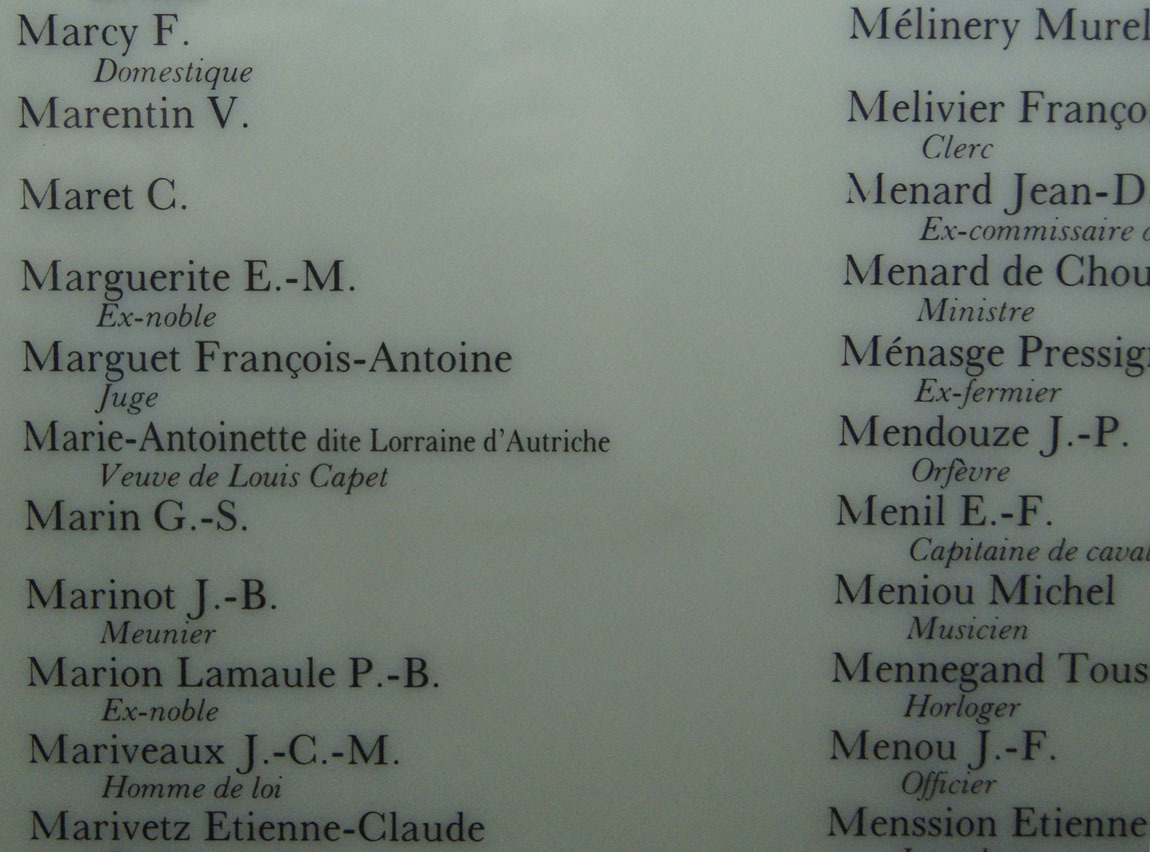 Below are photos of Marie-Antoinette's cell. The guard stood behind a screen to allow her some privacy. In this room she spent she spent her last days. On October 16, 1793 she was led at 4 am to the guillotine .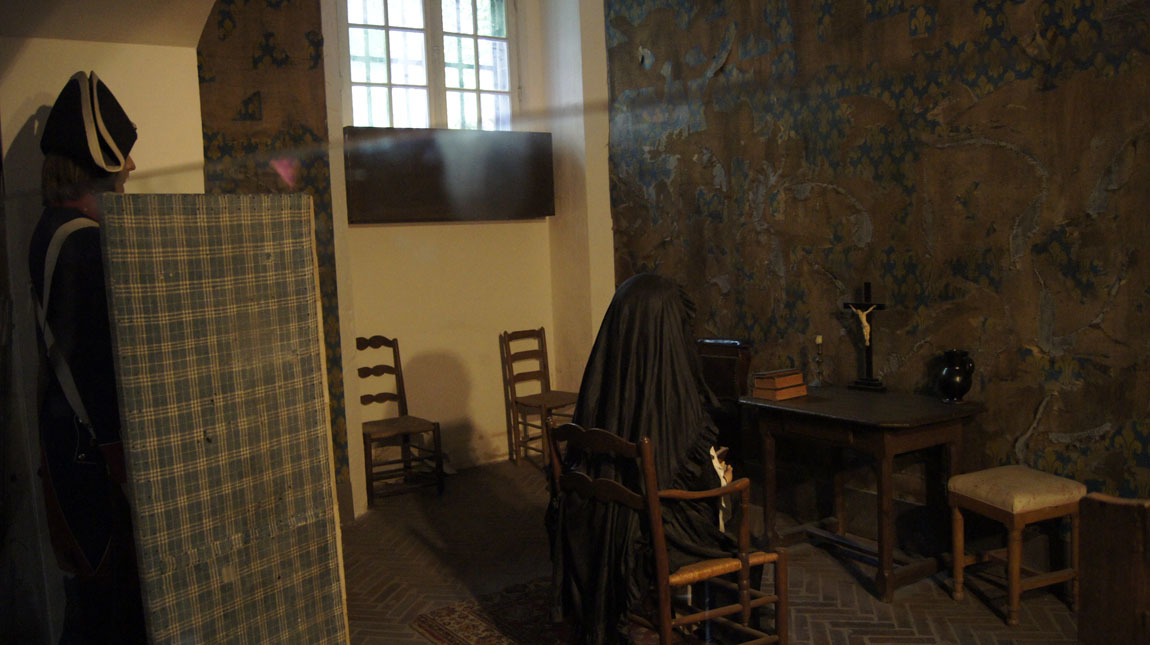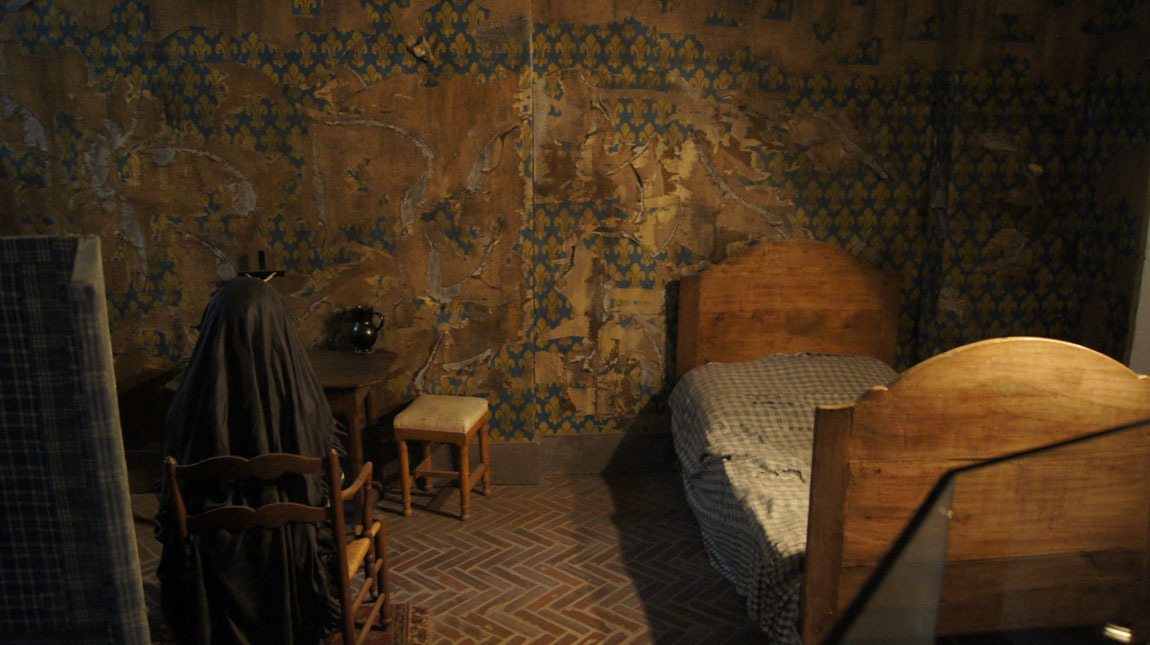 We walked around for over an hour and I'm sure we went into a cafe for refreshment. I shot this photo of a narrow Paris avenue from my iPhone: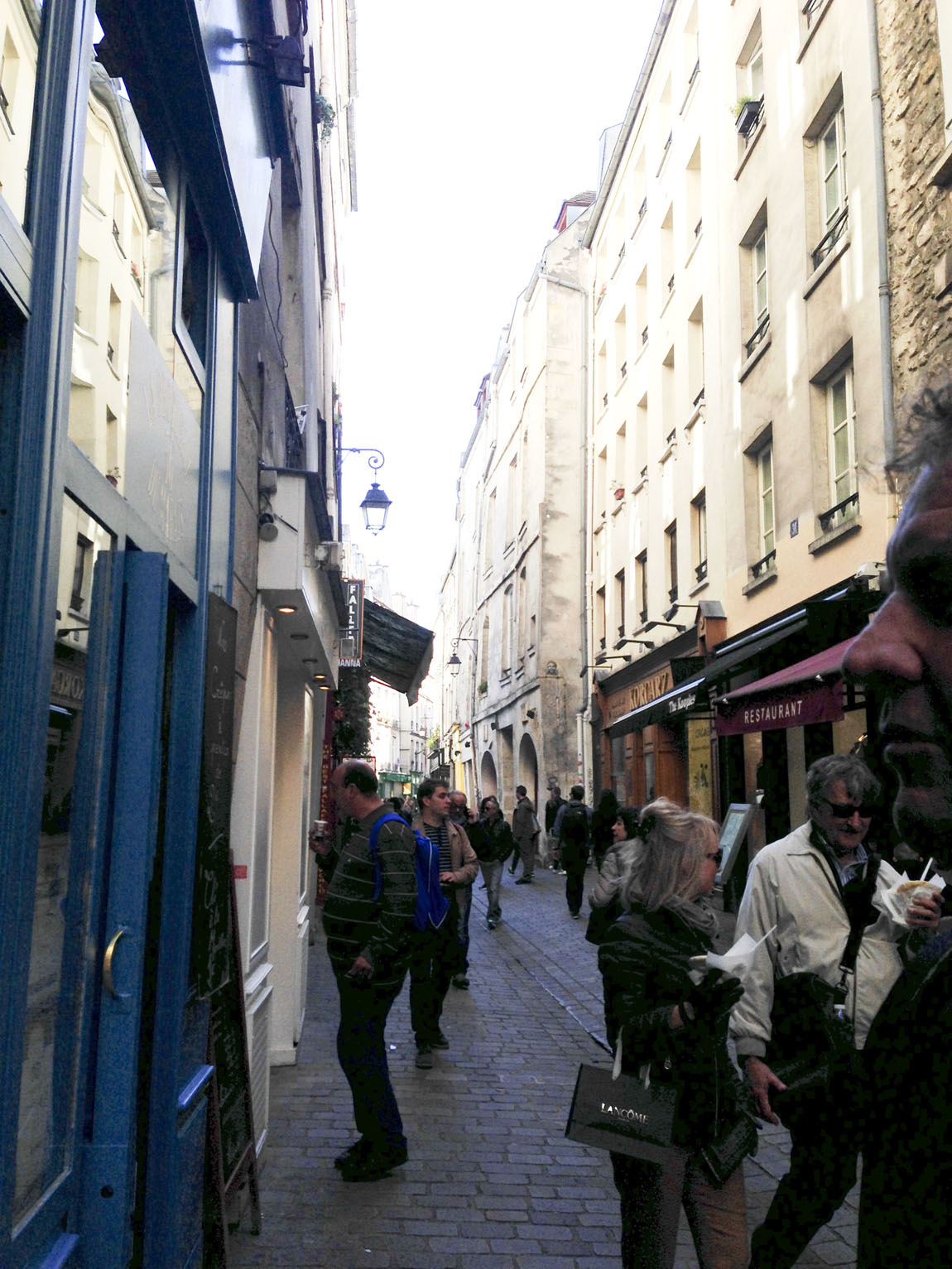 Our final museum on the pass will be the Arc de Triomphe. The Arc de Triomphe is at the top of the Champs-Elysees, near where we started our walk on our first full day in Paris (see the
first day Paris
blog for photos). Now we are back to use our Museum Pass to enter the building and walk to the top.
Construction of the Arc de Triomphe began in 1809, it honors Napoleon's soldiers victory at the Battle of Austerlitz. Statues and busts adorn the ornate inside of the building. We start up a long, long winding spiral staircase: 165 feet high, 284 steps.
From the top, we had a grand view of all of Paris. The population of Paris is about 11 million, and has the highest density of any city in Europe. The architecture is fairly consistent with only a few anomolies. I think it is beautiful.
View down the Champs-Elysees.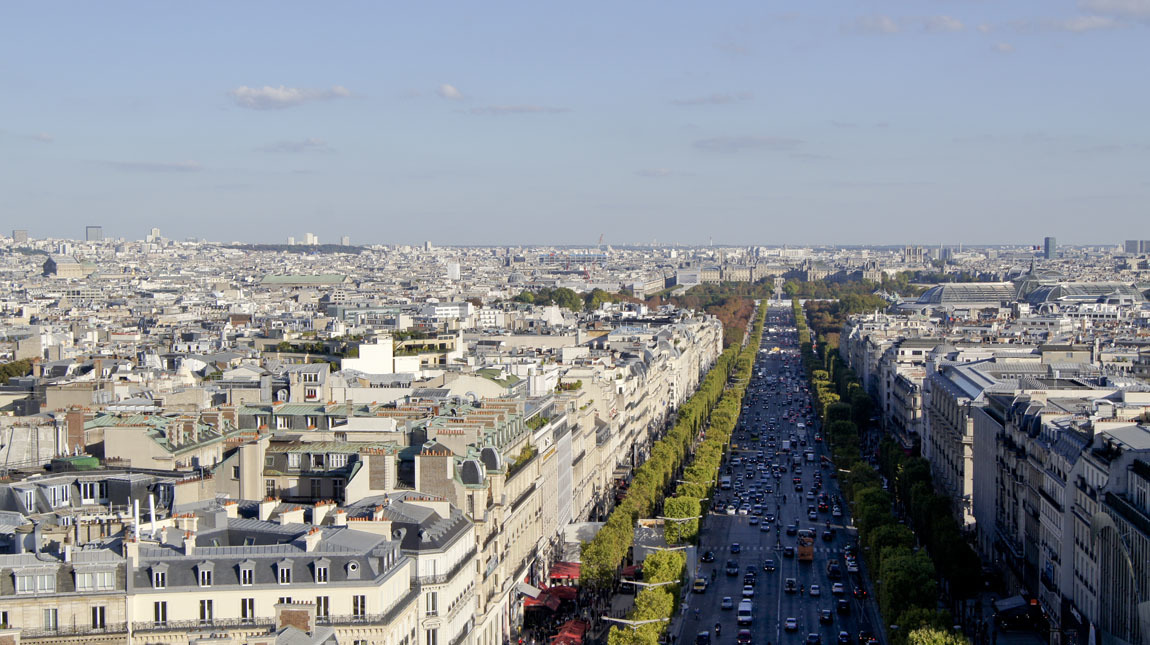 Eiffel Tower in this view.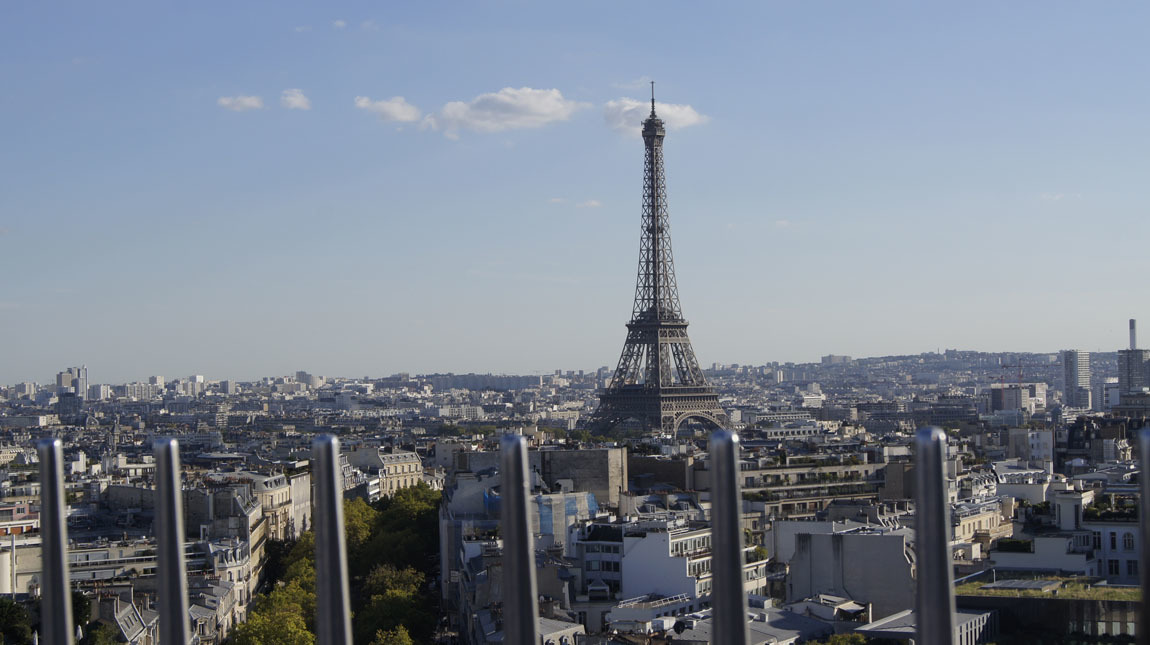 The Eiffel Tower and Montparnasse Tower (built in the 1970s before city planners strengthened building height restrictions).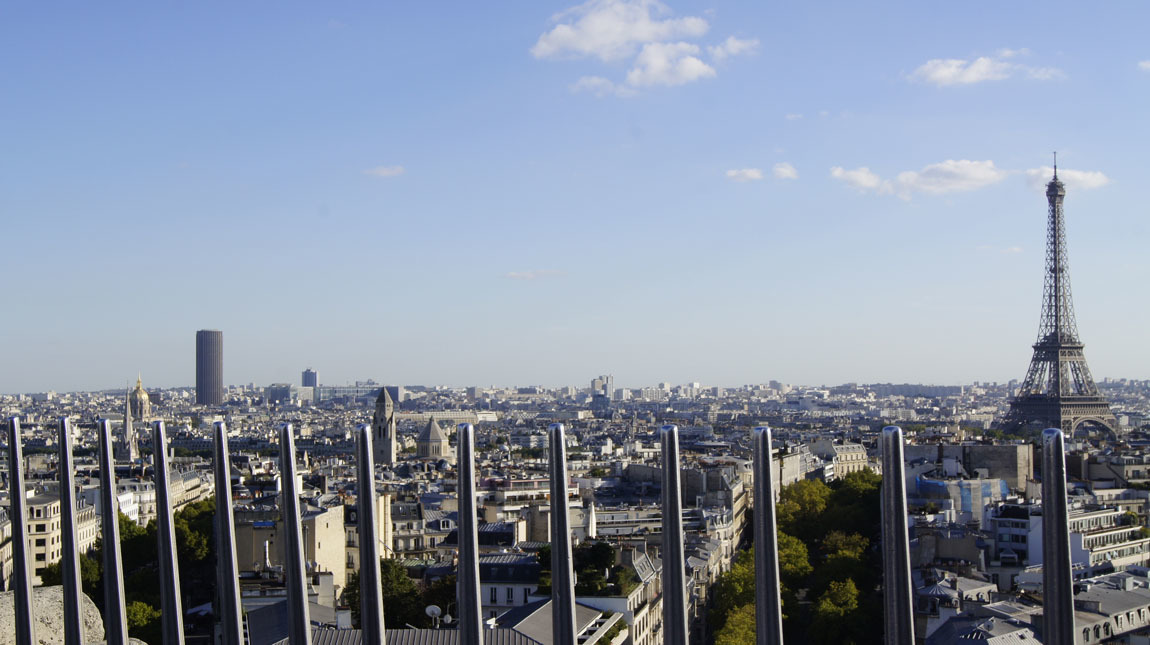 In this photo is the huge, white, rectangular Grande Arche de la Defense standing amid skyscrapers.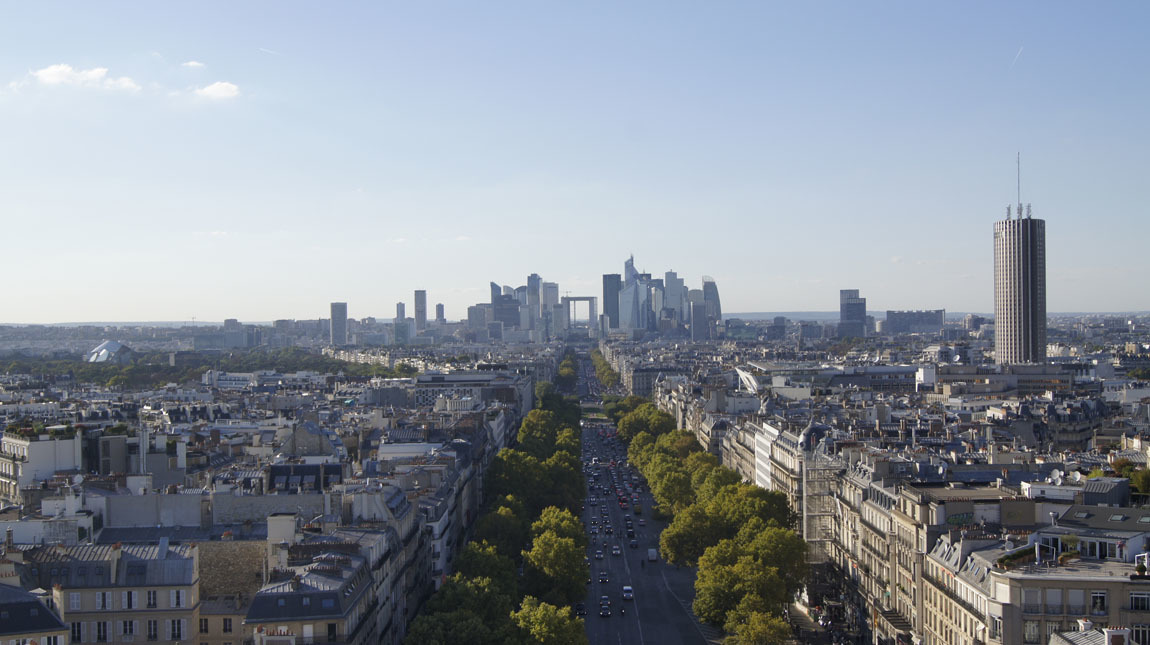 Looking straight down, the mix of traffic is crazy.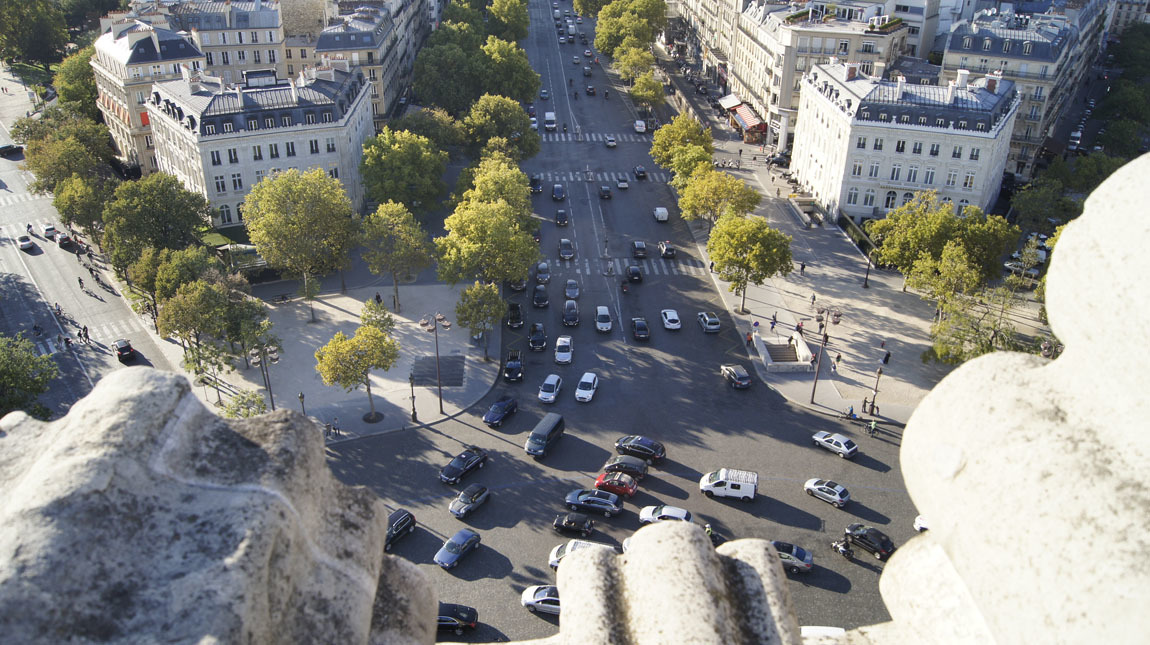 Six straight avenues cross at the round-a-bout where the Arc de Triomphe stands. Thus twelve spokes of traffic radiate out from where we are standing. Three spokes can be seen in this photo: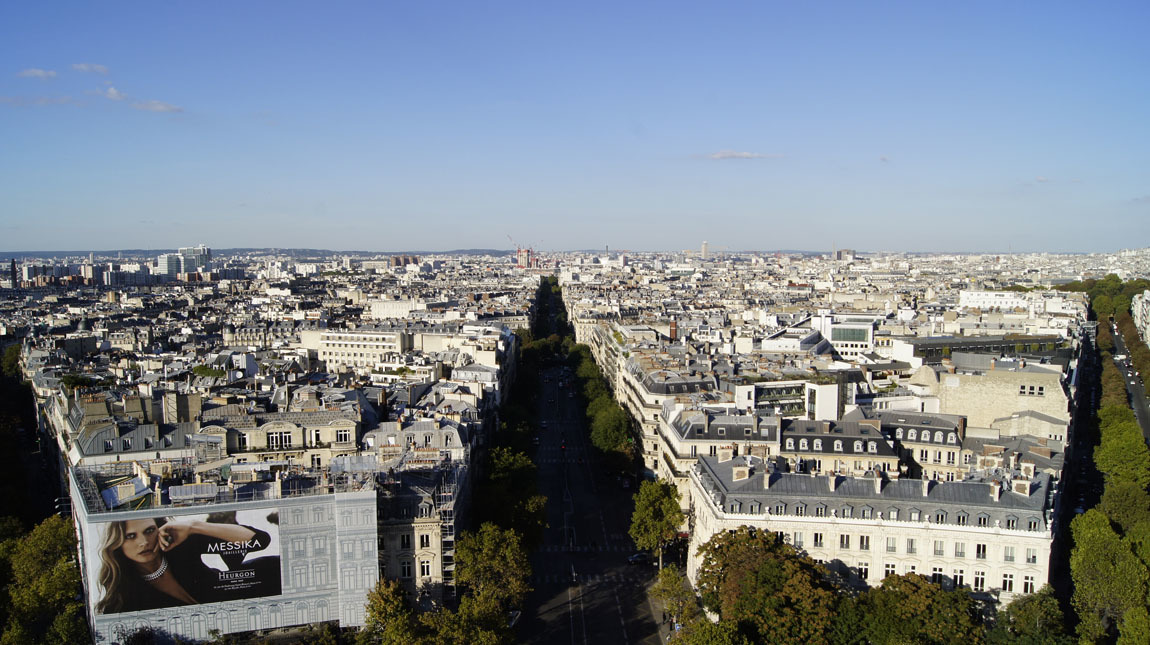 Montmartre in the distance, topped by the dome of Sacre-Coeur.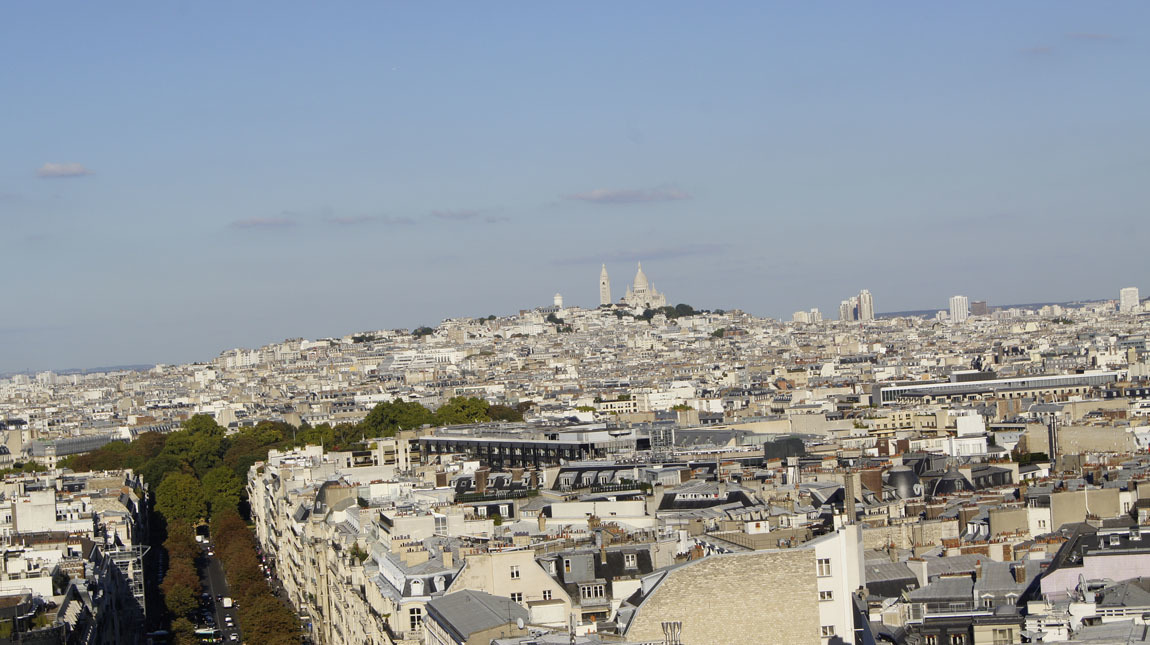 We returned to our hotel. I wrote in my notebook: "Big dinner across the street - too much food!"
Next Paris entry